LÚ Cocina y Alma
by Fiona Flores-Watson

At this innovative Michelin star restaurant in the heart of Jerez. Juan Luis Fernández (Juanlu), who worked as head chef at three-Michelin-starred Aponiente in El Puerto de Santa Maria for 10 years, offers two avant-garde tasting menus (70 and 90 euros) with optional wine pairings. Note that there is no a la carte menu.
From its opening in December 2017, LÚ created a huge buzz for producing outstandingly creative, stunningly-presented contemporary seasonal dishes using French techniques with a Spanish touch, such as Bresse pigeon in sherry, and egg, chestnuts, mushrooms and ham. He substitutes the butter typically used in French sauces for manteca (pork fat). 
The restaurant's concept is themed around Alice in Wonderland - "a link between good sense and madness, between punctuality and its constant and unpostponable commitments, and timelessness, spontaneity and magic."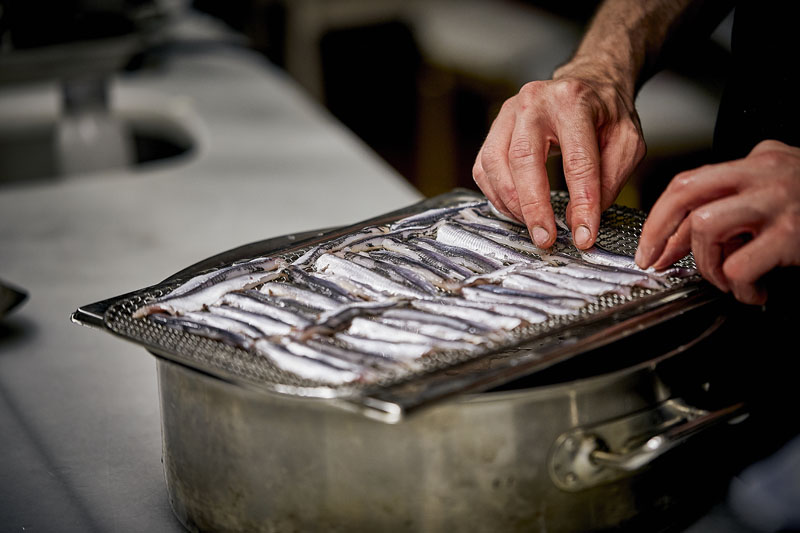 The interior continues the fantastical theme, with bold blue and white striped walls, and floral toile de jouy patterned shelves, ´plus regal blue and gold upholstered Louis XVI-style chairs which have quirky Alice-inspired icons - "Drink me" and a crown on the back.
Praise for LÚ: "Fernández, a cook of solid classical training, is a self-confessed Frenchman who enjoys sauces invented by Escoffier: perigourdine, beurre blanc, hollandaise ... and adapts them with self-confidence to his interest. His dishes are simple, with few elements, but tremendously delicious. His ability to modulate fat makes them tasty without being heavy." Gastroactitud https://www.gastroactitud.com/restaurante/lu-cocina-y-alma/
According to the Guía Michelin 2019: "As soon as you walk through the door you enter a magical, dreamlike and fun universe featuring myriad touches of madcap elegance and constant nods to the fantasy world of "Alice in Wonderland". The cuisine, which is served on several tasting menus, extols the virtues of classic French cuisine through the combination of the very best local products."
LÚ won its Michelin star in November 2018, for the 2019 edition of the Guia.
Calle de Zaragoza 2, 11402
Jerez De La Frontera.
Tel:
695 408 481