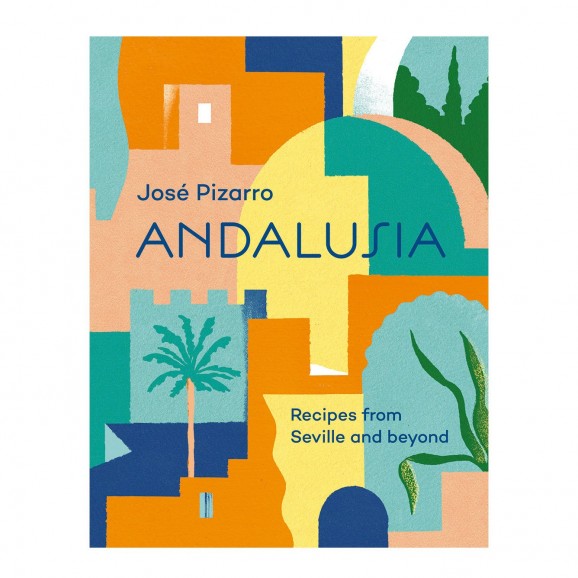 London-based restaurateur Jose Pizarro takes us through his favourite dishes from the region.
Originally from Extremadura, the region just to the north-west of Andalucia, Jose Pizarro is a restaurateur with three restaurants in south-east London and the City, and a pub in Surrey. He has already published books on Basque Country and Catalan cuisine, and in this volume we get the full gamut of Andalucian cooking, with its extraordinary range of local ingredients thanks to the fertile soil and bountiful seas.
Divided into four sections - meat, fish, vegetables and desserts - each recipe has a short introduction peppered with anecdotes of people he's met and dishes he's served in his restaurants, like salmorejo with smoked sardines, "At Pizarro… it was a big success." There is a good balance between today's ubiquitous favourites – tuna tartare, with which he explains about the ancient almadraba tuna-fishing system – and much-loved classics which are less familiar to a foreign audience, like pan de higo (fig bread). Simple yet tasty options which showcase typical local ingredients – salad of mojama (dried tuna) and pickled apple, or papas aliñas – potatoes with peppers, onions and vinegar, as served in Bodeguita Romero in Seville.
The Moorish element is also present in Jose's book, with Moorish wild boar stew, an aromatic feast of meat with cumin, coriander, cinnamon, raisins, chocolate and orange. From Jose's personal reference, we have his mother Isabel's pork ribs, with wine, oregano, garlic and lemon.
We learn about techniques for the famous sardines cooked on a long wooden stick, at a restaurant in Sanlucar de Barrameda: "Baldonero used olive and oak wood for the fire. The sardines are cooked as they are with no extra oil, and you can tell they are done when their eyes turn white. This is absolutely the healthiest way to eat fish."
The desserts section is as comprehensive as I've seen in a cookbook on Andalucian food: from gañotes (fried honey pastries) made by Franciscan nuns in Ronda, to marmalade soufflé puddings by Jeannie Chesterton, a Scottish chef who runs a gourmet b&b in deepest rural Sierra de Huelva.
One simple but little-known classic is the torta de aceite, a thin, crispy olive oil biscuit which dates back centures. Commercial versions come flavoured with orange or cinnamon, but he uses fennel seeds. I'd recommend both of these books as Christmas presents for lovers of tapas both traditional and contemporary. Each has its own list of recommended restaurants in the major cities and beyond, as well as mouth-watering food photography and atmospheric shots of villages and dramatic landscapes. Buen provecho!