La Piccolina (+34 671 765 339)
This charming little place is Italian run and people love it for breakfast because it serves a genuine Italian cappuccino. Great salads and delicious dishes of the day such as seafood risotto made with brown rice and squid a la plancha with salsa verde.
Closed Tuesdays during the summer months / Open every other day & evening from 10.00.
Only open at the weekend during the winter months.
Along the orange tree lined Corredera
Las Delicias (+34 956 451 807)
Possibly the most impressive restaurant conversion in Vejer, a creatively restored old theatre. I love the avocado & pulpo (octupus), ajo blanco (chilled garlic & almond soup) with smoked cod and all their croquetas are light and divine. Mini retinto burgers are amongst the other great dishes on offer. Great live music at weekends and during the summer fiesta. Great wines from Cadiz province.
c/.Corredera, 31
Open every day & evening most of the year from 12.00. 
Califa Tapas (+34 637 423 506)
Great place for casual lunch in the sunshine offering many of the Califa favourites. Great desserts too.
c/.Corredera, 33
Open every day during summer months ONLY from 12.00-20.00.
Corredera 55 (+34 956 451 848)
Part of the Califa group, manager Ellie has put together a deliciously creative menu using locally sourced produce. I love their fried calamari with tzatziki dip, incredible pulpo (octopus), pork cheeks with cauliflower puree and what has to be the best selection of postres (puddings) in Vejer
c/.Corredera, 55
Open every day & evening during summer months from 12.00.
Closed Wednesdays the rest of the year.
Palomita Deli (+34 956 455 497)
Although a deli of all that's delicious and preserved, what I love about this place is being able to sit at one of their few tables and order off counter & shelves. Try slices (served as triangles) of local Payoyo goats cheese and a tin of top quality Cantabrian anchoas. Drain the tin and place an anchoa on top a slice of cheese. Along with a copa of chilled Fino from their fridge, you will experience an unforgettable food and wine match sensation. Also on offer is great Jamon, cones of fuet, tins of partridge pate and a huge selection of wines by the bottle. Not all whites will be chilled.
c/.Remedios, 1
Open everyday 11.00-15.00 / 17.00-21.30
Close to the main church
Ramon's Viña y Mar (+34 956 455 167) - Vejer's 'in' Sherry bar with scrummy tapas (the tiny jars of anchoas from Cantabria are a must) and a good selection of interesting wines by the glass. Chef Kiko serves some of the best dishes in Vejer from his tiny kitchen. His knowledge of Tuna cookery is incredible. Always ask what he recommends - it will be the best.
c./Nuestra Señora de la Oliva, 8
Closed Sundays during summer months / Open every other evening.
Closed several weeks the rest of the year. 
Casa Varo (+34 956 447 734).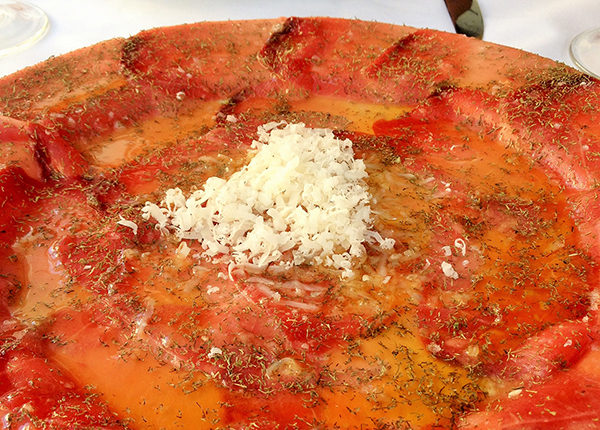 Juan and his children Ismael & Patrizia run this uber popular dining spot with the support of Roberto in the kitchen. This is the place for Carpaccio de Atún de Almadraba which is available all year round from Barbate where the Almadraba tuna is frozen at -60 deg. Great albondigas de choco and divine ensaladilla - just ask Juan what he recommends and you will get the best. And don't ever refuse their house chupito. My fav is the naranja but leave some for me!!
c/.Nuestra Señora de la Oliva, 9
Closed Tuesdays all year round / Open every other day & evening from 12.30.
Back down the hill to  El Central (+34 956 450 457) - again a huge family affair - if you can get over the occasionally scary Rod Stewart music, you can indulge in one of my favourite things to eat in the whole of Vejer. Tostas con anchoas y boquerones. The marriage of salted and pickled anchovies with alioli and pisto. With a glass of Manzanilla - this is my desert island dish. Here you will eat the BEST entrecote de Retinto from Paco Melero, the local star butcher. Retinto is the local breed of cattle and Salvador cooks it to perfection, al punto for me please. Sprinkled with sea salt and then sliced (if you ask) so you can all dip in. Sublime homemade chips. Indulge in a bottle or two of Barbazul. A wonderful velvety well made red wine from Taberner in Arcos.
c/.Teniente Castrillón, 5
Closed Mondays all year round / Open from 12.00 every other day.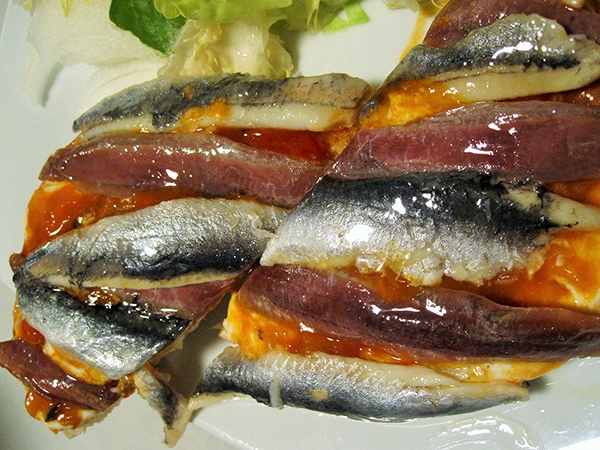 Turn left out of Central heading along Calle Juan Bueno
Peña el Caballo
A really unassuming place that you might actually walk past but they offer something that I haven't as yet found anywhere elsewhere in Vejer. Lagarto is the meat between the ribs of the Iberian Pig. Cooked a la plancha and served with chips, it is spectacular. Also on offer here is excellent carrillada (pork cheeks) and rabo de toro (oxtail). Drink Oloroso with all of these dishes. Good fried fish too.
c/.Juan Bueno, 6
Open most days & evenings. 
Bar Navarro (+34 620 123 227) is an unpretentious family institution that specialises in pescados fritos (fried fish). For a casual evening, find a table on the tiny street, order a platter of fried fish to share and a bottle of white wine, watch the kids play and the people come & go. Beyond the fried stuff you can opt for a lovely calamar a la plancha (grilled squid), a red tuna from Almadraba or a selection of cerdo Iberico or Retinto off their brasa (indoor BBQ). They serve an Enate Chardonnay from Sonmontano that's well worth trying.
c/.Juan Bueno, 8
Open every day & evening majority of the year.
Closed January & February. 
La Oficina (+34 655 099 911)
La Oficina can be found at the tail-end of Juan Bueno. Standouts amongst the range of freshly cooked tapas are the retinto burgers and 'champichocos' (mushrooms and cuttlefish), while it also provides a showcase for the ever-improving local wine. The wines of Tierra of Cadiz such as Barbazul, Garum, Etu Sonrisa & Entrechuelos are worth trying
Paseo de las Cobijadas, 1
Open ONLY in July & August / Open all year round in Sevilla.
Next stop on the left is Mesón Pepe Julián (+34 956 451 098), opposite Plaza San Francisco. Another wonderful family run institution. A fabulous plate of Jamon Iberico is a must here. Also, perfectly pickled boquerones en vinagre, puntillitas (tiny deep-fried squid) and ensaladilla. Fresh clams, gambasajillo (prawns in garlic), fabulous simple cheese omelette and wonderful presa iberica are amongst my favourites here. Pepe also curates one of the best kept secret stocks of Spanish reds, kept under the TV. Very fine Albariño by the bottle too. Open from 8am to 5pm and from 8pm to 12pm. Closed Wensdays.
c/.JuanRelinque, 7
Closed Mondays 
Directly opposite Pepe Julian's is El Aljibe (+34 956 451 704) for fantastic croquetas of Queso de Cabra y Verduras (goats cheese & roasted peppers) anderizos (sea urchins)  - perfection with a glass of icy beer.
Plaza San Francisco
Open all year round 
El Mercado de San Francisco - this great little gourmet market has been a huge local success since opening it's doors in December 2013. At Sushi Time you will find fabulous sushi, tataki & sashimi using the local Almadraba caught tuna as well as homemade dumplings & miso soup. Carniceria Guillermo presents the best carpaccio of local Retinto beef. Sliced from frozen and garnished with grated parmesan, olive oil, salt & lemon - this locally reared beef will melt in your mouth like butter. Also on offer he has Tartare de Retinto, although sometimes slightly heavy on the mustard and honey, it is so worth sampling. You will find tastings of Jamon, pizza, tacos, tostadas and in the height of the summer, fresh seafood. A well stocked wine bar will offer you plenty of local vinos to accompany. Look out of Estrella Galicia beer on draught. Alhambra beer too. So many delicious delights to eat and drink - it's like an indoor picnic or even a Singaporean Hawker centre - you claim a space at a table and then collect delights from different stalls.
Open all year around 11.00-14.30 And then again 19.00 - 01.00 
I have enjoyed some great paellas next door at Mesón el Palenque (+34 956 451 704), If you give Juan an order ahead of time, he will buy in the best seafood on offer. Great simple mixed salads of tomato and onion can be had here too.
Open all year round. 
Heading towards the new town 
Tucked away on the corner of Bellido & Juan Relenque, opposite The English Bookshop is a cute little bar called El Conejito (+34 956 451 567) - Pedro's Bar. Pedro's Jamón is amongst the best in town. Washed down with ultra chilled Manzanilla and his yummy olives - yum, yum. He also makes his own great tapas and also is normally open for breakfast of toast, tomatoes and a plate of his great cheese if you ask for it.
c/.Bellido, 1
Closed Sundays / Open every other day including breakfast. 
Peña Flamenca (+34 956 450 789)
I haven't yet eaten here but I mention it because it now offers dinner and live Flamenco during the weekends May-August. You can book a table and enjoy food and music
c/.Rosario, 29
Closed Sunday evenings.
Open every day all year round (11.00-16.00 / 17.00-23.00)
Restaurante Marengo (+34 956 450 883)
Slightly off the beaten track, Marengo is so worth seeking out. Here I love the prawns wrapped in basil leaves & wakra pastry. Then deep fried and served with a peanut dipping sauce. Why not - it works and it's FAB. Also one of the best tartares of Almadraba blue-fin tuna. Their Passion Blanco dessert is incredible too. Here you can indulge in great big glasses of Botani, the dry white Moscatel form Malaga.
c/.Santísimo, 1
Open every day in July & August from 19.30.
Rest of the year: Closed all day Monday.
Open Tuesday-Thursday from 19.30.
Open Friday-Saturday from 13.00.
Open Sunday 13.00-16.00. 
The new town is filled with great bars serving typical Spanish breakfasts of tostada con tomate y Manteca colorado (iberian pork fat with paprika). All serve the best of typical tapas and the market is more locals than tourists which guarantees that the food will always be consistent and the best quality.
Mesón Las Perdices (+34 956 450 361)
Partridge or Perdiz is a popular dish in the area and no one serves it better than here. Braised with onions, mushrooms, Jamon & Sherry - it is totally divine and worth seeking out. I've had packaged Jamon served to me here but I suspect that was because they had run out.
Avenida Buenavista, 12
Closed Mondays / Open every other day & evening from 12.00.
The future for Vejer as a gourmet destination can only get better - offering wonderful boutique hotels with a great bar or restaurant around every corner. Even the simple breakfast of Tostada con Tomate here is the best. 
Enjoy!