You can enjoy stunning views from your room at the Vincci Selección Rumaykiyya

Vincci Selección Rumaykiyya Hotel
Situated in the Sierra Nevada, Granada, this is one  of the highest hotels in Europe. This spectacularly-located luxury Alpine lodge is a favourite with the King of Spain and skiers from around the world.
What's it like?
Built in the style of a traditional Alpine lodge, with a dramatic setting of snow-capped mountains, this hotel is located in the resort of Monachil at 2400m above sea level, and has direct access to ski runs – you can ski right to the door. It is the only five-star hotel in the Sierra Nevada.
The interior is comfortable and cosy, without being old-fashioned - as you'd expect for a place where skiers (including King Juan Carlos of Spain) come to relax after a day's sport on the slopes – with exposed wooden beams and rocking chairs.
Cosy ski-lodge style rooms and suites at the Vincci Selección Rumaykiyya 
It's smaller than many five-star hotels, with just 50 rooms and suites, most of which have a balcony. The suites are in the eaves, with sloping ceilings. Internet access is available, with WIFI in some areas.
Plenty of ski storage space is provided, and there's also an onsite ski-hire shop and lift passes can be arranged.
The restaurant has a rustic feel, with stone walls, and spectacular views; the food includes Alpujarran specialities. There's a piano bar, for an after-dinner liqueur.
The hotel gets its name from an Arab legend from Moorish times: Rumaykiyya was a beautiful young slave girl who married Al-Mu'tamid, ruler of Seville and famed poet.
What is there to do?
Sierra Nevada is the most southerly ski area in Europe, so that in spring, you can be on the slopes in the morning, and on the beach in the afternoon. It has over 100 km of pistes and 21 lifts. The hotel offers free shuttle bus service to the nearby ski resort of Pradollano.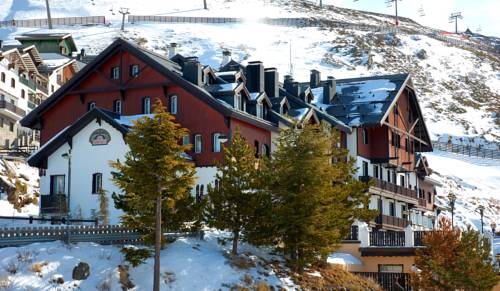 Vincci Selección Rumaykiyya is in a great location right on the slopes! 
Other wintersports available nearby include dog and horse-sledding, snow-shoeing and snowmotorcycling.
When you've had enough of the slopes, there's a treatment area with massages and various water treatments, including a Jacuzzi and steam bath, to be pampered and ease those aching muscles and stiff joints.
The majestic city of Granada is nearby, with the legendary Alhambra and hillside Moorish Albaicin quarter, as are the Alpujarras, with their unspoiled traditional mountain villages.
Book Hotel Vincci Selección Rumaykiyya
How to get there
Vincci Seleccion Kumi is located 32km south-east of Granada, To get there, take the A395 and look out for signs to Urbanizacion Solynieve.