The team behind a very successful Foro La Zagaleta 2014, the luxury brand forum held in Marbella.
3rd Edition of Foro La Zagaleta: "The Brand of the 21st Century"
GUEST POST BY SOPHIE CAREFULL
Last Friday 6 June, for the third year, some of the biggest names in the international business world came together at the Marbella Conference Centre for Foro La Zagaleta.
This time the luxury brand event had as its main discussion theme, branding and consumer engagement in the digital age - with a focus on Spain and Spanish brands, of course. The prestigious event was opened by newly-appointed President of La Zagaleta Oswald J. Grübel, alongside the Mayor of Marbella, Maria Ángeles Muñoz. La Zagaleta is an exclusive residential and golfing country club in Benahavis on the Costa del Sol.
The first keynote speech of the day was delivered by Global CEO of Interbrand, Jez Frampton. Mr Frampton highlighted the importance of evolving continuously as a brand - he quoted Amazon CEO, Jeff Bezos, as saying, "You should always be in BETA" (in other words, asking how you could do things better). Jez also mentioned how listening to the consumer is increasingly important, particularly as "millenials" (also known as Generation Y - those born after 1980) are looking for brands which not only meet their needs, but anticipate them.
Stating that we are in the "Age of Experience", Frampton explained that brands which succeed in providing their customers with what they want, precisely when and where they want it, are the ones which are excelling in the rankings. He cited Apple and Google as two companies which are doing just that, so much so that this year they both overtook Coca-Cola in the ranking of the world´s most valuable brands.
Our intern Sophie found the forum a fascinating experience.
Following this thought-provoking speech, the stage was opened to a panel discussion about building a quality brand, with particular reference to creating a positive image of Spain, as perception is hugely important when it comes to branding. Don Carlos Espinosa de los Monteros, High Commissioner for Marca España (Brand Spain), cited four main sectors to build on for the future: tourism, gastronomy, fashion and sports. Spain is already a key player in these industries, and the panel agreed unanimously that in order to continue improving the country's image, they must take advantage of this reputation and build on it.
The panel also acknowledged the importance of the English language for international business growth. Javier Santiso, Managing Director of Global Affairs & New Ventures at Telefónica, explained that Spain is not only loved for its "sol y playa", but also for its capacity for innovation and desire to improve and advance in all fields.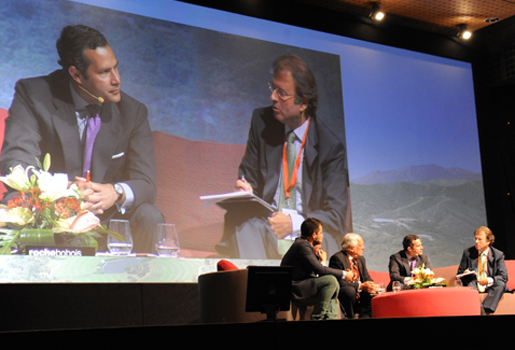 The panel discusses Spain's image and what the future holds for the Spanish brand.
Another panel discussion followed, this time made up of Emilio Sanz, Ezequiel Szafir, Natalia Gamero del Castillo, Patricia Benito de Mateo and Valeria Dominguez. The panelists presented their company profiles, SalesGossip, Amazon, Conde Nast, Cortefiel and Adolfo Dominguez, respectively, and examined their digital brand strategy, particularly with regard to internationalisation. The panel was in agreement that consistency is key when taking your brand online so that the consumer doesn't feel alienated, and to ensure that they can always relate to the brand that they know and love throughout the digitalisation process.
Jean Marc Colanesi, Director of Aldaba Identidad Coporativa, then gave an excellent speech on the origins of luxury and made some interesting points about the power of a luxury brand: "Luxury generates dreams and dreams create demand". Mr Colanesi also said that "Luxury always has a history", which was indeed the case for several of the following speakers, particularly Assunta Jiménez-Ontiveros, Chanel's PR Manager for Spain and Portugal, and Ignacio Osborne, CEO of the Osborne Group who own Cinco Jotas Iberian Ham.

Jean Marc Colanesi explores the origins of luxury.
Miss Jiménez-Ontiveros attributed Chanel's success to three main factors; having a very powerful image, maintaining independence as a private company, and continuously creating and innovating. After giving a brief history of the company and Gabrielle (Coco) Chanel's life, she quoted the famous designer as saying that "Luxury is a necessity of the soul".
Ignacio Osborne then took to the stage to deliver a case study of Cinco Jotas (5J) as a company that strives to be the best and to maintain its status as a luxury brand. Mr Osborne showed two beautifully-produced videos detailing the history of the company, founded in 1879 by Don Juan Rafael Sanchez Romero in Jabugo (hence the Js in the name).
The company prides itself on producing 100% Iberian ham so the pigs are pure-bred Iberian, raised in Jabugo, Huelva (part of the DO "Jamon de Huelva" region) and raised on a diet of acorns partly because the animals like eating them, and as Ignacio put it: "If it's good for the pig, it's good for us".
The pasture in Jabugo is 700 metres above sea level with a unique microclimate, in the dehesa covered with oak woodland, and the animals have an area of two hectares each to roam and enjoy because, as the CEO stated, "It's important for them to be free". Considered a "national treasure" and "heritage" product, Cinco Jotas ham use their rich history and Spanish pride in their marketing, and this is clearly very effective, with the brand expanding worldwide year on year. The company gained 36,000 Facebook fans in one year and our proud to manage all their social media in six different languages.
This left the audience with a lot to talk about at the networking lunch in the gardens of the Melia Hotel, sponsored by Nikki Beach. The catering was, as always, exquisite. This year the menu featured tapas such as foie with mango, salmon tartare with cucumber sorbet, salmorejo "shots", shrimp cakes and veal meatballs. Guests also enjoyed freshly made paella and seafood fideua (short noodles, prepared in a large, shallow pan like paella). Dessert was even more delightful; mango and passion fruit mousse topped with red berries was the perfect way to clear the palette before heading back to the forum for more keynote speeches and discussions.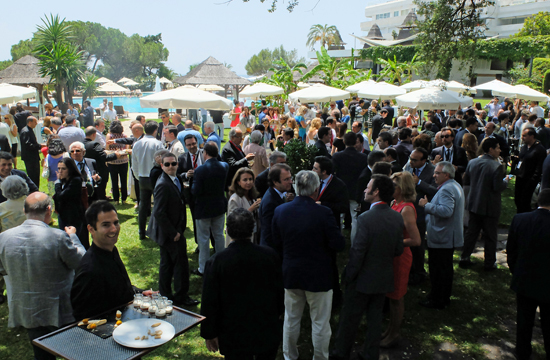 Networking lunch in the sunny gardens of Hotel Melia.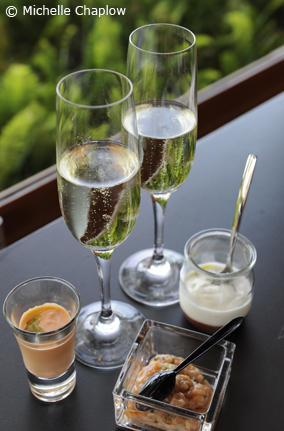 Champagne and salmorejo at the networking lunch.
Following the lunch break, Ignacio Perez Diaz, Head of Business Development at La Zagaleta, interviewed Lord Stanley Fink, who had flown in from London with his wife Barbara especially for the forum, about philanthropy and the role it can play in one's personal brand. Lord Fink has a property in the La Zagaleta grounds and says it is "a paradise and a haven from the hustle and bustle of the real world".
The philanthropist gave some heart-warming answers, saying that he is extremely grateful to philanthropy for giving him the 40 happiest years of his life, as he met his wife when he was volunteering in an old people's home, aged 18. Lord Fink focusses his charitable efforts on health and education, but also likes to donate to causes related to the environment, stressing that "We are stewards of this planet, we don't own it" and therefore we must work to protect it for the benefit of future generations.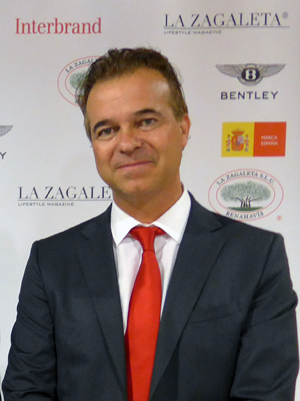 Ignacio Perez Diaz, Head of Business Development at La Zagaleta, who interviewed Lord Stanley Fink.
As the day drew to a close, Tourism Councillor from Marbella Town Hall, Jose Luis Hernandez, stepped up to the stage to thank everyone involved for a brilliant forum and to share his thoughts on the year to come in terms of tourism. Mr Hernandez claimed that 2014 is set to be a "spectacular year" for Marbella, with figures already at their best since 2005. Describing the city as an "epicentre of talent", Jose Luis hinted that Marbella has a "sweet poison" that keeps people coming back year after year and makes them fall in love with the Mediterranean resort, crediting word of mouth for much of its success as a tourist destination.
Finally, Jacobo Cestino, Managing Director at La Zagaleta, gave his closing remarks at the end of a wonderfully informative and well-organised day. Thanking the whole team who made the event such a great success for their hard work since September last year, he expressed his pride at being part of a such a talented and innovative group. Mr Cestino said that if anyone asks him for the secret to La Zagaleta's success, he replies: "We have a strategy, and that is to do things well."
Links to other La Zagaleta Forum reports:
2015 - The Culture of Art
2014 - The Brand of the 21st Century
2013 - Brands & Trends, Management & Leadership in Challenging Times
2012 - Marbella: luxury brands examined