GUEST BLOG POST BY CHRIS CHAPLOW
Recently I was pleased to attend the second edition of Foro La Zagaleta: Brands and Trends, Management & Leadership in Challenging Times. It was held in the Marbella Palacio de Congresos with the aim of providing a forum to discuss the luxury goods and services industry. Just like the first edition last year (read my report here) it was timed to coincide with the Town Hall's tourism initiative called Marbella Luxury Weekend.
Popular TV presenter Ana García-Siñeriz was the host again and she did a excellent job of keeping the event on schedule.
La Zagaleta Founder and President Don Enrique Perez Flores gave the introductory remarks about the ups and downs of the financial crisis over the decades. He did not consider the USA to be the leading world power, but instead the emerging giant: China. He expressed concern over lack of cohesion in the EU.
Don Enrique had three pieces of advice for directors. To lead is not the same as to administrate; talent cannot be substituted by effort; and to be successful means to learn and also to fail
Maria Angelez Muñoz, Mayoress of Marbella, thanked Don Enrique for describing her as an old friend, and informed us that in her previous life as a doctor she attended to him and that, judging by his good heath, she congratulated herself on being a good doctor. The rest of her speech was, fairly predictably, about how good Marbella is and how foreign tourism is important. I am not certain about the truth of her claim that Marbella Luxury Weekend at Puerto Banus is the greatest concentration of luxury brands in the world. I like to support the home team, but we must not forget, London, Paris, Dubai, Singapore, Beijing or Shanghai.
Delegates' questions to speakers were submitted on printed forms provided or via Twitter to @forolazagaleta. Unfortunately the far-from-luxury quality of WIFI in the Marbella Palacio de Congresos made tweeting difficult (tweet this to the Lady Mayoress please!) Congratulations to the organisers for providing a projected tweet wall for delegates' feedback and thoughts during the presentations.
Paul Donovan, Managing Director, Global Economics, UBS Investment Bank. gave an interesting and overarching macro-economic presentation about the global economy, kindly directed at the lay person.
Paul told us the good news that the global GDP growth is creeping back up to the trend line. The bad news was that since we have had several years of low growth, it will take a while "to take out the damage", and we are only getting back to the trend line, not crossing over it.
Anybody losing concentration was quickly surprised with strong statements like "Germany has been one of the worst-performing economies in the last 30 years in terms of nominal growth" and "The Germans want us to follow them. I am not convinced this is right."
Paul explained that the head of UBS was very German, so he finished his speech (and possibly his career) with the advice "We must not believe the Germans".
In response to the question, Why do banks not lend? Paul answered that their balance sheets are too weak. As an economist Paul only wanted Eurozone banks, not Spanish or German banks.
He added that in the USA consumer credit growth is recovering as banks are finally starting to lend in a more normal fashion. This is allowing the USA to return to a more stable economy and why EU is failing to do so.
Paul's final good news was that, to understand the new economy we will need more economists.
Eva Quiroga, Managing Director and Analyst, UBS Investment Bank, is an analyst of the of luxury goods industry.
Eva told us that luxury goods consumption is increasing. She attributed it to the fact that 10 million Chinese are becoming middle-class consumers, and the increase in high net-worth individuals in the world.
She also noted that Asia has a strong business culture of gift giving. Some companies admit this can be one third of sales. There's been a huge increase in Chinese world tourists, whereas overseas travel used to be limited to Hong Kong and Korea.Luxury brands are made in the EU but sold in USA and Asia - a point also made in the First Foro La Zagaleta.
Eva highlighted notable trends:
Quality is important, concept to hand down goods to your children. Bulgari and Yves Saint Lauren are currently outperforming Gucci in terms of non-logo marketing - Eva showed some current advertisements that concentrate on depicting heritage and quality, not the logo.
José Luis Bonet Ferrer, President, Freixenet Group's presentation was titled Keeping it in the Family, and firstly he outlined the history of the company.
The company was set up by Pere Ferrer and Dolores Sala in 1915, and was named after Freixeneda, the Ferrer estate.
José casually made the understatement of the day. "We had bad luck because there was a civil war in 1936 and one of the victims was my grandfather". Dolores carried the business forward. Moving on to better times, he showed us images of the highly successful bubble icons that we know from those Christmas TV ads.
Spanish Cava export in 1950 was zero. All the bodegas said, "No we do not export". Freixenet set up a special bottling line and exported at two euro more per bottle. It was a great success.
He also noted that Spain has to adapt to globalisation and must not forget the three Ts: Talento, Trabajo & Tenacidad.
Antonio González-Barros, Founder and Chairman, Grupo Intercom, spoke on the characteristics of entrepreneurs. Antonio started an internet company in 1995 with 60,000 euro and 15 staff. Now they are 1000 and the portfolio includes infojobs.com. He was poetic in this modern-style presentation away from the podium, which emphasised and reemphasised brands and internet. He mentioned Laphrasedehoy.com which I thought was a little behind the times. He never mentioned the new gTLDs, nor has anybody at Foro La Zagaleta, where later this year 600 brands in the world will upgrade from brandname-dot-com to dot-brandname.
Fuencisla Clemares Sempere, Director for the Retail, Classified and Tech Industries, Google. Fuencisla gave a brief view using images and video of what the future of luxury brands on the net might look like. Will we buy online from a 3D fashion show? We saw a new "experience shop" in London with virtual displays and unlimited stock. Burberry looks ahead of the game in a quality video featuring a shop with interactive mirrors and hologram screens to bring products to life.
After an advert for Google wallet, the online payment tool, Fuencisla left us with a thought "Think about this 3D world, you need to start tomorrow or you will get left behind."
Next in the format of a panel discussion entitled "Branding Strategy in a Luxury Start-Up Environment" moderated by Paloma Cabello, Co-founder & Trustee of MIT Entreprise Forum Spain.
We watched a good video from José Mariano López-Urdiales, Founder & CEO, Zero2Infinity, promoting a project to take people to space. We saw the balloon take off from a military airfield in Leon and astounding views from it in the stratosphere. Space tourism is an important new luxury business. Jose told us that every flight will be different. I can't help but wonder more about the landing methods and location which was not show in the video. Well done anyway.
Dimitris Hadjidimos of Claydon Reeves explained why 2012 was good year to start a luxury super yacht business. During the presentation I checked their website and could not find a Twitter or Facebook account. In the round table he confirmed that it would not generate clients for their business.
Pedro Álvarez is founder of PANCRACIO, the luxury chocolate brand. Opening with a top-quality video to the tune of Let Me Take You to the Moon. As I tweeted at the time, it was refreshing to check a brand's website and see a 956 (Cadiz) phone number on it.
Nancy Villanueva, Managing Director, Interbrand Spain explained how big ideas can happen in hard times and said that the consumer looks for a brand to live an experience.
Next, to whet our appetite, was a live cookery demonstration by Paco Morales, a one-Michelin-star chef from Restaurant Toralbenc in Cordoba, who demonstrated an instant freezing machine; and then Dani Garcia, a two-star from La Calima restaurant in Marbella and his new venture in New York City. Dani, invited us to a lunch of lentejas (lentils) - I thought he was joking. Only these lentejas contained partridge. Calima Catering impressed the delegates at foro lunch in the gardens of Hotel Don Pepe next door.
Marcos de Quinto, President, Iberia Unit, Coca-Cola Inc, spoke about the Winning Formula.
He showed us some of the popular drinks brand's latest videos focussing on the positive side of human nature, such as secretly filming of member of the public finding an apparently lost wallet and handing it in.
Marcus also focused on the differences between publicity and content, reminding us that publicity must be truthful but content is considered freedom of expression. This leads to the area of black marketing.
Next David Coulthard, former F1 driver for Williams, McLaren and Red Bull, gave his keynote entitled Split-second decisions which make the difference.
David gave an interesting presentation on the F1 teamwork - he has had the benefit of seeing how different teams work, and was able to cross-fertilise ideas. The presentation was elaborated with a number of videos. Now retired for over four years, David still does marketing for Red Bull all around the world. His finishing thought was "Unless we set a clear target we will never achieve it."
In the round table that followed, the different promotion strategies were compared.: Coca-Cola sponsors 17,000 events a year organised by others. Red Bull owns teams. "Is Red Bull a drinks company with an F1 team, or an F1 company with a drink?" quipped Marcos de Quinto.
David also said of teamwork, "It is a reminder that we are all replaceable."
Marcos de Quinto also went against the flow by stating that Coca-Cola had not innovated the product since 1896.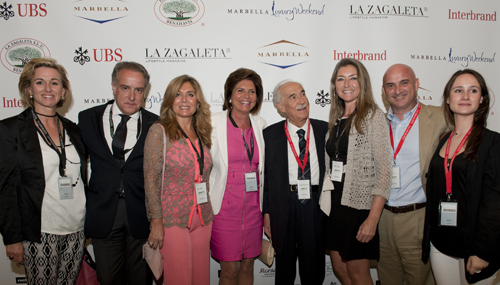 Julio Gómez-Pomar Rodríguez, President, Renfe gave an interesting outline of the state railway company today. Not just in Spain but also around the world, from local trains in South America to high-speed links from Medina to Mecca. Renfe would be soon facing competition at home as on 31 July tenders will be published for bids to run long-distance trains in Spain. Imagine the sight of a Virgin train cruising out of Atocha.
The Madrid to Malaga AVE route is the third-most important route in Spain, with 1.7m passengers a year - next month the onward bus to Marbella can be booked on the same ticket.
It was not good news for Marbella, the only town in Spain with a population over 100,000 without a train service. Julian dismissed any plans for an AVE high-speed link but spoke of the possible extension of local cercanias from Fuengirola to Marbella. Even this is not a project as such, and there are many complicated issues to resolve such as land acquisition and topography. Central government is doing a study apparently, and this is not the first I can remember.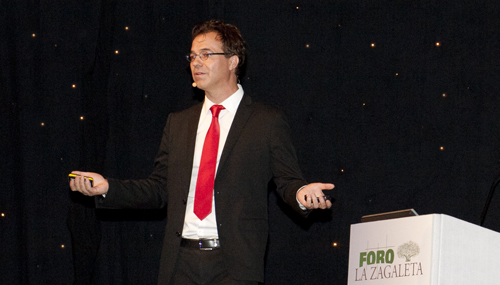 Ignacio Perez Diaz, La Zagaleta's Business Development Manager, presented a refreshingly different view of reflections on 4D space. This is the concept of something that cannot be seen until 'unpacked', either virtually of physically. If one can invent the popular luxury product that nobody else has thought of, the rewards would be high. I thought it was a very brave presentation, especially for late in the day and I am sure it is one people will remember. Thought-provoking indeed and I was left wondering if the 5th dimension would be a better analogy. Doesn't string theory require 13 dimensions? Let's leave that for next year.
In closing the conference, Elias Bendodo, the president of the Diputación de Málaga and the Costa del Sol Tourist Board, told the delegates that "the luxury segment was a way to reposition the Costa del Sol as a high-level destination and reinforce its image and prestige." What more can I add - except to hope I'm invited back next year.
Links to other La Zagaleta Forum reports:
2015 - The Culture of Art
2014 - The Brand of the 21st Century
2013 - Brands & Trends, Management & Leadership in Challenging Times
2012 - Marbella: luxury brands examined