GUEST POST: CHRIS CHAPLOW
In these challenging economic times it is difficult to imagine anybody being brave enough to organise a conference on luxury brands, so hats off to Ignacio Perez Diaz.
But then, it did take place in Marbella (1 & 2 June 2012), in the neighbourhood of La Zagaleta, the most prestigious residential community in Europe - so there was no risk of indignados on the grass or a gauntlet of placards to run through. The car park was marshalled in efficient La Zagaleta fashion and the 750-seater auditorium of the Marbella Palacio de Congresos was completely full. I even picked up, via social media the night before, that some people were on a waiting list.
Stefanie Scholtysik, a luxury brand analyst from UBS, and the last of 30 keynote speakers - actually one of the best - pointed out that the sales and stocks of luxury hard and soft goods are outperforming many other sectors. The three drivers for this are: emerging markets (of which USA is one), demographic changes, and pricing power of handmade articles. Those with a stock portfolio would have found this talk especially instructive. Apparently there are now more mono-brand stores on 5th Avenue (New York) than ever, and Stefanie questioned whether the cost and low sale volume was good for investors - her hot tip: leather goods for men.
Let me backtrack to the beginning of the event. Following an opening speech by Marbella´s Mayoress Angeles Muñoz, TV presenter Monica Corillo @MonicaCarrillo introduced the founder of La Zagaleta, Don Enrique Perez Flores, by informing us of his impressive curriculum. The 70-something businessman impressed the audience with his agility, tackling the steep steps up to the stage with gusto, and we were further awed by his powerful oratory; he proclaimed himself the only elderly man to remove his glasses before speaking.
Gonzalo Brujó, chairman of Interbrand Iberia, was the first keynote speaker; he gave us several definitions of luxury brands and data from his company´s annual research of the world's most popular brands by sales, and their estimated value, including the winners of the last decades (Apple, Google) and the losers (Levi, Kodak, Sony, Nintendo, Yahoo and Dell).
Next to take the stage was Béatriz d'Orléans from the Asociación Española del Lujo, who participated in a round table discussion. After this discussion I decided I needed to check the definition of luxury, as so many different definitions had been offered thus far; I was sure there would be more to come.
Sten Tamkivi @seikatsu gave a presentation which would not have been out of place at TED (Technology Entertainment Design, the global ideas conferences), without notes and only occasionally checking his smart phone for direction. From his presentation I discovered that Skype was an Estonian creation. This was introduced by a video message from the President of Estonia, Toomas Hendrik Ilves. It was then I realized that Estonia was a technology powerhouse. Thanks to La Zagaleta resident Margus Reinsalu, founder and chairman of the board of the Estonian-based investment company, KC Grupp for the connection.
As I have a background in technology, I was disappointed that young Danish techno-whizz Danish David Heinemeier Hansson´s presentation was not live, but an audio commentary to slides. The Ruby on Rails (software framework for Twitter and Grupon) focus was on building a technological brand. I could not help disagreeing with some of the assertions made in his presentation; their brand should have a view and be either loved or hated, but not in the middle: food for thought.
Following Ángel Asensio of FEDECON was the Spanish Association of the Clothing Manufacturers presentation, which explained the problems with the Spanish fashion industry: more communication than design: "Spain knows how to produce and Italy knows how to sell". The ever-popular Victorio and Lucchino then joined for a roundtable discussion and complained about the lack of government and institutional support during their 25 years. The debate was quite heated at times, matching the flamboyant characters of the two Seville-based designers.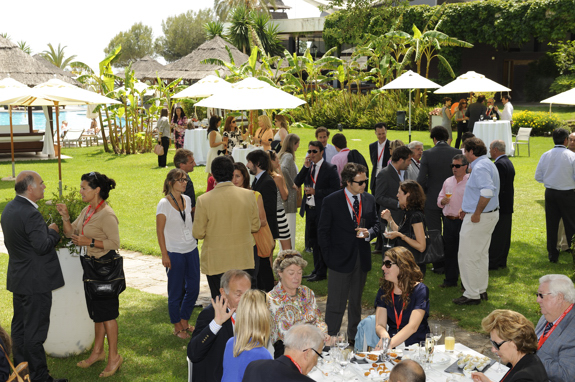 After lunch we were treated to a live demonstration by top chef Dani Garcia @danigarcia_ca, whose restaurant, Calima, is located at the Don Pepe. On stage he is a natural; the close-up cameras showed us right into his cooking pots. He pushed back on detractors' claims that he works in a laboratory and not a kitchen – although the liquid nitrogen oozing over the worktop did make it look more like a laboratory to me. He added to my list of definitions by stating that "el lujo también puede estar en una pipirrana o una brandada de bacalao" (luxury can equally be a salad or a brandada of salt-cod).
"Trends in Tourism" followed Dani: Jürgen Bartels, retired CEO of Starwood Hotels, expressed the importance of attracting tourists from the developing markets such as China and Brazil, suggesting that the website for Marbella "should be one of the best in the world". I also agreed with his proclamation that institutions waste too much on large inefficient print media.
Ladislao Azcona, Vice-President of Hotel Melià Castilla, presented without visuals, like a Spanish gentleman; he even found time for a joke at the end. He reminded the industry that the 'Arab spring' was a temporary bonus, and suggested that it was not the economic indicators that kept tourists away, but newsreel images of demonstrators on the streets burning bins.
All of the speakers in the "Trends in Tourism" section bemoaned the industry for low levels of English language, entertaining us with amusing anecdotal examples. Founder of Room Mate Hotels, Kike Sarasola @SarasolaKike , was no exception to this, enthusiastically presenting his brand of individual hotels all inspired by human characters with the catchy slogan "Do you want to sleep with me tonight?" So far it appears to be successful. He says that he still personally insists that the reception and bar staff smile at the customers.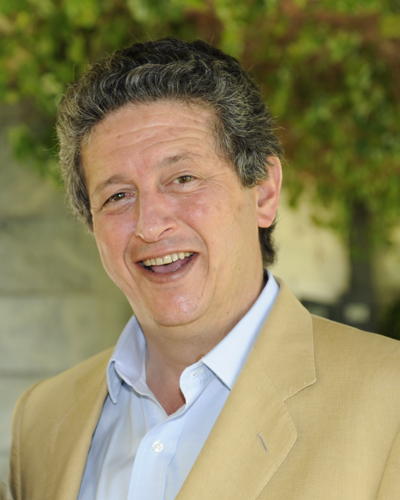 Architecture was one of the topics of the second day; Valentin de Madariaga spoke about how the form of the land gives life to the design of the building, and Teresa Sapey @TeresaSapey appeared to be the very artistic type and proud to be so, without the pinta (look) of an architect. She talked about special design and how to 'vender humo' (sell thin air) because proposed buildings did not yet exist. She informed us that her design for a car park that was so luxury that Madonna hired it for a party.
Mira Kloss-Zechner raised some interesting points about BWIN, the successful Austrian online betting-turned-gaming company: the importance of selling an experience not a product, especially in an environment where customers are quick to talk about their experiences, through the digital world. However, I don't think that the title assertion was proven: "to become a digital brand you must exist offline."
Jacabo Celestino @cestino_jacobo , GM of La Zagaleta, sensibly kept his presentation short - in a very natural style he told us about his addition to the three original design qualities: privacy, security, and exclusivity.
Overall I think it was a very successful and brave event. Perhaps running on a Saturday was too brave for Marbella in the early summer - by the afternoon the VIPs remained, but the Marbella business community and press were conspicuous in their absence. One person then tweeted: "He echado de menos a mucha gente de la Costa del Sol que deberían haber asistido al #ForoLaZagaleta - así va el país!"
Ignacio Perez Diaz summed up the Foro (I personally designed their first website in 1996 when he was marketing manager). Now La Zagaleta is on its fifth website (luxury client of Andalucia Web Solutions), publisher of a magazine and organiser of events. Ignacio was introduced as the Business Development manager of La Zagaleta Ltd, in London, and as he summarised the event, the grand purpose of the Foro fell into place: to prove that La Zagaleta brand is not just about an exclusive luxury property development near Marbella.
Twitter: #forolazaleta and @forolazaleta
Links to other La Zagaleta Forum reports:
2015 - The Culture of Art
2014 - The Brand of the 21st Century
2013 - Brands & Trends, Management & Leadership in Challenging Times
2012 - Marbella: luxury brands examined