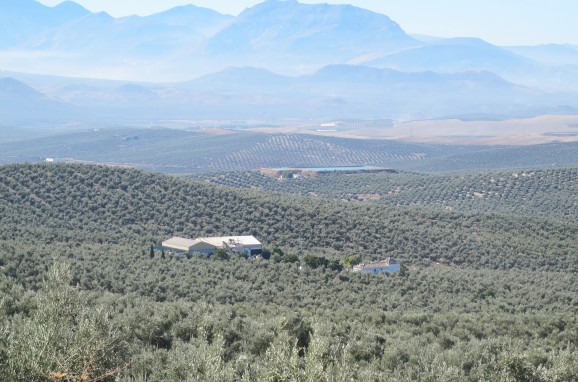 The cortijo and factory, nestled in rolling hills of olive fields, backed by the Sierra Magina.
A few posts ago, I mentioned a new scheme organised by Jaen Tourism -
pick your own olives
. This puente weekend, I was lucky enough to experience it for myself, with my family.
While we didn't physically pick any olives ourselves, we watched the process, from collecting the fruit to the newly-produced oil pouring out of a spout into a vat in the factory: thick and verdant green.
Jaen province
is the world capital of olives, and of
olive oil
- it has 60 million trees, and produces around 25% of the world's olive oil. Many of these were only planted as recently as the 1980s, as before then Spain didn't import food, so much of the land was used to grow wheat, to produce that essential staple food - bread, as well as animal feed.
As you enter the province, which is the least well-known in Andalucia and borders Cordoba to the west, Granada to the south, and Castilla la Mancha to the north and east, you see the olive groves stretching out into the distance, all the way to the various Sierras: Cazorla, Magina, and Nevada. The lines create a chequer-board effect, while the rolling hills make the fields look like a sea, its waves rising and falling.
Maria and Juan of Cortijo Espiritu Santo - both are Jaen born and bred, and dedicated to their land and product.
Driving to the olive farm we were visiting,
Cortijo Spiritu Santo
, near Ubeda, we bounced over rough tracks, bordered by neat rows of olive trees as far as the eye could see. This cortijo is owned by a family - Maria and Juan are both Jiennenses, with grandparents who worked on the land. They have 100 hectares, which is a relatively small area, producing 30,000 litres per year. Each bottle has the production month written by hand, along with the best before date. Their three children are all equally keen on the family business, getting up early to watch the olives being collected, helping with tours and visits, and explaining the correct way to taste an oil.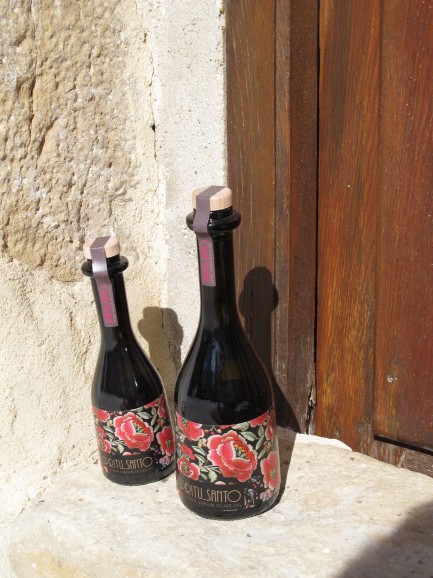 Extra virgin olive oil, picual variety, from Cortijo Espiritu Santo near Ubeda, in Jaen. The label design is by a local artist.
Essential to the quality of their oil is that it is milled as quickly as possible after the olives have been picked; co-operatives, which most small growers use, have shared mills, where the olives may have to wait to be made into oil, resulting in a loss of quality. Extra virgin olive oil is defined as less than 0.8% acidity, produced by mechanical processes (as opposed to chemical; nothing is added). Pressed isn't technically correct, as these days oil is produced by centrifugal spinning rather than by hydraulic presses used until a few decades ago.
The season is from now until February, and the
picual
olives are collected from morning until early afternoon, with the mill machinery, to pulp, spin and filter the oil, running from around midday to 10pm. This process runs seven days a week, with only holidays such as Christmas Day as days off.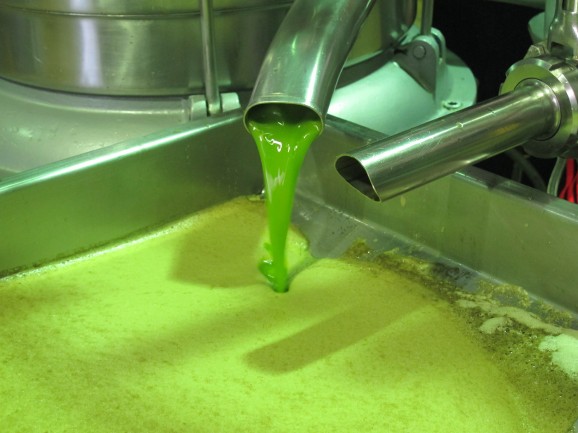 The finished product: freshly-produced picual extra virgin olive oil.
The resulting oil is bright green, with a fresh, clean smell - as their eldest son, Pedro Luis commented, it's more like a juice than an oil - reminiscent of freshly-mown grass and green tomatoes. Its organoleptic qualities (taste) also extend to green almonds and banana skin apparently, but the grass and tomatoes were what grabbed me. I've never smelled, or tasted, anything like it. Pour some on fresh bread, ciabatta-type, not too dense, with some tomato, and you'll never look at (or taste, or smell) olive oil the same way again. I guarantee it.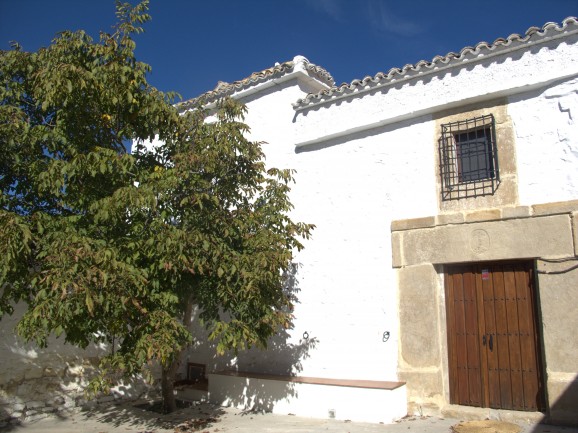 The cortijo, with its magnificent stone entrance, dates from the 17th century.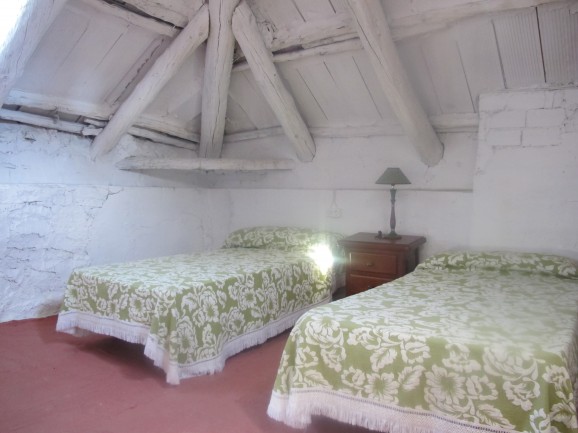 The dovecote bedroom, which has stunning panoramic views of the olive fields, as far as Ubeda perched on a hill in the distance.
But as well as seeing the whole process, excellently explained by the delightful Jose and Maria (in Spanish, they're learning English), you can stay in the cortijo, a traditional 17th-century building with a magnificent stone entrance. Previously used to house farm workers, it has a big sitting room with an open fire place, modern kitchen with wood-burning stove, and six bedrooms - including one with bunk beds, which my kids loved, and one up in the old
palomar
(dovecote). Built in traditional style, most of the cortijo's windows are north-facing, with the south facade almost completely plain. At the back, there's a swimming pool, and my kids were thrilled to bits by the two resident kittens, hens, and a pregnant pony called Paloma.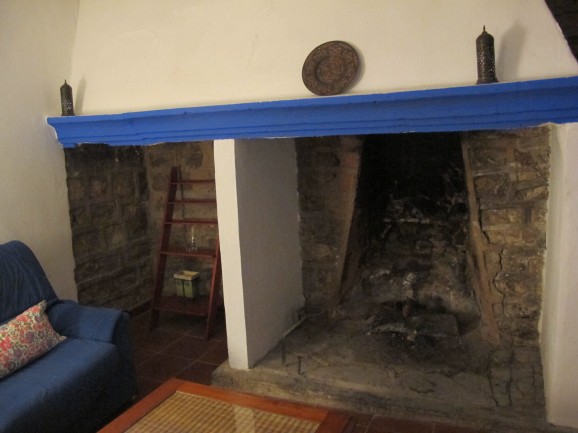 The cortijo's fireplace is handy for chilly Jaen evenings.
Our experience was not only staying in the cortijo and seeing the olive oil production process, but getting to know the family, who were generous with their time, in spite of being busy with the harvest itself, orders for the recently-bottled new season oil, and other visits. They guided and explained, they answered my endless questions about what, where and how. They've only just started with this product, which is undeniably superb, and this season they're also offering visits to the
almazara
(mill), as well as the
casa rural
(country house) accommodation. Already they've had plenty of interest, with radio and TV interviews, and a large order from the US which they were up all night preparing just before we visited. The day we left, a chef from New York, who won an early series of
Hell's Kitchen
, was due to arrive, having driven up from Estepona to see the olive farm for herself.
The province of Jaen is keen to promote the region's olive industry as a destination and experience - "oleotourism" - to complement its monumental-historic offering (the Renaissance gems of
Ubeda
and
Baeza
, which I haven't even mentioned here) and apart from the national parks such as
Cazorla
, popular with hikers and nature-lovers. You can experience Andalucia up close, through one of its defining industries, central to life in Jaen. Walk around a farm, meet the owners, watch the harvest, see how the oil is made, and then taste it. It is a highly educational, and rewarding, experience for visitors of all ages (though my kids preferred the kittens and pony - of course).