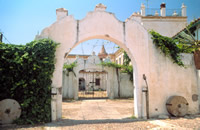 One of the must-have ingredients in Andalucian cuisine is
olive oil
. And not just for
cooking
, either. I've been told to use it for stretch marks (bit messy), children's
constipation
(prefer orange juice, that way they get vitamin C too). I usually buy mine from a local producer, El Molino de Gines (the Gines Mill), Gines being a neighbouring town in the Aljarafe area of
Seville province
. But last week I ran out, so I bought some organic olive oil (not cheap, but nice to avoid all those chemicals if you can) from a well-known supermarket. I used it in a salad dressing, and it was disgusting - very bitter and not smooth like the one I'm used to. So yesterday I hot-footed it back to my usual supplier up the road and stocked up - this oil used to be available in said supermarket, but hasn't been for some time now; I bet they wanted to undercut his profits. The Molino itself used to be housed in an 18th-century building called Hacienda del Santo Angel in the centre of Gines (pictured above), but the clever owner had the idea of rebranding his product "El Molino de Gines", because that's how people referred to it.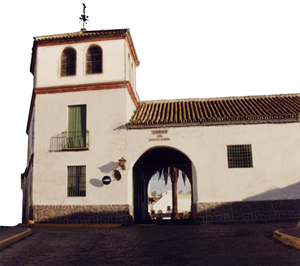 He informed me that the Hacienda, which he sold to the Ayuntamiento in 2004 (smart cookie, this one), is being refurbished and made into a new ayuntamiento building, cultural centre, and, here's the best part, an olive oil museum. It's hard to overestimate how essential olives are to the local economy in this neck of the woods. For centuries, miles and miles of
olive groves
have covered the land of the Aljarafe (means "high area" in Arabic). Many have now been cut down to make way for yet more homes, so it's good to see that something as historic as an 18th-century farm where olives were pressed and made into oil until recently, is going to be preserved. The
obra
will cost 5.2 million euros, and is being funded jointly by the Ayuntamiento de Gines (20%) and the Junta de Andalucia (80%). It will be a fantastic opportunity for people, especially children, to see how olive oil used to be made, before factories with stainless steel vats took over. The big, round millstones; the presses; the ceramic jars; all parts of the same process started by the Greeks 5000 years ago. This hacienda is divided into two areas: the
señorio
- living quarters of the family who owned the mill; and the working area - where the press itself was housed, the horses and carts, the servants, and the storehouses. Of course, this being an Andalucian hacienda, you also get patios galore, complete with trees and flowers. I'm hoping they put a cafe in there too; it's a perfect opportunity to promote, and educate people about, traditional Andalucian olive oil-based tapas and dishes. Another place which has many interesting implements related to olive oil production is Hacienda Benazuza, up the road from Gines in Sanlucar la Mayor. It, too, was an olive oil hacienda a few centuries ago and has kept many of the ancient, complicated-looking pieces of equipment and implements used in its lobby (see picture, below). Olives and olive oil are one of those things which neatly encompass so many facets of live here in Andalucia: nature; food; cooking; agriculture; countryside. The culture of the olive is definitely worth preserving for future generations.