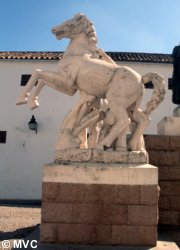 Statue Outside Bullfighting Museum
Located in the old Casa de las Bulas, a renaissance building in Maimonides Square. Photos of old bullfighters, their costumes and various regalia.
Featured prominently are Lagartijo, Guerrita Machaquito, Monolete, El Cordobes. There is a replica of the Manolete mausoleum and a stuffed head of Isleroz the bull that killed him. Manolete who died in Linares in 1947 is buried in Cordoba, his home town.
Museo Municipal Taurino
Plaza de Maimonides
Tel: 957 201 056
Open Winter, 9.30h-13.30h and 16.00h -19.00h.
Summer, 9.30h-15.30h and 17.00h -20.00h.
Destinations