Karst en Yesos de Sorbas Natural Area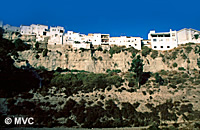 The white village of Sorbas
Like the nearby Desierto de Tabernas Natural Area, this is a dramatically eroded lunar landscape of semi-arid desert covering 2,375ha, designated a protected area in 1989. It is also Spain's most important karst landscape composed of gypsum (yeso), and one of the best examples of its kind in the world.
Its gypsophyte flora - plants that are gypsum-tolerant - are of exceptional botanical interest, with many of them endemic and rare or endangered. These species are under threat, however, mainly from mining activity, which, although prohibited within the protected area, is the economic mainstay of Sorbas. Almeria province provides the greatest amount of gypsum in Spain, while near Sorbas is Los Yesares, Europe's largest gypsum quarry.
Although a desert region, the area has some surprisingly lush corners, like stretches of the Aguas river that cuts through the desert creating sheer sided ravines. It's especially verdant around Los Molinos del Río Aguas, where natural springs have created a mini-oasis of great ecological importance in the midst of a desert. It's worth following the walk along this river, to enjoy the contrast of the dry desert with this magnificent green corridor.
The village of Sorbas is an unlikely conglomeration of Cubist architecture teetering on the edge of a chasm. The limestone labyrinth of caves are the area's main visitor attraction, but the village is also renowned for its pottery.
Information
There is a visitors' centre in Sorbas, Centro de Interpretación Los Yesares, in Calle Terraplén, 950 364 563. It has an exhibition describing the area's three main habitats: desert, caves (including a model of a cavern) and river and an audio-visual display, with information available in English. It can also provide maps, books and details of walks and accommodation in the area.
It's open daily 11am-2pm and 5pm-8pm April to September and Thursday to Sunday 11am-2pm and 4pm-6pm October to March.
Access
Two main roads run through the area, both on the edges of the protected zone. The N340 passes the area's western boundary and the A7 its eastern. To go further into the desert, head east from Sorbas on the AL140 to Los Molinas de Río Aguas.
Accommodation
There is little accommodation in the area; Sorbas has a basic hotel and 12km north is Hostal El Arrecife, in Cariatiz.
Camping
There are no campsites within the area; the nearest one is Camping Los Gallardos, 20km away in a village of the same name, on the N340 at Km 525.
Caves
Cuevas de Sorbas are underground caverns that cover around 50km. They are full of stalagtites, stalagmites and pillars, all studded with glittering mineral crystal formations. Among the most outstanding caves are the 8km-long Cueva del Agua (Cave of Water), which is the largest gypsum cave in Spain, and the 126m-deep Covadura cave complex.
Flora
There are three vegetation zones within the area: subdesert steppe, gypsum outcrops and river valley.
Gypsum is highly toxic for most plants, but gypsophyte species thrive in this type of soil and are abundant in this area. Karst en Yesos de Sorbas Natural Area only has around 5% of Spain's total gypsum territory, but it harbours some 50% its gypsophyte plant species, six of which are in danger of extinction.
One such plant is the rare white-petalled narcisus tortifolium, named after the twisted character of its leaves, which flowers in January and February. As it grows in gypsum-rich soils, it is found near the quarries of Yesera de los Castaños and Yesera de Gafares. The tiny chaenorrhinum grandiflorum, which flowers in May, can also be found near the area's gypsum quarries. Both of these are endemic to the southeastern Iberian Peninsula.
Endemic to Almeria is another gypsophyte, the yellow rock rose helianthemun alypoides, which flowers in the first few months of the year, and the little-known teucrium turredanum, which is named after one of the localities where it is found, Turre, near Mojácar.
The Aguas river is lined with often dense vegetation, such as reeds, rushes and bulrushes at the river's edge and oleanders, willows, poplars and ash trees along its banks.
Fauna
Due to the area's low rainfall (less than 300mm per year) and scarcity of water, there are notably few mammals and birds, although there is a wide variety of species.
Look out for crag martins, bee-eaters and black wheateaters on rocky cliffs, while birds of prey such as Bonelli's eagles and common kestrels can often be seen soaring overhead. Spectacled warblers inhabit the arid steppe. Along the course of the Aguas river you can hear nightingales and reed warblers in the summer.
The highly endangered spur-thighed tortoise can be found here. Along with Murcia province, Almeria is one of Spain's few remaining refuges for this tortoise.
Bats hibernate in the caves. Mammals include genets, foxes and badgers. Spanish sand lizards, ocellated lizards, Turkish geckos, ladder snakes and horseshoe snakes are among the reptiles. In the fringes of reeds and rushes along the Aguas river are Spanish terrapins.
Rivers
The principal river is the Aguas river, which flows all year round.
Things to see
Aula-Museo de la Cuenca de Sorbas is a geology museum in Sorbas, with exhibitions on the geological process that created the karst system and information on the area's minerals and rocks.
Cuevas de Sorbas are an impressive labyrinth of underground caverns.
Walks
There is one well-marked trail in the area:
Sendero Los Molinos del Río Aguas is a 2km easy linear walk that starts from the hamlet (cortijada) of Los Molinos del Río Aguas. It follows the course of the river, through narrow gorges and past rocky slopes sparkling with crystals of gypsum. The route passes the former mills (molinos) that gave the hamlet its name. You can cool off with a dip in one of the river pools, before returning along the same river valley.
Villages
Sorbas is the main village. The area is dotted with hamlets, most of which are abandoned. A small community of mainly foreign residents lives in Los Molinos.
Destinations