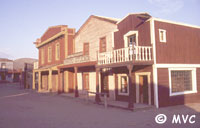 Tabernas Film Studio
OASYS THEME PARK AND FORT BRAVO Almeria
In the 1960s and 1970s more than 100 films were partially shot at these two film sets in the bleak Almeria desert landscape of Tabernas, including Westerns such as A Fistful of Dollars, The Magnificent Seven, and The Good, the Bad and the Ugly; also Lawrence of Arabia and Indiana Jones and the Last Crusade. An episode of Dr Who (A Town Called Mercy starring Matt Green; Series 7, episode 3) was shot here .
Oasys Mini Holywood
These days, visitors to Oasys Mini Holywood (formerly known as Mini Hollywood, then just Oasis) can enjoy a mock bank hold-up and shootout, staged at noon, 5pm and 8pm daily, as well as stopping off for a cold beer at the Western-style saloon, which stages Can-Can shows. There is also a pool, a cactus garden, and a zoo with 800 animals of 175 species, including giraffes, lions, zebras and buffalo, and parrot demonstrations.
Western Leone
Western Leone, taking its name from the film director.  Offers similar, shows, saloon, photo studio, horse riding, restaurants. 
Fort Bravo
Just 3km away is Fort Bravo Texas Hollywood, also used as a movie set for spaghetti westerns. This one boasts a Wild West town, stockaded fort, Mexican pueblo, complete with church and square, and Indian settlement, complete with teepees. It also offers daily shows, as well as a pool, restaurant, saloon bar, shop and cabañas to rent. You can meet horses, donkeys and camels, and even go on horseriding trips, catering to all levels of experience - ride 'em on, cowboy!
Fort Bravo Entrance Ticket
Fort Bravo Entrance Ticket
The sets here are 100% original, found in the natural landscape of the Tabernas Desert. Fort Bravo is still used for film shootings, adverts, and short movies and clips. The studios have an American and a Mexican town, offering visitors a Saloon-Bar, a restaurant, a souvenir shop, and a photo studio to dress up in classical Wild West costume and take a photo as a souvenir; in a frame resembling classic 'Wanted' posters.

Open
Oasys Mini Holywood: All year April to October, daily 10.00 to 21.00 and November to March, Sat - Sun 10.00 to 19.00 hrs. 
Fort Bravo: All year, Show 12.30hrs, 14.00hrs, 17.00hrs, 19.30 hrs (summer only).
Western Leone: All year 10.00 hrs to 20.00 hrs.
Entry:
Oasys Mini Holywood entrance only costs 22,90 € for adults and 13,60 € for children aged 3-12;
Oasys Mini Holywood entrance including buffet 34,60 € for adults and 21.80 € for children aged 3-12;
Fort Bravo costs 19.40€ for adults, 15.90€ teenager 12 to 17yrs, and children aged 5 to 11 yrs 9.90 €.
Western Leone costs 11€ for adults, 6€  children 4 yrs to 11yrs. 
Tel:
Oasys Mini Holywood 950 36 52 36
Fort Bravo 902 07 08 14
Western Leone  950 16 54 05
Location:
Oasys Mini Holywood      N-340a near Tabernas just off A-92 at junction km 376.
Fort Bravo       N-340a km 468 nearer Tabernas off A-92 at junction km 376.
Western Leone Turn off A-92 at junction km 376 and take parallel service road 1km in direction of Guadix, follow signs. 
Destinations