MEL PYATT, FATHER OF VOLVO MASTERS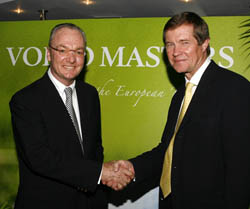 The Volvo Masters, the Grand Finale of the European Tour season  celebrated its twentieth anniversary from 1st to 4th November 2007 at Club de Golf Valderrama, in San Roque (Cádiz).
Many have witnessed and have lived the event from its very first staging in 1988, but not many people know the story of how the tournament was born. Its "father" is the English golf professional Mel Pyatt, now President and Chief Executive Officer for Volvo Event Management, who, incidentally, will be retiring at the end of the year.
Mel Pyatt recalls that "At the beginning of 1987 I was General Manager at Atalaya Golf, when Carlerec Haggstrom, worldwide head of marketing for Volvo Cars, came to stay as a hotel guest. We played golf together and that evening he invited me to join him for dinner where he told me that Volvo had made an agreement with the European Tour to create a major event, possibly called the Volvo Masters, which would need to be played in Spain. Then, at the end of the evening, he told me that he thought I was the right person to be in charge of the project.
However, at the time, Alicia (my wife) and I were living happily at Atalaya with two young children, and the idea did not initially impress me. Eventually though, after four months of giving it great thought and many conversations, Carlerec finally convinced me and I accepted the job.
Volvo wanted the event to take place in Spain, late in October or at the beginning of November, so that it would be the season's finale, and also decide the Order of Merit. I was then asked if I new any good golf course that could host it, at the same time being given a suggested list of possible courses in the area, in which, surprisingly, Valderrama was not included.
I immediately suggested Valderrama, but Carlerec said that as it was a private club that did not need any publicity, Jaime Ortiz-Patiño would probably say no. So I contacted my great friend Derek Brown, Golf Manager at Valderrama at the time, and told him in confidence that Volvo were going to create the Volvo Masters that it would be my absolute responsibility, and did he think Mr. Patiño will accept a proposal. Derek said: 'He can only say yes or no, so go and talk to him'. He immediately started moving and arranged a meeting with Don Jaime two days later.
It was the first time I had met Jaime Ortiz-Patiño and I shared with him our long term vision for the event, that it was going to be something very special, and asked him if we could stage the Volvo Masters at Valderrama. Don Jaime answered it was too early. The project he had planned and all he wanted to accomplish would not be ready for three years, but I told him that if it was not to be played in Valderrama the following year, it would go to another golf course and would never come back. I made it very clear: "I have been given a list of golf courses in which Valderrama is not included, but I have convinced Volvo's Board that the Volvo Masters must only take place at a great golf course like this.
He was hard to convince, nearly as difficult as Volvo's Board, it was not an easy task, but I kept insisting it was going to be a great event that could only be played at a great golf course, which could not be other than Valderrama. At that time, the infrastructure; motorway, hotels around Sotogrande- that we have nowadays did not exist. The golf course was changing, players would come from a very long and tiring season, they would complain about the difficulty of the course but Valderrama was going to be the scholarship to get the final degree and not one more exam. Thankfully, Jaime eventually accepted the challenge, and he dedicated time and money and did a lot of work, he worked very, very hard to fulfill his part of the bargain.
The day I finally convinced Carlerec, Don Jaime invited us for lunch with some of his most important members. First, he showed us around the golf course and Club House, I remember it was a lovely day, with a beautiful light and blue sky. I had explained to Volvo's Board that, if the event was going to be hosted in Valderrama, it could only get better and better to the world's eyes, which mirrored the policy of the Volvo brand, but if we went to another venue; maybe the opposite could happen. Finally, everybody agreed, we started moving forward and the rest, as they say, is history. At the beginning of this year we re-signed the contract between Volvo, the European Tour and Turismo Andaluz, and the Volvo Masters will remain in Valderrama until 2010.
There have obviously been some changes during all these years, for instance, we started with 80 players with a cut down to 50, then 54, later on 66 players; and now we have 60. I also said to Ken (Schofield) and George (O'Grady) it was not fair to have qualified for the Volvo Masters if they were only going to play half of the event, and I thought they should all have the chance to play all four rounds. They put it forward to the Players' Committee and it was agreed there would be no cut.
Along the way, other countries have tried to take the Volvo Masters away from Andalucía. Portugal tried very strongly, as did some Asian countries. It was touch and go at one stage, we even went to Portugal to take a look at golf courses, but I always wanted it to remain in Andalucía. Germán López father (President of Volvo Spain for many years), and later Germán López son (President now), were instrumental in the decision to keep the event in Spain. They supported it at 100% and, with a great vision, they understood the Volvo Masters as something bigger than just a golf event.
Another person who should not be forgotten at this point is Jeff Kelly, co-founder of Andalucía Golf with Antonio Sánchez. Jeff played a big and instrumental role in convincing Turismo Andaluz to get involved and invest in the tournament, so that it would remain in Andalucía, the land where it was born. Jeff is a sadly missed member of the Volvo Masters team.
Over the last 20 years I have to be very grateful to the media in general and especially to the Spanish media, without whom, I must say, we might well not be here today. They supported us from day one and have always reported the Volvo Masters in a very positive and excellent way. I feel privileged to have made very good and close friends with many of them.
Naturally, I feel extremely proud of the Volvo Masters, considered by many as a 'Major' event, and particularly proud of my personal friendship with Jaime Ortiz-Patiño, with whom I have shared the same vision for so many years. We've had many one to one meetings, lunches, dinners; sometimes not agreeing, but always negotiating as friends, in a mature and respectful fashion.
Things have not always been easy, the weather conditions have not been on our side and over the years we've suffered suspensions, heavy rain, strong winds; But just to give you an example of how much the Volvo Masters means to some people, we had a very important guest from Canada who only came to play the Pro-Am but never ever went out on the golf course! He arrived on the Tuesday night, we suspended the Pro-Am on Wednesday due to non-stop rain, and he flew back to Canada very early on Thursday. Despite this, he said during the time he spent in our hospitality suite, enjoying the atmosphere at Valderrama and with a good glass of Rioja in his hand, he was the happiest man in the world.
And, last but certainly not least, I would like to thank the players, they have given the color and show to the Volvo Masters, although, to be honest, I have hardly seen them in action as I have always been behind the scenes. We've had very tight and exiting events, in many of which the Volvo Order of Merit and the tournament itself were decided with the very last putt. As I've always said, you should not look at the leader boards until the last nine holes, there's always been drama until the very end".
Report on the Volvo Masters 2007
Report on the Volvo Masters 2006
Report on the Volvo Masters 2005
Report on the Volvo Masters 2004
Report on the Volvo Masters 2003