Valle Romano Open of Andalucia 2007, May 10-13 2007. Aloha Golf, Marbella
Valle Romano Open of Andalucia 2007, May 10-13 2007. Aloha Golf, Marbella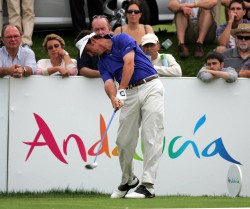 May 10th, 2007 marks the beginning of the inaugural Valle Romano Open of Andalucia. It is being played at Aloha Golf in Nueva Andalucia, outside of Marbella.
The field is comprised of 144 professionals (33 of them Spanish) are all vying for the championship. Tournament promoter and participant, Gonzalo Fernández-Castaño, told the press yesterday that he knows the course well. "It is a course I like a lot," he stated. "I started here when I was young. It's a short course but very tricky…"
Fernández-Castaño acknowledges that the field is a strong one but he still hopes to do well. This is especially meaningful after his 16-under par win last week at the Italian Open. "Winning is always difficult," he said, "but I am definitely going to do my best."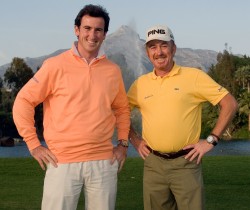 Promoters Fernández-Castaño(left)
and Miguel Jiménez at Open
Winning might be made a little easier with the early withdrawal of two favourites, Spain's Álvaro Quirós and India's Jeev Milkha Singh (last year's winner of the Volvo Master event held at Valderrama). Both have withdrawn from the competition with injuries.
Fernández-Castaño is also celebrating his new sponsorship contract that he signed earlier this year with Osborne, the Spanish winery. "It is an honour being identified with a big and important company like Osborne with such a history," he stated.
The competition continues until Sunday and is open to the public for a nominal cost of 10€ per person.