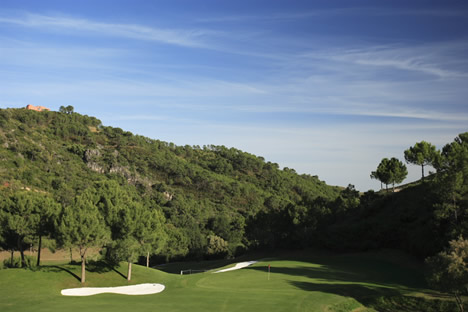 Monte Mayor Golf Course
Course Info
• Holes - 18
• Par - 71
• Clubs hire -
• Buggy hire -
• Hand Cart hire -
• Restaurant -
• Bar -
• Map
• GPS N - 36.487005
• GPS W - -5.020666
Monte Mayor Golf Course
Monte Mayor Golf opened in 1989 and was designed by José Cancedo.
This is a fantastic and challenging golf course known as one of the most spectacular on the Costa del Sol.
The golf course is set in an area of outstanding natural beauty. The valley in which Monte Mayor is laid out clings to the slope of Monte Mayor. The ruins of a 10th century Moorish fort crown the summits of Monte Mayor.
The driving range is breathtaking. 
Tour pro Alex Cejka practiced a lot here and enjoyed to work all his shots at Monte Mayor. He's the course holder record with 66.
Monte Mayor was frequently voted among the Top 5 as a MUST to be played. 

The course closed in 2011 for financial reasons. It was bought at auction in late 2014 by a Russian investor with the announced intention of opening in 2016. However work on restoring the course has not started yet in 2019.    
Signatures Holes
Hole 3: Par 3 - 165 m from the yellow tees (193m from the white tees).
Probably one of the best par-3's on the Costa del Sol. Very intimidating, but a good shot slightly on the right of the pin will take you safely home. If not, dropping zone, close to the green …
Hole 4: Par 5 - 419m from the yellow tees (425m from the white tees).
A drive then a dilemma: do you go for the green - glory or misery - or do you lag your second shot on to the intermediary plateau? Then, to go to the green, you will pass across a lovely rustic bridge and discover the glorious waterfall cascading over natural marble stone …
Hole 13: Par 4 - 284m from the yellow tees (291m from the white tees)
The elevated tee offers you a panoramic view over the course and out to the sea - simply astounding!
Contact Details
Tel: + 34 952 937 111
Destinations