Paco de Lucia performing at Malaga Bullring.
Paco de Lucía; adiós para siempre
Paco de Lucia was one of Spain's most formidable guitarists and although his name became synonymous with flamenco, and especially with singer Camarón de la Isla, he went on to become the most imitated and revered guitarists of the last century.
Paco de Lucia. The gaditano guitarist suffered a fatal heart attack on a beach in Mexico whilst relaxing with his family on 25 February 2014. Paco, who had lived in Mexico for some years, was rushed to a near-by hospital but medics were unable to save the 66-year-old guitarist.
The prodigy of a strict domineering father, Paco de Lucia's early years adhered to a gruelling 14-hour day learning schedule: his father was also a musician and he had spotted the early signs of his son's mastery and soon began to guide Paco on his quest to become one of the greatest guitar legends in flamenco history.
Born Francisco Sánchez Gómez in Algerciras, Cadiz in 1947, Paco would first team up with his younger brother Pepe, when just 15 years of age, and together they won considerable acclaim as Los Chiquitos de Algeciras.
At the age of 17 he was soon on his way to international stardom when he became the regular guitarist for the flamenco troupe of José Greco. Paco's early style was heavily influenced by Niño Ricardo, and yet it was whilst in America with Greco that the legendary guitarist Sabicas, who at that time was considered to be the greatest flamenco guitarist in the world, convinced the youngster to find a different path in order to create his own style.
This he quickly achieved, inventing a new language that gave a more modern feel to the existing flamenco guitar, which up until then had been dominated by Ramón Montoya and Niño Ricardo.
In 1967 he recorded his first solo L.P called La Fabulosa Guitarra de Paco de Lucía and by this time he was well on his way to becoming a household name in Spain.
The music scene began changing all over the world at the beginning of the 1970s, and in Spain things were also changing; especially on the flamenco scene.
A meeting between Paco de Lucía and a young flamenco singer by the name of Camerón de la Isla, in a snooker hall in Madrid, was about to change the face of flamenco forever.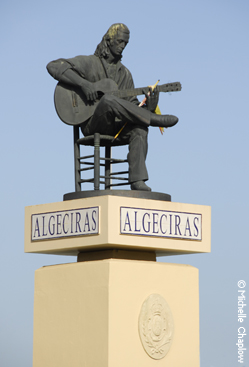 Paco de Lucía (1947-2014)
Their partnership was to be a milestone in the history of flamenco because they altered and changed the rules of the art and they embarked on a quest that was to turn the flamenco scene on its head: for a period of ten years they were dominant on the festival circuit and they released a string of recordings that revealed the strange, yet magical, musical chemistry that existed between them.
Paco's early work with Camarón produced some of the finest flamenco ever recorded and these albums paved the way for a revolutionary new flamenco style that would, for the first time ever, gain the attention of the younger generation.
Paco was also responsible for the recognition of the accompanist, because it was not felt to be of sufficient importance to include the guitarist on the credits of the recordings that they played.
Paco de Lucía changed this, and he was the first guitarist to be credited on an album cover. He is listed on every disc by the late Camarón de la Isla, with the words, Con la colaboración especial de Paco de Lucía.
Although Paco de Lucia was fast becoming the most phenomenal flamenco accompanist of them all, he dedicated what little spare time he had to a solo career, and this would take him to greater heights than he could have ever have achieved with the fated Camarón.
His recording Fuente y Caudal was to achieve him unexpected success and the rumba named Entre dos aguas created an anthem that has become one of the classic guitar pieces of all time.
Eventually, and inevitably, Camarón and Paco parted company and the guitarist's musical direction took a drastic turn: jazz began to influence his style and he was soon playing alongside some of the great jazz figures of the era, which included John McLaughlin, Larry Coryell, and Chick Corea.
Two of his most celebrated solo albums were Siroco, and Ziryab, the latter being a tribute to the ninth-century Persian musician, and he would also participate in countless other flamenco projects with artistes of such importance as El Lebrijano, Duquende, and Fosforito.
He also recorded Luzia, which was dedicated to his mother, and it was on this record that he included a masterful rondeña dedicated to the memory of his late friend Camarón de la Isla.
Paco had been at the centre of some considerable scandal concerning the death of Camarón, because there were some people who, unjustly, blamed Paco for the terrible financial state Camarón was in at the time of his death. Some of the mourners at Camarón's funeral had even hurled abuse at Paco, for they believed that he was responsible for depriving the singer and his family of royalties created during their golden years. This was later played down by Camarón's family, and it was obvious to anyone who knew anything about their partnership, that Paco had done no such thing.
The main problem was that Paco de Lucia seemed to go from strength to strength, whilst Camarón, who had a heroin, cocaine and alcohol addiction, was not the type of person to worry about the future, and therefore died relatively penniless.
In 2004 Paco de Lucia produced one of his most famed works, Cositas Buenas, and in this same year he was presented with the prestigious Principe de Asturias award. He has been awarded more trophies and recognitions than this obituary has room to list, and his achievements and contribution to the flamenco guitar are unsurpassed. He was a genius who changed the course of flamenco and he has been worshipped by guitarists in every corner of the globe, and if one looks closely, one will see a little bit of Paco de Lucía in just about every Spanish guitarist born this side of the 1950s.
When a great master of any art dies, they are invariably heralded as the greatest ever proponent of that art. But in the case of Paco de Lucia, there is no doubt that he was indeed one of the most venerated guitarists to have graced the art of flamenco. The name of this most celebrated flamenco guitarist is now etched into the history of the acoustic guitar in much the same way as Les Paul has adhered to the electric one.
The world has lost a formidable musician and flamenco has lost one of its maestros: the non-gypsy flamenco from Algeciras has gone, but his legacy will last forever.
Video
Paco de Lucia playing 'Entre dos Aguas' in 1976 on spanish TV1
Ruta Paco de Lucia in Algeciras
You can follow a route of places around Algeciras which were important to the artist, starting at his birthplace, and moving south along the shoreline of the city.