Paco de Lucía (1947-2014)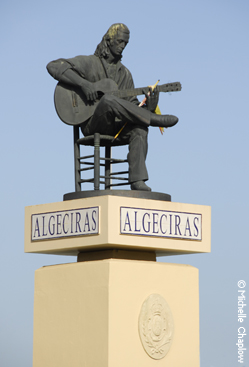 Paco de Lucía statue
Genius, maestro, virtuoso, even God, are all words that have been used to describe one of the most idolised guitarists in the history of flamenco.
His real name was Francisco Sánchez Gómez, and as John Lennon would be to classic pop lovers or Pavarotti to classical music fans so was Paco de Lucía to followers of flamenco guitar. He was, without a doubt, one of the most important and influential guitarists to have ever come out of Spain.
Paco de Lucía was one of the protagonists that carried the flamenco guitar well into the twenty-first century, and if you look closely you will see a little bit of Paco de Lucía in just about every guitarist born this side of the 1950s.
This star was born in the port city of  Algeciras in Cadiz province in 1947 and his early childhood was spent unknowingly learning the art of flamenco, something that was performed in his small, modest home, on a daily bases. Even before he heard his calling from the guitar, he understood the rudiments and rhythms of flamenco simply because it was so naturally part of his up-bringing.
His father was also a musician and thus spotted the early signs of his son's mastery and soon began to guide Paco on his quest to become one of the greatest legends in flamenco history.
Paco de Lucía took on the task of modernising the flamenco guitar and from his earliest days he has dominated the instrument, although he was heavily influenced by Niño Ricardo during his younger years.
By the time he was eight his life was totally engrossed in the world of the guitar; he practised for fourteen hours a day, part of a strict routine that was enforced by his father. When he was just twelve he was accompanying his brother Pepe in a duo known as "Los Chiquitos de Algerciras" and together they won recognition in a flamenco contest held in Jerez de la Frontera in 1962.
At the age of seventeen Paco de Lucía was the guitarist for the flamenco company of the dancing legend, José Greco, with whom he toured America.
While in America he was introduced to Sabicas, (considered at the time to be the greatest flamenco guitarist in the world), who told a young Paco to abandon his "Ricardo" technique and to concentrate on creating his own school or style. This was advice Paco de Lucía used to his greatest ability and what historical counsel it proved to be.
He invented a new language, a different style of playing that was more his style than it was flamenco. He gave a more modern feel to the existing flamenco guitar, which up until then had been dominated by Ramón Montoya and Niño Ricardo. This new style of his was pure flamenco, but with a fresh new direction that respected and followed the tradition of the art with a more youthful and exciting approach. In 1967, already on his way to becoming a legend, he recorded a solo LP called "La Fabulosa Guitarra de Paco de Lucía".
At the beginning of the 1970s the music scene was changing all over the world and in Spain things were also changing, especially on the flamenco scene. A meeting between Paco de Lucía and a young flamenco singer by the name of Camaron de la Isla, in a snooker hall in Madrid, was about to turn the flamenco scene on its head. Their partnership was to be one of the most important stages in the history of flamenco. Together they altered and changed the rules of flamenco. Inventing new styles and re-structuring old ones they went on to become the most exciting thing that had happened to flamenco for a long time.
But to Paco de Lucía this was still not enough to satisfy his almost supernatural understanding of his instrument and he continued also with his solo career. His fifth CD "Fuente y Caudal" (1973) included the instrumental rumba named "Entre dos aguas". Algeciras sits between the Atlantic and the Mediterranean however the title also eludes to the phrase 'caught between two places/stools/fronts/ways'. Paco's brother Ramon played second guitar and Peruvian José Sánchez played percusion with Bongpos (not a flamenco sound box). The song was not an inmediate sucess until two years later when Philips were persuaded to release it as a single. Paco had created an anthem that  became one of the classic guitar pieces of the decade, perhaps the century.
After this, he released a string of solo albums as well as participating in many musical projects with Camaron de la Isla. For a period of more than ten years (1969-79) that duo recorded numerous albums, all of which were produced by Paco`s father. However, like most of the great partnerships in musical history they were soon to go their separate ways; Camaron de la Isla took the typical rock star path of "live fast and die young" and Paco de Lucía went on to perform along side some of the greatest names in flamenco history.
Around this time his musical direction took a turn and jazz began to influence his style. He was soon to begin a period playing along side some of the great jazz figures of the era including, John McLaughlin, Larry Coryell, and Chick Corea.
While continuing to increase his status as a master soloist he also formed a flamenco group, which included his brother Pepe de Lucía, on vocals and a collection of other established musicians and dancers. With this flamenco quadro he toured all over the world, gathering thousands of new fans along the way.
Paco de Lucía's live shows consisted of a set of the most pure and traditional flamenco together with his own personal style of flamenco fusion, a modern style complete with bass guitar, clarinet, and flute. He recorded dozens of solo albums and also participated in countless others with artistes of such importance as Fosforito, with whom he recorded the excellent "Selección Antológica del Cante Flamenco". Two of his best solo albums are "Siroco", which was released in 1987, and "Ziryab", a tribute to the ninth-century Persian musician, which was released in 1990.
In 1998 he released the album, "Luzia" which was dedicated to his mother who had recently passed away. That album also contained a "Rondeña" in memory of his departed friend, Camaron de la Isla. His last solo recording was in 2004 when he produced the album "Cositas Buenas".
The year 2004 was also the year Paco became a more than official legend as he was presented with the prestigious "Principe de Asturias" award by Prince Felipe himself. Throughout his career, he was awarded scores of trophies and awards with tickets for his concerts normally selling out within hours. The second "Bienal de Flamenco en Málaga" - the Málaga biannual flamenco festival - in 2007 was dedicated to Paco de Lucía during which was honoured in a concert at the bullring.
Paco de Lucía is an artiste who has been written about by hundreds of writers worldwide. The list of his achievements is phenomenal and his contribution to the flamenco guitar is unsurpassed. He was a genius who changed the course of flamenco and today he is worshipped by thousands of guitarists in every corner of the globe.
There is only one story to tell about this guitarist from Algerciras, and this is that the name Paco de Lucía is etched into the history of the flamenco guitar much the same as Les Paul has adhered to the electric one.
(Page written 2012, updated 2014)
Continue for more comprehensive obituary
Discover the Paco de Lucia route in Algeciras, a route of places around Algeciras which were important to the artist, starting at his birthplace, and moving south along the shoreline of the city.
Video
Paco de Lucia playing 'Entre dos Aguas' in 1976 on Spanish TV1