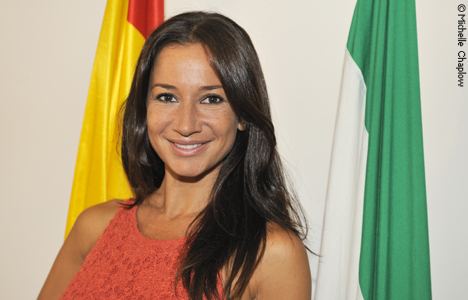 Flamenco Dancer Cecilia Gómez
Passionate Flamenco dancer and local Andalucian, Cecilia Gómez, talks exclusively with Andalucia.com about her production of "Cateyana, su pasión", its inspiration - the Duquesa de Alba and, of course, flamenco.
Two things struck me about Cecilia Gómez the first time I saw her. Firstly, her friendly smile immediately making me feel at ease around her, and secondly, that she was the very definition of an 'elegant dancer'. She seemed completely down to earth in her understated red dress and matching red sandals.
In June 2010, Cecilia Gómez launched her very own flamenco show - "Cateyana, su pasión", with destinations booked around Spain and internationally including Rome, Turkey and Colombia. My admiration for Cecilia only grew when I learnt that she was not only the star of this worldwide tour but also managing it. I was amazed by how relaxed she seemed when her responsibilities extend from performing every elegant movement of flamenco to sorting out the lights on stage to the contracts, clearly with the support of a brilliant team.
Cecilia Gómez In 'Cayetana, su pasión.'
'Cayetana' is a tribute to the life of the Duquesa de Alba. The seven acts, performed through flamenco, demonstrate each one of the arts integral in the life of the Duquesa de Alba, including pintura, poesia, las fiestas de Semana Santa and toros. It is in Estepona, that Cayetana will be performed for the first time in a plaza de toros. I am very excited to see a show with such an insight into fundamental features of Spanish culture and the life of an aristocrat.
The Duquesa de Alba, a well known figure in Spain, has more titles than any other noble according to the Guinness World Records. A descendant of King James II of England, born at the Palace of Liria and now head of the Casa de Alba, there is great interest in her life. Only recently, a TV mini-series aired showing her life up to the end of her first marriage. The great popularity of this series leaves many awaiting the next instalment about her second marriage.
Cecilia happily told us that the production has had the complete support of the Duquesa de Alba who feels very passionately about the art and culture in Spain. For example, she firmly supports bullfighting. She spoke genuinely about her admiration of the Duquesa and the pride she feels at the Duchess' contribution to the world of flamenco.
One of the greatest difficulties for Cecilia was paying homage to a living person; it was a challenge and honour both professionally and personally. So what did the Duquesa de Alba actually think of the show? The Duquesa is enthusiastic and passionate about the show and takes a personal interest in the tour and the company.
One of the things I am most looking forward to are the costumes, all designed by Andalucian designers Victorio & Lucchino apart from the bullfighting scene designed by famous bullfighting tailors in Seville 'Justo Algaba', fitting since the Duquesa's favourite city is Seville.
Cecilia's Andalucian blood originates from La Linea de la Concepción, Cadiz. Dancing from a very young age, she studied Spanish classical dance at the Conservatorio Superior de Danza de Malaga. When asked about the Tablao in which she feels most at home, her answer without hesitation, was 'El Carrete' in Montemar, Torremolinos opened by José Losada Sanchez, who she says are like her familia.
During her life she has worked with many important figures in the world of Flamenco, but who has inspired her? Juan Andrés Maya, Juan Ramirez, Sara Baras and Antonio Canales to only mention a few. Cecilia also gave praise to the many people who have worked alongside her in shows or the many Tablaos in Spain. Although unknown they have given her great inspiration. "So many people have left a mark and helped me evolve my career".
Cecilia's passion for flamenco is very clear. Her reaction to the influx of foreigners into Spain who come purely to learn Flamenco and the presence of Flamenco clubs around the world is a positive one. She is fascinated by it, mentioning the meticulous movements and gestures of Japanese students, both dancers and guitarists, and German dancers. She has taught foreign students in Algeciras herself and found it very satisfying.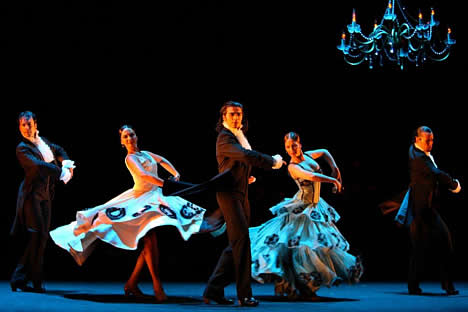 One of the group dances.
Cecilia emphasized that flamenco transforms you into a lady of beauty and elegance no matter the size or shape. She commented enthusiastically about the ladies she has seen, 15 stones or more, who are so light on their feet and incredible to watch. The dancing is beautiful and mesmerizing to watch, she says, the elegance and rhythm is in the blood, especially gypsy blood.
Andalucia.com conducted a survey over a year asking our readers what Andalucia is most famous for. Competing against six categories of the most emblematic things in Andalucia, including the weather (16%), bull fighting (15%), beaches (15%), gastronomy/taps (13%), fiestas (11%) and geography (9%), flamenco was the clear winner with 21% of the votes. And Cecilia's reaction - "That's fantastic, I love the fact that Andalucia waves the flamenco flag, just as it should be, naturally".
Below is a video of 'La Cayetana' from our YouTube channel.