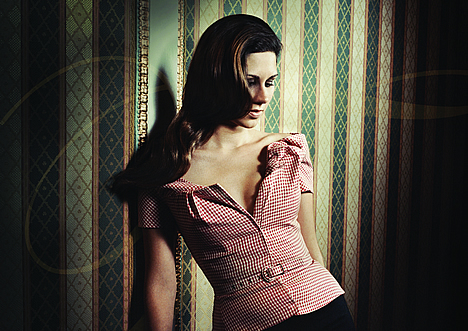 Exclusive Interview with Tamara
AC: In October this year, Tamara's latest and 10th album, Amores (Lovers) will be released. Are you thinking about launching another album yet or do you want to get the most out of this one first?
Tamara: In June, I finished recording another album in Mexico that will be released on to the market at the end of this year or the beginning of the next.
AC: Can you tell us anything about it?
Tamara: Only that it is an album of cover songs, there aren't any unreleased tracks.
AC: How did the recording of your single Amores go, when you worked alongside David Bustamente?
Tamara's very proud to be "Andaluz".
Tamara: It was fantastic, until that point I hadn't met him in person but we connected really well. David Bustamente is a great guy, really natural and very fun. I truly enjoyed it and had a lot of fun working with him.
AC: What about a duet with your idol Luis Miguel, are you any further in achieving this dream?
Tamara: Well, this is really tricky, but I hope it can happen one day. My first objective would be to meet him in person though!
AC: In your last album you introduced some different, pop rhythms; will we hear in the future anything of your Grandfather, Rafael Farina's flamenco roots?
Tamara: You never know, perhaps one day I'll do it, but at the moment, I'm happy with the more melodic style, with pop and Latin rhythms.
AC: As an artist, who do you look to as your guide?
Tamara: My word! I look to my whole family; I'm working on something that my grandparents and others began.
AC: What about as a young woman or even, as a mother?
Tamara: That's a tough one! I think that everyone instills in their children what their parents instilled in them when they were small. But that's really tough because they don't teach you that as a mother you are going to learn bit by bit.
AC: So how would you define yourself?
Tamara: Erm, as a sensitive person, but strong, with a little bit of a temper, but spontaneous, and I love to smile. As an artist, I'm demanding, very demanding, perhaps too much. But I persevere; I'm a fighter and a hard worker.
AC: What would you say is the most important thing in your life?
The Andalucian singer Tamara.
Tamara: My children. And professionally my career, but my family always come first.
AC: What is, or what would be a reason to make you give up your career?
Tamara: For a while, I would give up my career for my children and for my family, but I would return to it. I'm not ready to totally end my career yet.
AC: And what would you never give up?
Tamara: I would never giver up my family, not ever.
AC: You were famous very young, did it affect you when you were growing up?
Tamara: At first, it had a huge impact, but then you get used to it. Fame is a part of me now and it has become normality for me.
AC: When you visit you city of birth, Seville, which places do you always return to?
Tamara: I go to my neighbourhood, where my family live and where I grew up, La Macarena.
AC: If you were a tourist guide for friends visiting Seville, which monuments and places would you take them to see?
Tamara: They would have to have a lot of time because Seville has so many things to see. But first, I would teach them about my neighbourhood, Triana and Santa Cruz.
AC: Other than Seville, what parts of Andalucia do you like the best and why?
Tamara: Cadiz is wonderful, beautiful, when I was younger I went on holiday to Huelva a lot, and I think Malaga is beautiful too. In general, all of Andalucia has a lot that I love.
AC: Which typical Andalucian recipes do you usually make when you are in your house in Barcelona?
Tamara: In the summer, above all, I make gazpacho (cold soup) and salmorejo,(a thick gazpacho) and in the winter, vegetable soups and pucheros (stews) that you can't usually find in Cataluña. In general, I make lots of family recipes.
AC: Where are you favourite places to go for Tapas in Seville?
Tamara: Wherever is good, although I do love many of the Tapas bars in Triana.
AC: And where would you go for a drink with a friend?
Tamara: I think it's the company that's the most important thing, so we go wherever we fancy.
AC: So what does it mean to you to be Andalucian?
Tamara: Goodness! I'm so proud to be Andalucian, it's something very important to me, it's really special because it's my roots. I hold as much pride for being Andalucian as being Spanish!