An Interview with Rev Adrian Low. Emeritus Professor of Computing Education at Staffordshire University, and Anglican Chaplain to the Costa del Sol West
Rev. Adrian Lowhas two equally important, but very different, titles: Emeritus Professor of Computing Education at Staffordshire University, and Anglican Chaplain to the Costa del Sol West. Adrian, who lives in Estepona, recently visited the web development offices of andalucia.com to tell us about his two roles in two countries. He and his wife have three grown-up children based in Shanghai, Vancouver and England - a global family indeed.
AC: Adrian, welcome to Andalucia.com. I'd imagine there are few other people who wear two such diverse professional hats, so to speak: both Reverend of the Church of England, and Emeritus Professor of Computing Education. How do you combine the two roles?
AL: I retired from being Professor at Staffordshire University in the UK in 2014. On retirement the University kindly offered me continuation of my professorial title, so I still go to their award ceremonies, use their email and write articles. But 95% of my time is in Spain, being a 'vicar' to the Anglican church here. It is a role I love and I am here with Joanna my wife - we come as a team.
AC: As Chaplain of the Anglican Chaplaincy of the Costa del Sol (West), your parish extends from Marbella to Gibraltar, with two churches - one in San Pedro and one in Sotogrande. Can you tell us where and when your services are held, both Methodist and Anglican?
AL: Yes, we have a 10am service at San Pedro, in the church hall near the McDonald's roundabout, and a midday service in the main church in Sotogrande. The San Pedro service is a typical Anglican Communion service as are the Sotogrande services except on the first and third Sundays in a month when Sotogrande becomes a Methodist Congregation. We have about 50 at each church on an average Sunday, with a Sunday School. Do come along, you will always be welcome.
AC: You're originally from Essex. Where were you originally ordained as a priest?
AL: My home was Southend-on-Sea but when Joanna and I were married we lived for a few years in Norfolk and then moved to Staffordshire where, whilst still at the university, I trained to become a priest. I was ordained at Lichfield cathedral, to the delight of my father who, when he was nine his father died and his family moved him to Lichfield cathedral school to be part of the choir there.
AC: Out of interest, please can you explain the hierarchy of the Church of England in your line of reporting, from expatriate vicar on the Costa del Sol up to Her Majesty the Queen, as Head of the Church?
AL: I report to the Archdeacon of Gibraltar, who reports to the Bishop in Europe, who reports to the Archbishop of Canterbury who - well - reports to God - don't we all - though due to the machinations of King Henry VIII - the Queen still holds the title of 'Supreme Governor of the Church of England', so I guess she is in the list somewhere and my role requires me to swear allegiance to her. 
AC: You mentioned that you enjoy officiating at weddings. Many people have cited that the legal paperwork needed for non-Spanish people to get married here in Spain is quite complicated. Are you able to marry couples here under Spanish law, or do most people just have a blessing?
AL: I am legally able to do both the civil part and the religious part, but it is generally far easier for non-Spanish/non-Catholic couples to undertake the civil part of their marriage in their own country rather than in Spain. If they are British nationals, alternatively, they can do the civil part of the marriage in Gibraltar, and then the 'main event' becomes the wedding blessing in Spain.  
AC: Is the same amount of paperwork required for a marriage between a Spaniard and a British person?
AL: Assuming the Spaniard has lived in Spain for at least two years, the civil part of the marriage is possible in Spain and the paperwork is less.
AC: We are living increasingly longer lives, and there is a growing elderly population here in Andalucia. Do you offer pastoral care for more aging members of the community?
AL: Someone, when we came for an interview, talked about there being 80,000 expats in this 'parish'.  Many came over a decade or more ago.  Many came with their spouse or partner.  Sadly, as time moves onwards, partners die and some who, for whatever reason, having less provision than they would like, find themselves in difficult circumstances.  Some, who are relying on their UK pension, are very concerned about exchange rate changes, many are fearful of what Brexit might bring.
The Spanish have a sound tradition of looking after their elderly within their families, but I find some expats have lost contact with their families or have no families. For them old age can be a real problem, and being short of money, infirm, unable to drive, unable to speak Spanish, alone and fearful of the future means that there is much more pastoral care needed than there is time to do it. The days of the 'vicar' knowing all the people in the parish and sorting out their problems are days long past both in the UK and here, but more and more church members are hearing the call of Jesus to visit the sick as not just a call to the vicar but all of us. I'm very grateful for the work of the Spanish Social Services and charities such as Age Concern. Also some of the clubs provide pastoral help.
AC: How important are children and young people to your congregation?
AL: They are a critical part of the family. Church is a really good place where the old and young from different families mix. That doesn't easily happen in other environments. People usually meet with their own age or their own families, but Christianity breaks down the barriers across age, gender, social standing, race, etc.
AC:  How useful are your website and Facebook page in communicating and engaging with your congregation and, spreading the word?
AL: Essential. Visitors and new residents are on the web and Facebook before they even arrive in Spain.  We have 300 unique visitors per month on the web pages (costachurch.com) so we know people are watching us.  We publish all the events and even my sermons get downloaded sometimes (thank you whoever you are!)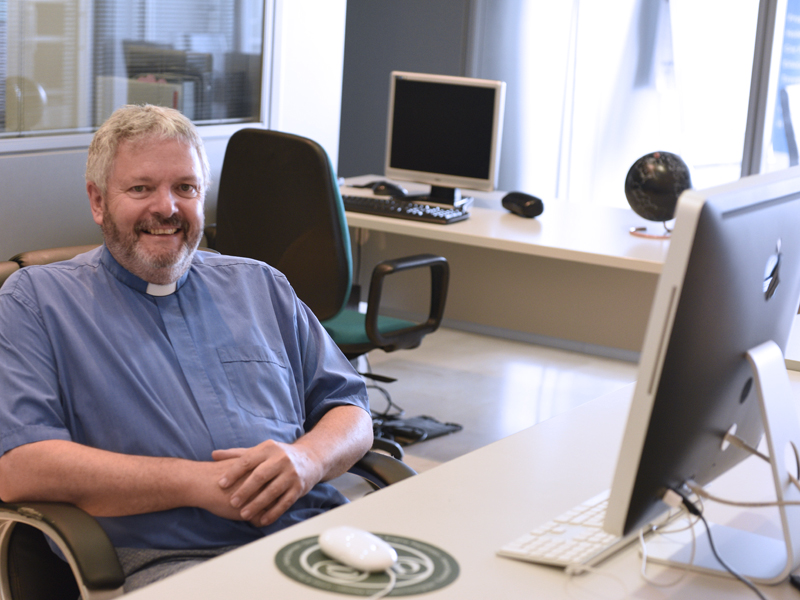 AC: If someone from this area is interested in baptisms, weddings, funerals or joining your congregation, which is the best way to contact you?
AL: www.costachurch.com, or Tel: 952 808 605 or Email: [email protected]
AC: Are there any plans to have an Anglican place of worship in Estepona?
AL: I would love to. We have some wonderful people who travel from as far away as Sabinillas and Estepona to either San Pedro or Sotogrande to worship on a Sunday. But I do recognise that not everyone wants the trek. I would like to have a location in Estepona or Sabinillas where we could hold a service on a Sunday afternoon.  But I'll leave that to God to organise.
AC: Turning to your other role, now that you've retired from the University itself, do you still participate in academic life?
AL: Yes, I continue some volunteering work with the British Computer Society checking out courses at other universities in the UK. That takes me away for, maybe, 10 days per year. It keeps me involved with education, and sometimes education internationally as the BCS work in a number of countries.
AC:  Which areas of computing do you love most? (Mention what you said to me "I love coding, and when I want to distract myself from the Church, I either turn to Star Trek or coding." "I´m more of a hacker and a geek than a programmer.")
AL:  I can immerse myself in a computer program like a geek, and suddenly I am in my old world again. I have been programming since I was in college at the age of 16, so 45 years of it. I'm meant to be highly professional at it (hence my work for the BCS) but when I really get going I confess I can become more of a hacker and geek than a good programmer!  I have always been interested in maths and computing, so, for example, at our Christmas Fair I will be selling the most beautiful and unique fractal pictures - an amazing interaction between computers and maths. Computing (and for that matter, Star Trek, both give me an hour or two of distraction when I need it!)
AC:  How has the world of computer programming changed since your academic career started?
AL: Does anyone remember boxes of punched cards, rolls of paper tape. A single computer that we all had to take our turns at, a phone line that connected me to the computer and I could type faster with two fingers than the computer could handle. The power and storage in the phone in my pocket would have taken a computer the size of one of our churches in 1972. And the languages have changed. I wonder if anyone remembers PLAN, FORTRAN and ALGOL!
AC: What is your favourite part of Andalucia?
AL: Well it's the people, but I guess that is not what you mean!  Estepona is great. Flowers everywhere.  Good restaurants, shops, views, and a lovely vicarage (they call it a Chaplaincy House in this Diocese, not a vicarage - but its the same thing). When we have people to stay we take them to Casares and walk through the village to the tourist shop at the top, the brilliant views, the eagles and a restaurant where we can get a fresh orange juice. Love it!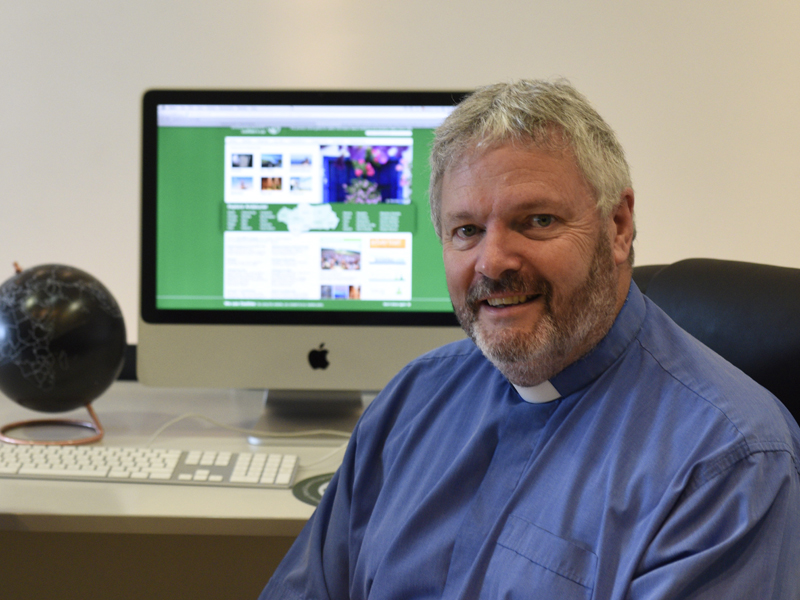 AC: Do you have much time to travel?
AL: I am lucky that I am part-time, so I do get some time off to go to the UK and France. Next year I have 10 days in Vancouver where I will be marrying my daughter and her partner. What a privilege!
AC:  Are any of your children following any of your paths into computing, academia or the church? 
AL: Our eldest is a graphic designer - so using computers are key to her role. Our middle daughter is a social worker, but very involved in the church community in Essex where she lives with her husband. Our youngest is in Shanghai at the moment but very involved in Sunday School and choir in the church in the UK where she lives most of the time. All of them have done their degrees, in different things - Music, Languages and Childhood Studies. Notably none of them want to be teachers. Joanna and I have both been teachers and maybe that has put them off!
AC: What are your thoughts about the future of the expat community in southern Spain?  
AL: Brexit is key to this. If, as the Prime Minister of the UK has suggested, there may be 'no deal', then the expat community will be in deep trouble. I hope there will be a deal which goes some way to giving the expat community, and those who would like to become part of the expat community, similar rights to those they have at the moment, then it guarantees a future. Reciprocal health rights are really important to most of us. The right to own land, to reside here, to drive, to employ and be employed, to bring currency into the country, to be educated, to travel without having to seek visas every time and to pay taxes in only one country - these are all important. UK plc has a lot to do in the next few months. 
I have written in the press that I sincerely wish Brexit was not happening, and I am not convinced that the majority of the UK want or wanted it to happen anyway - despite the referendum vote. If something stops it I will be the first to cheer from the point of view of many of the elderly expats on the Costa. And not just them.  Some of our younger congregation live and work across the border in Gibraltar, it will be a disaster for them if that border closes.
I am aware that fewer UK citizens are coming to Spain - because they don't know the deal. I am also aware of the increase in number of expats going back to the UK. It is a difficult time. Whatever the future, though, I know there are people who have energy and love, here, who want to serve and love their neighbours and their Lord.  That will continue - whatever the politicians have in store for us all!