Capuchin monk (1866 - 1956)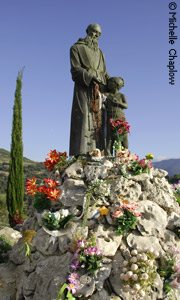 Fray Leopold de Alpandeire.
Alpandeire is famed as the birthplace of a bearded monk, known later as Fray Leopold de Alpandeire.
Born on 24 June 1866 and baptised as Francisco Tomas Marquez Sanchez, he became a local celebrity at the turn of the 19th century. At the age of 33 he left the village to become a Capuchin monk in Granada, where he remained until his death in 1956.
His good work has attracted a number of miracles and his tomb is regularly visited by believers in search of divine help.
The process of his beatification began in 1961 and sainthood may follow at some point. A monument to him can be found on the outskirts of the Alpandeira village, and following in his footsteps his birthplace in the village and a later home on the Ronda road can also be spotted.