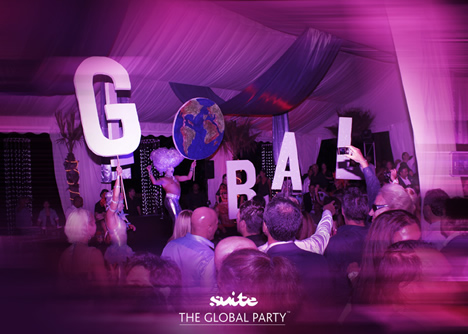 Global Party - 2011
by Meena Mistry
The Global Party is a 48-hour charity event that transcends national borders.  An estimated 80,000 influential individuals and premium brands came together in 80 different venues across the world, from London to New York to Singapore, on 15-16 September 2011, with the aim of raising awareness and money for 15 official benefiting charities, as well as hundreds more.  The next event is planned for 2013.
Marbella, recognised as an exclusive and glamorous location not only in Andalucia but around the world, had two local venues – La Zagaleta and Suite del Mar – hosting events for The Global Party of 2011.  A unique experience was offered by each individual venue that spared no expense to entertain their guests with a taste of luxury.  At Suite Del Mar's Global Party, myself and my colleague Emma were offered champagne and cocktails, delicious canapés and entertainment from singers, dancers and renowned DJs, all around the centrepiece of an ice sculpture.  See Emma's blog about our experience at the Suite del Mar in Marbella here. A fabulous event it certainly was on its own merits, although there was very little to tie it in to the other international venues, such as video (or Skype) link-ups, or even Twitter walls, where people's tweeted comments (tweets) about the event they're attending appear in a live Twitter feed. 
This global fundraising event was organised by Lord Stanley Fink , CEO of International Standard Asset Management, and La Zagaleta resident, and David Johnstone, CEO of Free Holdings and renowned luxury lifestyle expert.
An Ice Sculpture at the Party
The event was inspired by Jules Verne's 1873 novel 'Around the World in Eighty Days', whose (fictional) protagonist Phileas Fogg bet his entire fortune that he could circumnavigate the globe in 80 days.  This inspiration was obviously used solely for promotional purposes, since the location of party venues didn't coincide with Phileas' route. So although invitees were certainly encouraged by The Global Party to travel to as many events as possible, as the parties took place over just two nights, very few - if anybody at all - would have stood much chance of attending more than three, even with the help of a private jet.
This was an invitation-only event, with guests receiving a "priceless" Key-2 Luxury silver keyring  (another Free Holdings - owned brand) granting them access to any of the worldwide venues, thousands of personal contacts and VIP privileges.  Each venue invited leading individuals from their country's most influential sectors of society.  A reported 10,000 tickets were donated to charities, for their most generous patrons who had each made a contribution of over £3000. And VIP guests they were, with names on the global guest list including Elton John and Liz Hurley.
It is not yet known how much money was actually raised for charity, although the official 15 charities enjoyed the opportunity of being showcased to a global guest list, and further highlighted through press coverage of the event.  The charities were: 21st Century Leaders, Pratham, Absolute Return for Kids (ARK), Blue Marine Foundation, CLIC Sargent, Institute of International Education (IIE), INT Award, Keep a Child Alive, Merlin, Nelson Mandela Children's Fund, Nordoff Robbins, Raisa Gorbachev Foundation, Sentebale (Prince Harry's children's charity in Lesotho), Tusk and Virgin Unite.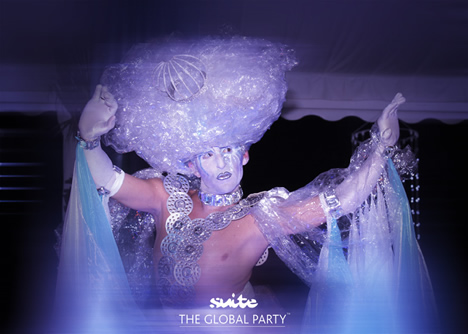 Lord Stanley Fink and David Johnstone created a unique idea to be built on in the future, with bi-annual events planned: the next Global Party was scheduled for 2013.  
As with many such events, soon after it took place the website was still full of pre-event information and anticipation, but completely lacking in any post-event reports or updates. You could be forgiven for wondering if the parties had taken place at all.  Buried deep in the website, rather than on the front page where you'd expect to find them, there are a few YouTube videos and a couple of hundred photos from half a dozen venues, plus a trickle on Twitter (#TheGlobalParty) and Facebook.
Update: December 2016. The 2013 Global party was more modest, the centrepiece London party - a fashion show held at the Savoy - raised £120,000 for the Mayor's Fund for London. It is now a brand that promotes ad hoc charity parties at different venues around the world. The last mentioned on TGP twitter feed was the Maya Club Arazona on 20th November 2015. The last mentioned on Facebook was with DJ Lia Lisse in Port Louis,  Maritius on 11th June 2016.  A 'The Global Party 2016' - a 20 track download album was released in February.