Global Gift Gala marbella
The Global Gift Gala is a "Night of Philanthropy and Entertainment". A charity fundraising gala, it is held in cities all over the world, including Istanbul, Marbella, London, Tokyo, Abu Dhabi   and Paris, to raise money for women's and children's charities worldwide.
10th Global Gift Gala - Marbella 2022
was held on Tuesday, July 26th, 2022. Global Gift Foundation celebrated a decade of The Global Gift Gala Marbella which returned to the Don Pepe Hotel. 
The co-chairs of the night Maria Bravo and Eva Longoria welcomed guests, including  Julissa Reynoso, the US Ambassador to Spain who received the Global Gift Women Empowerment Award.
The masters of ceremony for the evening were Global Gift Ambassador and renowned singer Chenoa, alongside, Manuel Rulfo. .
Guests enjoyed performances from the talented Spanish dancer, Antonio Rodríguez, Farru, the voices of the young Soleá Rodriguez, and that of delightful Lya. The event finished with a spirited set from DJ Denise Van Outen.
In attendance, were the Peruvian actress Stephanie Cayo, boxer and influencer Ilia Topuria, Global Gift Ambassador, Sarah Almagro, the inspiring painter Olga Sharipo, the international actor Alejandro Nones,  Miss World Spain 2022 Paula Pérez, Mr. International Spain 2022 Daniel Lorente, Italian model Gianmarco Onestini, padel world champion  Juan Lebrón, Beatrice de Orleans, Marcos Llorente Atlético de Madrid footballer and ambassador Julissa Reynoso.
Interesting the event sponsored by Woonkly, the decentralized network social NFT platform who´s efforts are to combine blockchain technology by making an impact on social causes
9th Global Gift Gala - Marbella 2021
was held on Thursday 26th August 2021 in the Marbella Arena (the old bullring  Puerto Banús)  María Bravo together with the singer Luis Fonsi were the hosts. The event  featured the Spanish actress Jana Pérez and the young British Braydon Bent as presenters. 
The gala began at 20:30 hrs with the red carpet.  After a welcome cocktail the Gala dinner took place with different stage shows  and a charity auction. The charities benefiting were Maria Bravo's Global Gift Foundation and Eva Longoria Foundation. Eva Longoria was not in attendance due her sister testing positive to Coronavirus the week before. The gala was  Performing were soprano Angélica de la Riva, Weldh singer Tallia Storm, Lorena Medina and Gary Dourban supported by DJ Danny Ávila. Guests of note were painter Miguel Caravaca, aristocrat Beatriz de Orleans, actor Jordi Mollá t were artists Sacha Jafri, actor Amaury Nolasco, and French millionare André Abdoune, Jana Pérez, Bradley Cooper, Marcos de Quinto and Angelica de la Riva, Beatriz Jarrín 
La Global Gift Foundation has grown to organise several Galas each year around the world, together raising five million dollares
Maria Bravo, was also invited to Estepona earlier in the day to whitness the naming of a street in her name.  Calle Maria Bravo is between calle Goya and Calle El Cid. She said "I grew up in here; in these streets I went to school and I was with my friends. After being 31 years in USA I have found a much more beautiful Estepona than I remember." 
9th Global Gift Gala - Marbella 2020
had been scheduled slightly later in mid-August however Maria Bravo announced in late July "On behalf of Global Gift Foundation and myself, we hope this message finds you and your family well and in good spirits. With a heavy heart and due to recent news of Covid 19 outbreaks, we feel the moral obligation and responsibility to prioritize and protect the health of Global Gifters attending our Galas, therefore we have made the very difficult decision to postpone this year's Global Gift Gala Marbella."
8th Global Gift Gala - Marbella 2019
took place on July 13th at the Gran Meliá Don Pepe Hotel.
7th Global Gift Gala - Marbella 2018
took place on July 29th at the Gran Meliá Don Pepe Hotel. The guest list included famous artist Gary Dourdan; from CSI Las Vegas. Emma Bunton; one of the Spice Girls group. Alex González; from the tv series 'The Prince' as the new Ambassador Global Gift together with Chenoa and Rosa López.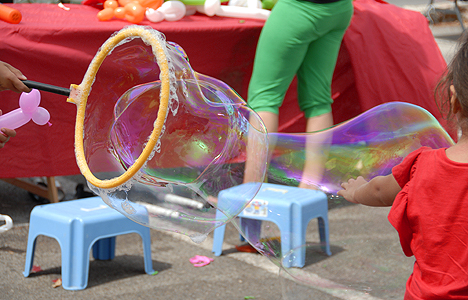 In addition to raising money through the gala itself, there is usually a series of fundraising events preceding the gala; an auction during the gala; and the presentation of the Global Gift Humanitarian Award on the night of the event.
1st Golbal Gift Gala - Marbella 2012
2012, marked the first year of the event. The gala was promoted primarily by Honorary Chair, Eva Longoria, and well-known local philanthropist, Maria Bravo. The pair are usually involved in the Starlite Gala with Antonio Banderas, but this year in an attempt to raise further funds for their respective charities, the philanthropic pair split from the Starlite Gala and spearheaded The Global Gift Gala. The event raises funds for Eva´s charity, the Eva Longoria Foundation, the Cesare Scariolo Foundation and Children for Peace, amongst others.
In 2012  the fundraising took place over two days: 18 and 19 August. Saturday 18 August saw the Dynamic Walk-a-thon, where hundreds of participants took part in a sponsored walk around Marbella. The walk-a-thon was followed by a family fun day at the Dynamic Gym, with clowns, inflatable slides, trampolines and magicians to entertain the children, and traditional flamenco music and performances to serenade the adults. Eva Longoria appeared after the walk to congratulate the participants and winners.
In 2012 the Global Gift Gala itself took place on Sunday 19 August at the Hotel Gran Meliá Don Pepe, in Marbella. The event was catered by two-Michelin-star chef Dani Garcia, and one-Michelin-star chef, Diego del Rio. The event was presented by Spanish celebrity Mar Saura, and Puerto Rican actor Amaury Nolasco (Prison Break, Fast and Furious 2). The 2012 Global Gift Humanitarian Award was presented by controversial physician and writer Deepak Chopra, to Spanish national football team manager, Vicente del Bosque.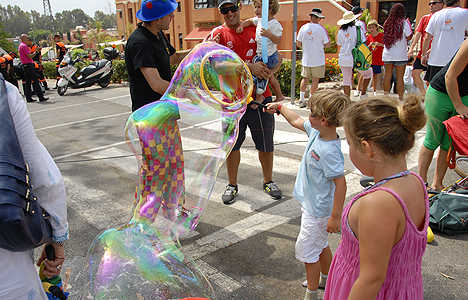 The event kicked off with a red carpet "parade" of the guests of honour, followed by a spectacular dinner. After the dinner a live charity auction raised further funds for the relevant charities, after which there were live performances from actor and musician Terrence Howard (Ray, Get Rich or Die Tryin´, Crash), Diego Amador, Pastora Soler, Diana Navarro and Chenoa, among others.
Surprisingly it was unknown whether the Global Gift Gala would return to Marbella. Eva Longoria told Andalucia.com "I love Marbella" and hopes the gala will come back next year. Actually she did come back every year up to 2019 except for 2018 which was one month after the birth of her son, and then in 2022.
Destinations