XIV Butterfly Children Golf and Ball 2021

Golf Sat 11 Sept 2021

Ball suspended for Coronavirus
(Confirmed by DEBRA) 
The annual Niños de Mariposa (Butterfly Children) Gala is organised in Marbella by DEBRA, the global charity which raises funds to provide respite for the families of EB (Epidermolysis Bullosa) sufferers, and for research into cures, medication and treatments. The gala held at Aloha Golf Resort.
EB is a genetic skin-blistering condition which starts at birth. Children are born with skin as delicate as a butterfly´s wing (hence the name, Butterfly Children). The condition causes skin and internal body linings to blister at the slightest knock or rub, causing painful open wounds.
This rare skin condition affects 1 in 17,000 live births; it is estimated that there are currently 5,000 EB suffers in the UK, around 1,000 in Spain, and 0.5 million in the world. There five in Málaga province. The super-delicate nature of the children's skin means their bodies have to be bandaged, and the bandages have to be changed every other day, and wounds cleaned, helped by a DEBRA nurse who comes to their house; the process can take up to three hours.
Every year, in the week preceding the gala, a golf tournament is held at Aloha Golf Resort in Marbella - entry fees raise money for the charity, and prizes are donated. At the beginning of the gala the winners and runners-up are presented with their trophies, followed by the meal.
Then volunteers and organisers sell raffle tickets, followed by an audio-visual presentation to remind attendees why they are here, and how important their involvement is - and to encourage them to donate more. After this comes the raffle draw and auction; then there is live music and dancing.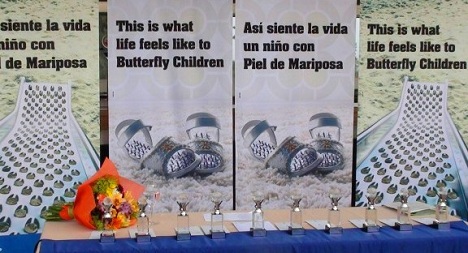 The raffle and auction prizes are all donated by participants of the golf tournament and gala guests; in typical Marbella fashion, the prizes are always very generous. Donated items include trips, beauty products, spa days, decorative ornaments, an entire leg of Jamon Iberico and signed memorabilia, such as a golf club signed by Sergio Garcia. In 2012, the Gala and the Golf Tournament raised an impressive €33,400 for Debra.
The president of DEBRA in Spain, Nieves Montero - whose own son, now 24 and studying in Madrid, suffers from EB - explained how the money raised by the gala is spent: funds are shared internationally, providing respite for parents, carers and family members, as well as supporting research into treatments; items such as shoes and clothing that are the least painful to wear; and comfortable, breathable dressings - anything to make the lives of the children and their families easier.
Each year Debra hosts two fundraising events in Marbella. The gala and a golf tournament take place in June, and there is another golf tournament which is in August. 
There is a DEBRA respite centre and shop in Marbella: Calle Jacinto Benavente,12. 29601 Marbella (Málaga).
To donate to DEBRA click here.
Destinations