STARLITE GALA CHARITY EVENT 2011
by Chris Chaplow
The second edition of the charity Starlite Gala took place at Villa Padierna Hotel, Estepona on the evening of 6 August 2011, with an after-party at Purobeach club in Estepona.
Over 450 guests attended, most paying 800€ or 1,000€ each for tickets. Sponsors included Ford, Pernod Ricardo España, Fundacion Iberostar, DHL, L'Oreal and Banco Sabadell.
About 50 celebrity attendees chose to walk along the special section of red carpet between 100 sharp-elbowed photographers and a backdrop laden with sponsors' logos. The best photos can be seen on the Marbella chic website. Some guests found this minor media circus more interesting than the pre-gala cocktail, and as we jostled for a better view I had to be very careful not to step on some of the flowing evening gowns.
The principal celebrities were Eva Longoria, in a pale rose-pink dress designed by J. Mendel. Eva was accompanied by her boyfriend, Eduardo Cruz, brother of Penelope (although he slipped in by a back door to avoid being photographed with Eva) and Antonio Banderas, accompanied by his wife Melanie Griffith.
Starlite Gala organizers called upon an Executive Committee including Alejandra Alemán, co-founder with Sandra García-Sanjuán, model Eugenia Silva, Paloma Cuevas and her husband Enrique Ponce, Nina Junot, Patricia Olmedilla, Gunilla von Bismark with Luis Ortiz.
Other guests were Kristina Szekely, Imanol Arias with girlfriend Irene Meritxell, Octavi Pujades, Amaia Salamanca, Paz Vega, and Elisabetta Briatore, wife of Flavio Briatore, who interrupted her holidays to attend. In addition, there was Carmen Lomana, Boris Izaguirre, Elena Tablada, Mar Saura, Ivonne Reyes, Remedio Cervantes, Paula Vázquez, Mónica Carrillo, Elena Benarroch and Patricia Rato.
Anne Igartiburu was the evening's co-presenter, along with English actor Joseph Fiennes, accompanied by his Spanish wife Maria Dolores Dieguez. This year's Starlite Gala Humanitarian Award was given to Jermaine Jackson, brother of the late Michael Jackson, accompanied by his wife Halima Rashid.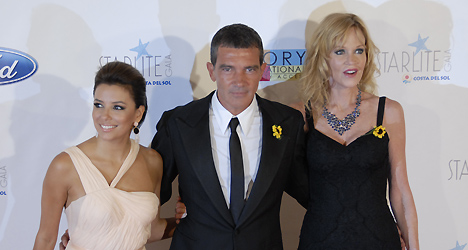 Guests were entertained by Oceana, Marta Sánchez, La Unión, and the 17-year-old Victoria Swarovski (from the celebrated crystal-making family), who sang so beautifully that Melanie Griffith, Eva Longoria, Sandra García-Sanjuán, Marta Sánchez and Elena Tablada could not resist mounting the stage to dance with her.
The raffle prizes included a list of experiences that money can't buy, such as visiting the set of Desperate Housewives alongside Eva Longoria, attending the Grammys in platinum seats with backstage access, four days in Formentera in the house of Eugenia Silva, and so on.
Ford, the principal sponsor of the Starlite Gala, donated two new cars from a special limited edition appropriately named "S-Max Starlite" and "Mondeo Starlite" which had been signed across the bonnets by Antonio Banderas and Eva Longoria at an earlier press call (see top photo). Antonio had shown a natural reluctance to vandalise the cars, but was encouraged to go ahead by one of the impatient photographers. He need not have worried, as his signature created added value when the car was purchased for 40.000 euro (by his wife, Melanie Griffith).
In terms of local politicians, Malaga's mayor Francisco de la Torre was present and so was Elias Bendodo, President of the Diputacion of Malaga, although the latter did not walk down the red carpet in front of the photographers.
Starlite Gala 2011 2 edition: raised 222.152,28 euro in total which was 22.125,28 Euros to Eva Longoria's Fund, 100.000 euro to Lagrimas y Favores and 100.000 euro to Ninos en Alegria.