STARLITE GALA 2016
The seventh annual Starlite Gala took place on Saturday 6 August 2016 at Cantera de Nagüeles in Marbella, the open-air auditorium where the Starlite Festival has been held annually since 2012. The first-ever Mexico Starlite Gala was held in March this year.
This charity Gala, still the highlight of the Marbella social calendar, was co-hosted again by Antonio Banderas @antoniobanderas and Sandra Garcia Sanjuan @sandrastarlite.
SIGNING OF CAR FOR CHARITY AUCTION
As in previous years, before the Gala, Antonio autographed a Ford Mustang at a press photocall, to be auctioned a few hours later in aid of the Starlite charity. Like last year, Antonio was accompanied by his girlfriend, Dutch investment banker Nicole Kimpel, along with her mother and twin sister Barbara. Nicole wore a silvery-green sequinned dress with jewelled neckline.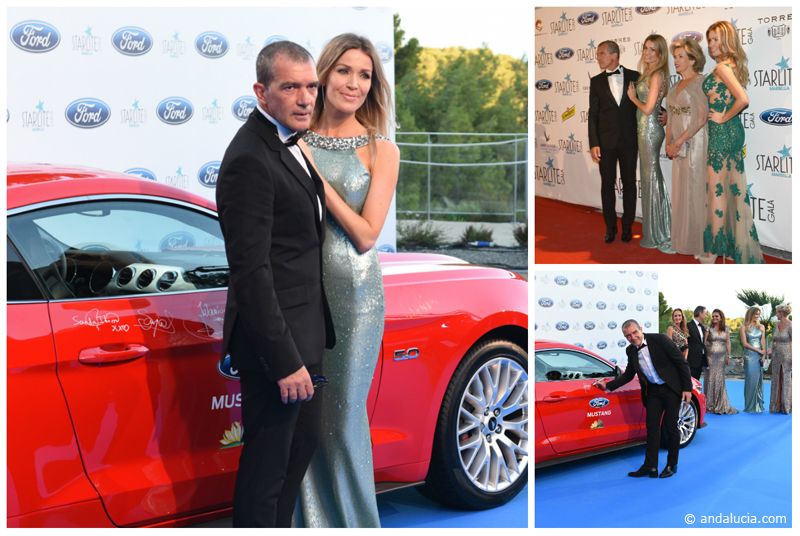 Anne Igartiburu @anneigartiburu_, (Basque actress and TV personality, best known for presenting the New Years Eve countdown on TVE1 and also 2013 presenter of Starlite Gala) was first in place and, as in previous years, could not resist a selfie with the press pack.
 
Sandra Garcia Sanjuan (co-host and founder of the Starlite Gala and Festival), who looked radiant in a metallic bronze-coloured dress, arrived together with Sandra Ibarra @SandraMoti (Uruguayan actress and film director who heads her own cancer research foundation). Sandra Garcia gave a passionate speech explaining that two million euro had been raised in the previous seven Starlite Galas.
The press were disappointed not to see headline guest Sarah, Duchess of York at this point. The guests filed passed the press photo call on the red carpet entrance into the Starlite Lounge. 
SARAH, DUCHESS OF YORK
Sarah Ferguson, Duchess of York, @SarahTheDuchess, looked svelte in a simple, elegant black dress.
Andalucia.com asked the Duchess of York how long she had been involved with the Starlite, to which she replied, "Sandra very kindly gave me an award at the Mexico Starlite. The reason why I love it, is because I like to support an organization that makes a social impact on children's lives. 'Children in Crisis' has been my foundation for 23 years and we built schools in forgotten places. I went to Mexico and I supported Sandra's school and that is why I am here."

[Children in Crisis was founded in 1993 by Sarah, Duchess of York, who remains the Life President. Over the years, Children in Crisis has helped thousands of vulnerable children in five war-torn countries around the world.]
ANTONIO BANDERAS - SPANISH POLITICS AND FASHION DESIGN
Banderas had attended a press conference earlier that day at La Cabaña beach club in Marbella where - unusually - he spoke out about the current political situation in Spain, with the continued lack of government and possible third elections. Antonio suggested that the PSOE form a hard opposition. Over in the USA, he said, he supported a 'measured and prudent' president, and reiterated his support of Clinton and opposition to Trump.
On a personal note, when asked about holidays, Antonio replied he was returning to continue his fashion design course at prestigious Central Saint Martins (also known asCSM, formerly 'Central Saint Martins College of Arts and Design') in London on 15 August. Antonio has just finished the first year of the course, studying alongside his partner Nicole Kimpel. This background article in CSM Magazine 1 the Granary has more information.

Andalucia.com spoke to Antonio Banderas at the Gala, asking him if he was already designing clothes. 

"Yes, we are launching the first collection on my birthday [10 August]. The clothes have been in the stores for a couple of weeks already and the news is very good - we sold out of some items. In Spain we are in El Corte Ingles, in 58 stores, but the idea in the future, if I can consolidate and this becomes bigger, is to have my own stores where it will be all my products, including the perfumes, watches and glasses, licensing my name.Behind the entire project is a business project too."
When asked if he was wearing his own design, Antonio replied, laughing: "No - well this is my design [pointing to a black bow tie] which is not very original.".
SPECIAL GUESTS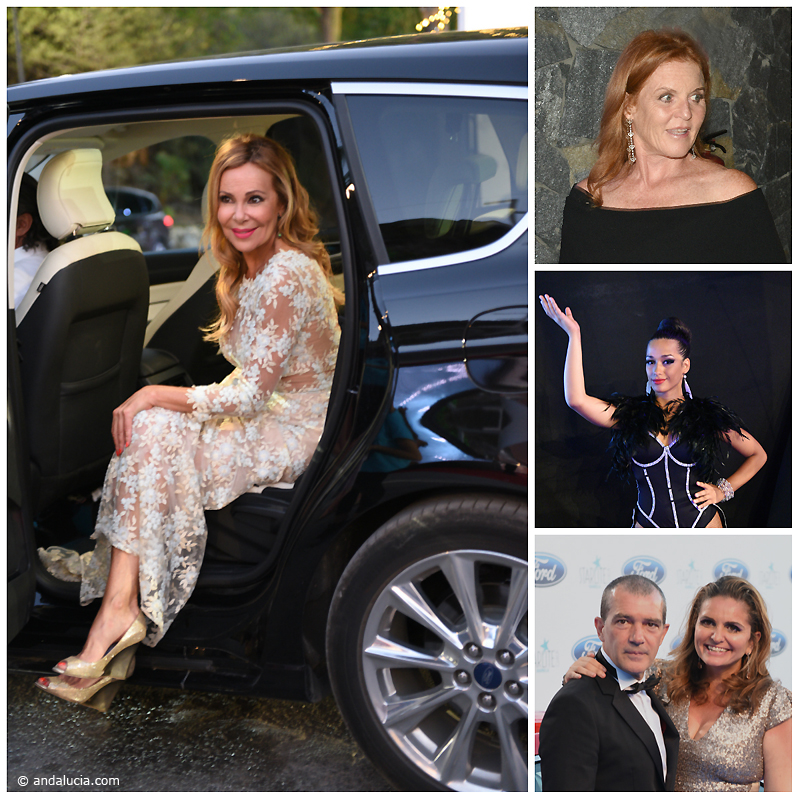 Teresa Maxová (Czech model who during her career has worked with photographers Patrick Demarchelier, Mario Testino and Peter Lindberg and appeared on the cover of British Vogue, Elle, Marie Claire and Cosmopolitan. During the day she was exploring the old town of Marbella on a bicycle. 
Eugenia Martínez de Irujo (Doña María Eugenia Martínez de Irujo y Fitz-James Stuart, 12th Duchess of Montoro, Spanish aristocrat and socialite, daughter of the Duchess of Alba.) Her black and white dress was by Teresa Helbig.

Karolina Kurkova @karolinakurkova (supermodel, TV personality and entrepreneur. She is interested in fashion, beauty, health and gastronomy. She appears on the cover of this month's Vogue Brazil.
Beatrice de Orleans    Beatriz Pasquier de Franclieu is a French aristocrat living in Spain and working as a fashion journalist. She has written a number of book on public relations and has represented Christian Dior for more than three decades.
Enrique Ponce  @EPonceOficial  Bullfighter who received Starlite Trajectory Award in 2014 . He was accompanied by wife Paloma Cuevas  
Victor Puerto  @v_puerto bullfighter  accompanied by his wife  Noelia Margoton  @noeliamargoton
Ana Obregón  @anitaobregon  Spanish actress, celebrity and socialite who has appeared in films made in Spain, France, USA and Italy. She is best known for her high-profile personal life and her career as a television actress. Her dress was sheer lace with white applique flowers.
Carmen Lomana  @Carmen_Lomana   María del Carmen Fernández de Lomana Gutiérrez is a Spanish businesswoman, socialite and haute couture collector. Eldest daughter of upper-class San Sebastian banking family. Starlite Gala 2016 dress by @JVbyJorjeVzquez  
Vanesa Romero  @vanesa_romero Vanesa Romero, actress and model from Alicante, mostly known for her roles as Ana in 'Aquí no hay quien viva' and Raquel in 'La que se avecina'.
Juan Ramon Lucas  @JuanraLucas TV presenter. In 1982 he joined the TV programme Informe Semanal (Weekly Report - a long-running current affairs documentary programme on TV1). Now he has a reality television show called Codigo Emprende.
Santiago Segura @SSantiagosegura     Popular Spanish film actor, screenwriter, director and producer. Spent the afternoon cooking with Dani Garcia.
Gunilla Von Bismark, a German aristocrat who is very popular in Spanish society, especially in Marbella where she resides in the summer with Spanish husband Luis Ortiz
Lujan Arguelles @LUJAN_AR   TV Presenter
Fiona Ferrer  @FIONAFERRER
Fernando Martinez de Irujo, sister of Eugenia (see above).
Miriam Giovanelli  @GiovanelliMiri
Elsa Anka  @ElsaAnka
Pepe Navarro  @pepenavarro_tv    Journalist and now TV Presenter.
Oriel 'el Cacho'
Davina Pelegri  @daviniapelegri
Angela Carrasco  @carrascoangela1
Agustin Bravo @gusbravoabreu
Juan Peña @Juanpeacantante     Singer born in Jerez de la Frontera, now entertaining worldwide.   
Sonia Gonzalez  @SoniaGonzalezT
Michelle Calvo  @MichelleC_P
Paco Arango  @PacoArango
Laura Dibildos

Nuria Fergó

Arancha de Benito.
WELCOME
The evening started with a brief welcome by Antonio Banderas.
Starlite Gala 2016 presenters were Valeria Mazza  @valeriamazza, Argentinian TV presenter and model who received the 2013 Starlite Gala Philanthropy Award and has presented the Starlite Gala since then, and Carlos Latre @Carlos_Latre, a comic, mime artist and now accomplished TV presenter, replaced previous presenter Joaquin Prat.
ENTERTAINMENT
The introductory artist performing on stage was Cristina Castaño @cristinacastano  (actress best known for Fame and TV series Herederos) with a rendition of 'Cabaret'. She had tweeted earlier from the rehearsal about how delighted she was to be sharing the stage with Cuban-born jazz and swing pianist Ivan Melon Luis @ivanmelonlewis.          

Diana Navarro @Diana_Navarro   Singer from Malaga who rose to fame in 2005 with the single "Sola" from her first album 'No te olvides de mí' (Don't forget me). Her songs usually mix genres like copla and flamenco with different rhythms like Arabic or classical music.

María León  @laleonademaria   Spanish actress from Sevilla with a number of films and many TV parts to her credit. She is best known for her performance as Leti in TV drama SMS.

Mónica Naranjo  @monicanaranjo   Singer born in Figures, Catalonia to Andalucian parents.   In 1994, she recorded her debut album, the self-titled Mónica Naranjo, Three years later she released her second album, 'Palabra de Mujer' (Woman's Word) which was hit in Spain, USA and Latin America.  She has sold over nine million albums worldwide.
Ahinoa Arteta Spanish Basque classical and cross-over soprano.
STARLITE AWARDS
At the Starlite Gala 2016 there were four 'Philantropic Awards' given to:
Sandra Ibarra founder and president of the 'Fundacion Sandra Ibarra de Solidaridad Frente al Cancer'.
Anne Igartiburu for being involved in numerous good causes including women's rights.
Teresa Maxová for the foundation bearing her name that has helped thousands of abandoned children.
José Carreras the famous tenor and founder of  José Carreras International Leukaemia Foundation - he was unable to attend in person.
GALA  DINNER
The gala dinner was prepared by Lepanto.
GALA AUCTION
Following the tradition of auctioning autographed cars, this year the new Ford Mustang signed by Antonio Banderas auction was won by a Swiss businessman for the surprisingly reasonable price of 40,000 euros.
A kiss from Santiago Segura - bidding started at 5€ but was won for 1,600 euros. 
Manuel Rodriguez's Mexican guitar signed by Antonio Banderas was won by the film producer of Rocky,Rambo and Evita, Andrew Vajna for 10,000 euros.
Other prizes included:     
A helicopter ride for four people to Ronda.
A private tentadero lesson by Cayetano Riviera.
A week in Healthhouse Las Dunas.
Luxury holiday in Istambul including a hair implant treatment was won by Antonio Banderas for 13,000 euros. 
  Luxury holiday in Mayan Riviera, Mexico.
Luxury holiday in Dominican Republic.
Two bottles of Grey Goose vodka signed by Starlite celebrities.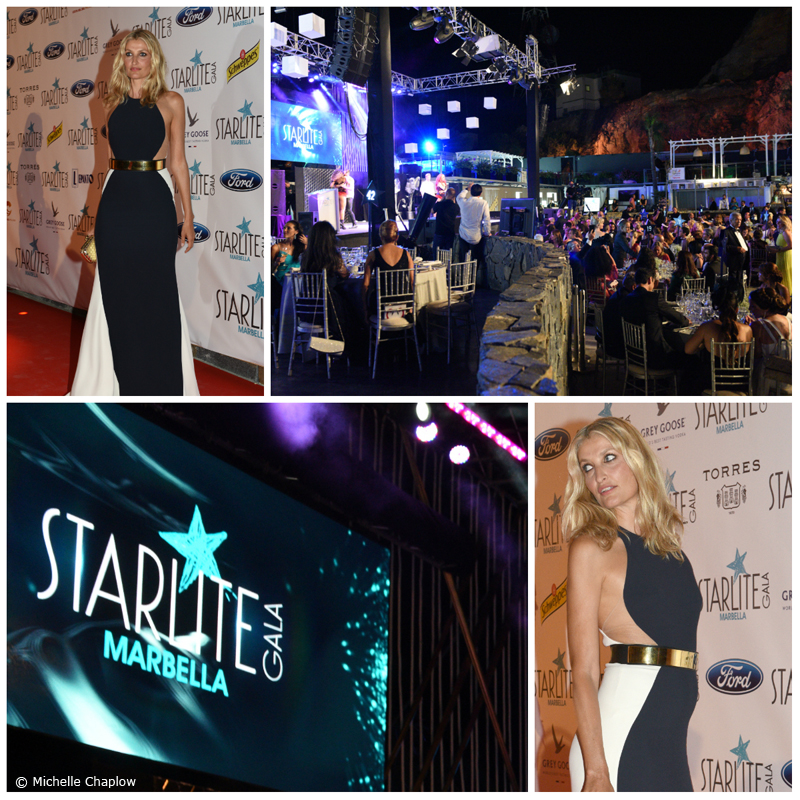 THE ENDING
A large group of hosts, presenters and award-winners were brough on stage for the final thank you and goodnight.
Until next year in Mexico and Marbella, Sandra García-Sanjuán has her eyes on Singapore, Moscow, Dominican Republic and Brazil. As soon as the guest were leaving, the change-over on the set began, ready for Sunday's Starlite Festival. The show must go on.  
OUR VIDEO REPORT
Also read our blog in Spanish 'Starlite Gala celebra su séptima edición rodeada de las celebridades más solidarias'