Antonio Banderas, Mia Farrow and Anne Igartiburu with the signed Ford Mondeo.
The Starlite Gala: kisses shared by Mia Farrow and Antonio Banderas
A newly single Antonio Banderas, recently separated from Melanie Griffith, headed the star-studded line-up for the fifth Starlite Gala.
Mia Farrow and Antonio Banderas opened the Gala evening by signing in front of the invited press the new Ford Mondeo car (first off the production line), which was donated to the gala's charity auction. In previous years, the organisers let it be known that Melanie Griffith had won the car at the auction. It would be interesting to know who made the highest bid this year. Perhaps someone interested in the automobile industry - who else would pay top dollar for the first car off the line? A second car was also signed by all the celebrities arriving at the gala.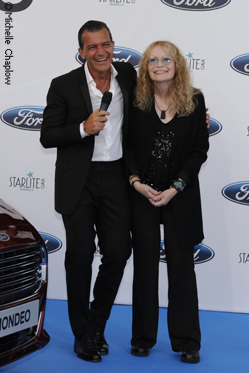 Banderas and Farrow reminsice about acting together.
Farrow @MiaFarrow, who is a vociferous human rights advocate and UNICEF Goodwill Ambassador, was given the Honorary Starlite Award. The 69-year-old actress combined her flowing locks with understatedly elegant evening attire and a genuine smile.
Mia married Frank Sinatra in 1966, divorcing him in 1968; her second marriage was to André Previn in 1970, lasted almost a decade; and from 1979 until 1992, she was in a partnership with Woody Alan.She has a total of 15 children, 4 biological and 11 adopted.
Mia reminisced about working with Antonio Banderas, recounting how she met the Malagueño heart-throb in 1995, when they filmed Miami Rhapsody together. She recalled that one of the main advantages of her job as an actress was that she got to try out "real kisses", and revealed that Antonio Banderas is "a really good kisser", blushing as she spoke.
At this year's gala Mexican telecoms magnet Carlos Slim was granted the Starlight Humanitarian Award. Carlos Slim Helu is the richest man in the world according to Forbes, with a net worth of US$79.6 billion. Banderas, who met Slim at last year's Acapulco International Film Festival, defended Slim's position to a cynical journalist by stating he had two 'E's of preoccupation; education and employment. "We are proud of the 60 students we help with scholarships to the US each year; Carlos helps 10,000."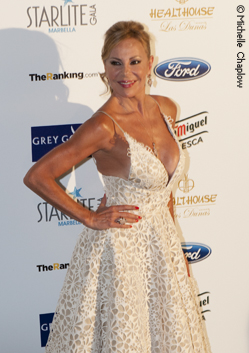 Ana Obregon charming the press photographers.
The Starlite Honorary Award was bestowed on Mia Farrow, along with endless hugs and accolades from Antonio Banderas - this was one very lucky lady. Farrow sent out a message reminding us that "We need more compassion in the world", and that message certainly came from the heart. Farrow is involved in humanitarian activities in Darfur, Chad, and the Central African Republic as part of her UNICEF work.
The other Starlite awards were as follows:
Starlite Solidarity Award went to the Zurich Red Cross Gala; the Starlite Life Award to Pablo Ibañez, El Hombre de Negro (the Man in Black) from El Hormiguero; the Starlite Philanthropic Award to Paco Arango: the Starlite Heart Award to Agatha Rúiz de la Prada; the Starlite Compromise Award to Sergio Scariolo; and the Starlite Trajectory Award to Enrique Ponce.
As in previous years, the red carpet entrances are an essential part of the gala - with 150 press and photographers accredited, these form an important part of the glamorous celebrity spectacle for the guests. Those that preferred not to pose in front of the flashlights were herded past in groups.
Some VIP guests like bullfighter El Cordobes demonstrated a natural familiarity with the press. Ana Obregon sported a beautiful flowing low-cut cream dress showing a cleavage that few ladies would dare to reveal, let alone in front of a battery of press cameras. She even gave a twirl. Just in case it had been missed, she mentioned that the diamond necklace she was wearing was from a local Marbella jeweller. Others such as Carlos Slim and Francisco de la Torre (Mayor of Malaga) appeared almost reluctant to be photographed.
Antonio Banderas and Anne Igartiburu pose for a selfie.
This year more famous guests than ever that walked the red carpet. Here is a list: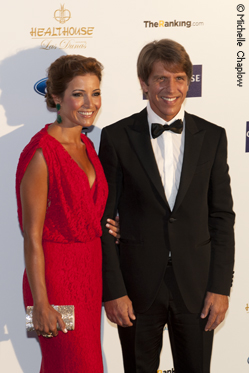 Manuel Diaz 'El Cordobes' and wife Virginia Troconis.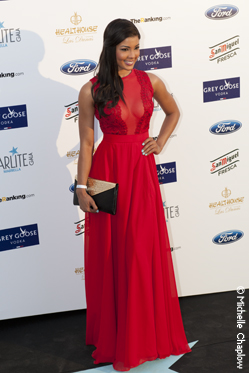 Miss Haiti, Sarodj Bertin.
Ágatha Ruiz de la Prada, fashion designer @agathardlp
Pedro Ramirez, El Mundo newspaper founder @pedroj_ramirez
Enrique Ponce, bullfighter
Paloma Cuevas, actress
Hiba Abouk, actress
Los del Rio, singers of "Macarena"
Anne Igartiburu, Ana Obregón and Lara Dibildos @laeadibildos, Spanish TV presenters/actresses with Joaquin Capel
Baroness Thyssen, philanthropist and art collector
Eugenia Martínez de Irujo, aristocrat and socialite
Beatriz de Orleans,socialite,and son Charles
Princess Kasia Al-Thani, Polish-born Arab aristocrat
Carmen Lomana, socialite
Manolo Santana, tennis champion, with Claudia Rodriguez
Manuel Díaz El Cordobés, bullfighter, with wife Virginia Troconis @virtroconis
Valeria Mazza, Argentinian model, with husband Alejandro Gravier
Angeles Muñoz, Marbella Mayoress
Joaquín Prat, journalist
José Luis Hernández, Councillor for Tourism
Francisco de la Torre, Malaga Mayor
Raquel Revuelta @RaquelRevuelta, fashion designer
Paz Vega, singer
Remedios Cervantes @RemediosMalaga, singer
Ana Torroja @Ana_Torroja, Melody, Roko, singers
Antonio Carmona, Singer, with wife Mariola Orellana
Natalia Sánchez and Marc Clotet, actors
Helen Lindes, model
Fiona Ferrer, model
Alejandra Prat, writer, with husband Juan Manual Alcaraz and friend Yolanda Bravo
Begoña Garcia Vaquero, socialite, with husband Pedro Trapote
Patricia Rato, socialite
Marisa Jara, actress
Angi and Lola designers of Panambi
Elena Tablada, jewellery designer, with her mother, Maria Pineda
Ana Garcia Lozano, presenter
Victoria Swarovski, singer
Sarod Bertin, Miss Haiti
Francesca Vegas, actress and model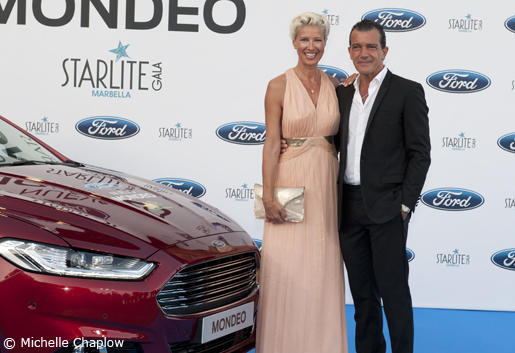 Antonio Banderas with friend Anne Igartiburu.
The Gala presenters were Valeria Mazza @valeriamazza and Joaquín Prat. About 500 guests in total attended, most paying 800€ or 1000€ for tickets. The Gala dinner was prepared by chef Andoni Luis Aduriz of renowned Basque restaurant Mugaritz, and the desserts by chocolatier Christian Escriba.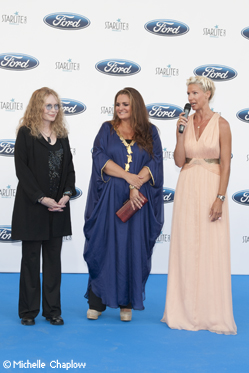 Starlite organiser Sandra Garcí­a-Sanjuán.
Antonio Banderas appeared slightly more serious than usual, however being a gentleman as always, he was the model of courtesy and patience, attending the long line of press, answering all questions and interviews requested of him, and probably causing the Gala to start slightly later than scheduled.
At midnight, slightly later than last year, Antonio Banderas blew out the 54 candles on his birthday cake presented to him by Christian. He enjoyed having 'Happy Birthday' sung to him by the assembled crowd. With the Gala tipped for 8 August next year, he must be looking forward to a quiet birthday at home.
The Starlight Gala organizers reported this year that 100% of the funds collected from the dinner, donations, and auction will be split between the charities Lagrimas y Favores, Niños y Alegría, Cudeca, Cáritas, Universidad de Malaga, Fundacion Corinto and Banco de Alimentos and Fundacion Intheos.