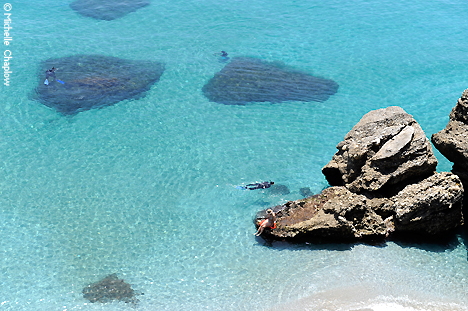 Barco de Chanquete
El Barco de Chanquette (Chanquete´s boat), officially named La Dorada, is a full scale replica of a famous fishing boat, featured in the 1981 Spanish television series Verano Azul; set on the coast of Nerja and directed by well known film director Antonio Mercero. The fisherman Chanquete, to whom the boat belonged, was played by Antonio Ferrandis. The series was based on the adventures and escapades of a group of children aged between nine and 17, who were on holiday in Nerja for the summer.
The replica boat sits on land at the entrance to Nerja town centre, on Calle Antonio Ferrandis "Chanquete" named in honour of the popular actor. It was erected as a monument to commemorate the massive expansion of tourism in the town (as the series is based on the activities of a group of holiday makers), which has helped to massively boost Nerja´s economy. The boat sits next to the Parque Verano Azul (also named after the series) in Nerja town centre; it is also very near to the Puente Viejo (the old bridge).
The boat is very popular with tourists, and not only those native to Spain; due to the popularity of the television series, which was also aired in France, Portugal, Latin America, Yugoslavia, Poland and Czechoslovakia, tourists from all over the world come to visit the boat. Many people go to see La Dorada for a dose of nostalgia, and to take pictures that remind them of their childhood. The crowds also include younger fans, as re runs of the series are occasionally shown even now.
Destinations