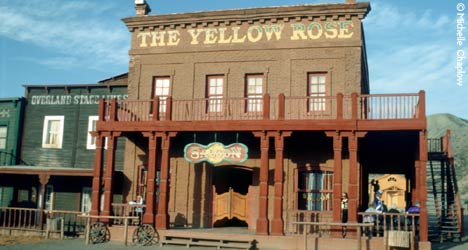 Tabernas
The site of many Western movies, northern Almeria is a virtual lunar landscape with canyons and rocky wastes.
Clint Eastwood, Raquel Welch, Charles Bronson were all here before the big time movie industry moved on leaving behind their Wild West film set which is now open as a tourist attraction.
Fort Bravo Entrance Ticket
Fort Bravo Entrance Ticket
The sets here are 100% original, found in the natural landscape of the Tabernas Desert. Fort Bravo is still used for film shootings, adverts, and short movies and clips. The studios have an American and a Mexican town, offering visitors a Saloon-Bar, a restaurant, a souvenir shop, and a photo studio to dress up in classical Wild West costume and take a photo as a souvenir; in a frame resembling classic 'Wanted' posters.

Tabernas is long famous as a film location since the days of Clint Eastwood filming Spaghetti Westerns. Game of Thrones filmed in the desert gorges known as the Rambla del Cautivo, and La Rambla del Buho near the village of Tabernas. This is where 100 horses and 500 extras formed the long march in episode 4 by Khaleesi, Mother of Dragons leading the Dothraki, the nomadic horse-riding warrior tribe. (See complete Andalucia Game of thrones location listing.)
Book Hotels in Tabernas
Destination tags