COGOLLOS DE GUADIX
Cogollos de Guadix is a small village with wide streets and three large squares bordering on the Sierra Nevada National Park, a true delight for the visitors, with breath-taking views of the Marquesado del Cenere and a large part of the Hoya de Guadix.
THINGS TO SEE
The main monument in Cogollos de Guadix is the Church, the Iglesia de la Anunciacion, declared a place of cultural interest. It dates back to the 16th Century yet it still conserves its Mudejar coffered ceiling and its Baroque altarpiece and choir. However, the legacy of the different civilisations that have colonised Cogollos de Guadix can be seen in the Roman Ruins of the Sierra, where coins and jewels have been found.
Cogollos de Guadix also has an Arab water tank from the Moorish times and two chapels: Virgen de la Cabeza and San Gregorio. The former was used as a lookout to admire the entire Zenete hillside.  Cogollos de Guadix welcomes visitors with a Crucifix in honour of those that fought and perished in the civil war.
THINGS TO DO
For nature lovers, Cogollos de Guadix is an excellent starting point for trekking, horse riding, cycling routes or simply taking a stroll in the Andalusian countryside. Not all are land activities: there is the possibility of canoeing and windsurfing in the smooth and tranquil waters of the reservoir of the same name.
HANDICRAFT
Handicrafts are not a strong point of Cogollos de Guadix, but there is talk about a building a carpenter's workshop in the near future.
GASTRONOMY
The people of Cogollos de Guadix are very fond of tapas, so this is an excellent place to enjoy these typical Spanish tasty bites. If you prefer more filling dishes, why not try the Choto al Ajillo (baby goat cooked with garlic), Migas (a very tasty country dish created originally to make the most of left-over bread), Gachas (a traditional flour-based staple food preparation) or Sustentos (a potato, pork and Spanish sausage stew). If you are more of a sweet tooth try the roscos de vino, tortas (sweet flat cakes) and pan de aceite (sweet bread made with olive oil).
FESTIVALS
Cogollos de Guadix holds several festivals throughout the year:
Virgen de la Cabeza, at the end of April. A representation of the Moors and Christians is performed.
On San Gregorio, 9th of May, blessed bread rolls are distributed among the villagers.
At the end of August, on San Agustin, they hold bullfights and runnings.
The most unique festival is called "Carreta" held on the 30th and 31st of December. Olive wood is collected to build an immense bonfire for New Years' Eve.
 LOCATION
Cogollos de Guadix is located at about 78 kilometers from Granada. From Granada, take the A-44 towards Motril and turnoff at the 118 exit. Continue down the A-92 and cross Guadix. After, take the GR-SE-19 turnoff and continue on this road until you reach the village.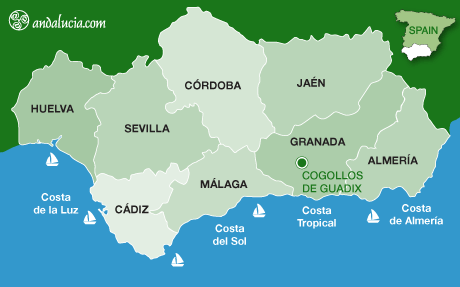 Destinations