JEREZ DEL MARQUESADO
Written by Marta Palomo Hermoso and translated by Tanya Shew
Jerez del Marquesado is one of the highest municipalities of the entire Iberian Peninsula, a geographical feature that has converted it into the perfect place for civilisation settlements. In fact, there are even remains of the Neolithic Era, the Roman Period and, above all, Moorish. Its Arab influence can be seen nowadays in its streets, narrow and meandering, and in its balconies and squares, white and full of plant pots.
THINGS TO SEE OR DO
The most important archaeological site is the former Santa Constancia mining exploitation, which has now become the starting point for amazing hiking routes.
In the town centre, you will be able to see several noteworthy monuments, such as the Parish Chapel of Nuestra Señora del Anunciación, dating back to the 16th Century with a Mudejar coffered ceiling. Another place of interest is La Cruz Blanca de las Eras, true evidence of the visit of the Catholic Monarchs to the municipality.
There is also a place called El Refugio Postero Alto, located at about 1800 metres high, which is the starting place for mountain excursions around Sierra Nevada, one of the most interesting activities to do at Jerez del Marquesado. For those who love mountain routes, there is the recreational area of La Tizná, located in the Barranco del Alcázar surrounded by chestnut trees.
Jerez del Marquesado is also known for its bullfights and bull runs.
HANDICRAFTS
The local handicraft at Jerez del Marquesado is centred around pottery and imagery workshops. You will find many a shop selling gorgeous locally made products for you to take home with you.
GASTRONOMY
There are dishes that all visitor must try during their visit to Jerez del Marquesado, such as RinRan de Bacalao [cod stew], Olla de habas [broad bean casserole], Choto en Ajillo [kid in sauce], Gachas [a traditional flour-based staple food], Alimentos [a potato, dry red peppers, spicy sausage, black pudding and wild mushrooms casserole]. For the sweet-toothed, you must try the Roscos de huevo [Donughts made with egg, milk, flour and sugar, then fried in very hot oil and rolled in sugar], Buñuelos [fermented wheat flour fritters], Potaje de bolones [toasted and peeled chestnuts, which are then boiled with cinnamon and sugar] and Boniatos hervidos [boiled sweet potato with cinnamon and sugar].
FESTIVALS
The most renowned festivals are held on or around the 8th to the 12th of September in honour of Nuestra Señora de la Purificación, also known as La Tizná. The story says that she performed the miracle of bringing some children who had been killed by lightening back to life. During these days are when the traditional bull runs are held.
Other festivals are:
San Anton on the 17th January.
La Candelaria on 2nd February
San Marcos on 25th April
Virgen de la Cabeza on the last Sunday of April
Fiesta del Corpus on the end of May or beginning of June
San Juan and San Pedro on 24th and 29th of June
Feria del Ganado (Cattle Fair) between 24th and 29th of October.
LOCATION
Jerez del Marquesado is located at about 80 km from the city of Granada. To get to the village, take the A-44 towards Almeria and then the A-92 towards Guadix until you see the exit towards your destination.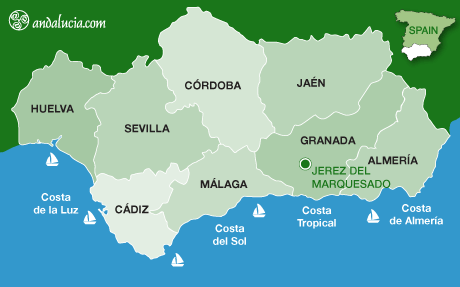 Destinations