Marchal
by Shenai Martínez Fernández
This village was founded in the Middle Ages from a farmstead created by the Moorish era. There are also vestiges of millenary civilisations in Marchal, as can be seen in its archaeological sites.
Among the places of interest in this village is the parish church of Nuestra Señora de la Anunciación, built in the Mudejar style in the 16th century on the site of a former mosque; it burnt down before the Spanish Civil War and was rebuilt in the 1940s.
Another monument of interest is the Palacio de los Gallardo, also known as Casa Rosa, a stately building erected in the 19th century.
As is common in many villages in the region of La Hoya de Guadix, Marchal has a troglodytic quarter with numerous cave dwellings, many of which are still inhabited.
The craftsmanship of the people of Marchal is very scarce and is centred almost exclusively on esparto grass, worked by the locals in an employment workshop.
The gastronomy of Marchal is dominated by dishes such as chickpea stew and products such as cereals, almonds, olives and wine.
The festivities in Marchal begin on 2 February with the Candelaria festival, a day on which bonfires are lit in the village squares.
The festivity of the Santísimo Cristo is celebrated in early spring with a procession, leisure and cultural activities and open-air dances; and in May, the Marchaleros organise a pilgrimage to commemorate the day of the Virgen de Fátima. Another important date is the day of San Bonifacio, at the beginning of June.
Marchal is 62 kilometres from Granada, from where one can drive along the A-92 motorway. Continue along exit 288 and cross Purullena to join the GR-4105 road and enter our destination.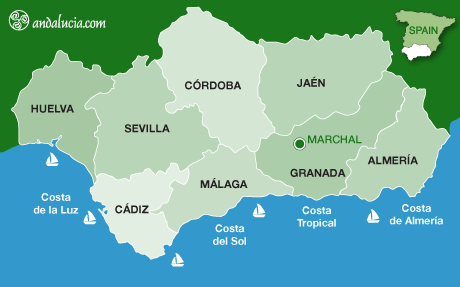 Destinations