ALDEIRE
Aldeire is a village situated inside the Sierra Nevada national park. It is an ideal destination for lovers of nature and outdoor sports such as hiking.
THINGS TO SEE
One thing to see in Aldeire are the ruins of the Castillo de Cava, belonging to the Caliphate period (11th Century). Nasrid ceramics dating back to the 8th and 9th Century have been found here.
A sample of Christian buildings on Moorish remains can also be seen in the Nuestra Señora de la Anunciación church. It is a Mudejar building dating back to the 6th Century with clear Renaissance influences and a beautiful coffered ceiling without panelling.
Aldeire also has Roman Baths located near the natural spring of Fuente del Tiro dating back to the 11th and 12th Century.
On another note, nature lovers can go hiking, trekking or horse riding from the recreational area called "La Rosandrádel".
HANDICRAFTS
The handicrafts of the village are mainly based on esparto grass creations for personal use and they do not normally sell their products.
GASTRONOMY
Chestnuts, almonds and homemade jams made with local fruit are the main delicacies of Aldeire. If you happen to be in the village for lunch, don't miss the pork with chestnuts and the homemade cold meats.
FESTIVALS
The highlight as far as festivals in Aldeire are concerned is the representation of the Moors and the Christians either in the festivals held in May honouring the virgin Nuestra Señora del Rosario or in August, on the San Roque day.
Traditionally on the 25th of April, on San Marcos, bread rolls are blessed and distributed to the villagers.
LOCATION
Aldeire is located at about 88 kilometres from Granada. To get to Aldeire from Granada, we take the A-44 road towards Jaen and we turn off on exit 118 towards Murcia, which will take us to the A-92 motorway. We take the exit 312 on to A-337. When we get to La Calahorra, we continue down GR-SE-3, which joins the GR-5201, which, in turn will take us to our destination.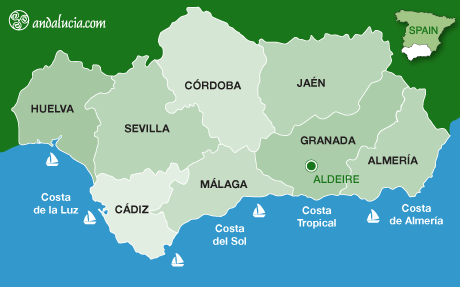 Destinations