DIEZMA
Written by Shenai Martínez Fernández and translated by Tanya Shew
HISTORY
There are several versions about where the name of this village comes from. One was the money that was used to pay the Church for agricultural purposes and the other related to the units of ownership I the Roman times. The history of Diezma dates back somewhat, as it used to belong to the Moors, who called it Dexme –a Visigoth place name-.
During the Roman Empire, Diezma was something resembling a hostelry village as it was sited on on the Augusta Roman Road and later, it was conquered by the Catholic Monarchs in 1490. As of the 1500s it began to be known as an alquería (a farmhouse area) and was purchased by Luis Guiral from the Crown of Castile with the title of Mayorazgo de Diezma, as an entailed estate.
During the 19th Century, it was a cantonment of French troops.
THINGS TO SEE OR DO
Among the most important monuments of this Granada village, Diezma, we find the Casa Solariega del Marquesado de Diezma, a manor house located on the square right next to the parish church built back in the 18th Century, with its great doors protected by rounded arches, artistic grilles and balconies.
Other interesting places to visit are Los Buñuelos, a thermal water spring; the church of Santo Cristo de la Fe built in the 16th Century with a Neo-Mudéjar tower; remains of the Cabrera Castle and the Cueva del Agua or the Cave of Water, in English, a natural grotto with stalactites and stalagmites.
HANDICRAFTS
Handicraft is not very popular at Diezma, but they do work with esparto grass to make decorative elements that can be bought.
GASTRONOMY
Diezma is the paradise for lovers of great cuisine, as there are a whole variety of dishes to delight your taste buds, combined with fantastic views of Sierra Nevada.
Diezma is also known for its extra virgin olive oil with a denomination of origin called Montes de Granada. Among the typical dishes you will hear Gachas (a traditional flour-based staple food preparation), Sustentos (a potato, pork and Spanish sausage stew), Gazpacho (cold tomato soup), roast lamb and partridge in a sauce or marinated.
FESTIVALS
In mid January, Diezma holds the festival of San Anton, where traditional campfires are made to burn the traditional manchos, torches made from esparto grass. One month later, the campfires are lit again to repeat the process, this time accompanied by a religious pilgrimage in honour of San Blas.
The patronal festivals traditionally take place mid August, which is when the people of Diezma pay tribute to the Cristo de la Fe (Christ of the Faith)
LOCATION
Diezma is located at about 48 kilometres from the city of Granada. To get to Diezma from Granada, take the A-44 road towards Armilla and then, the 118 turnoff towards Murcia. Once on the A-92, take the 276 turnoff towards GR-NE-21, which will take you straight to Diezma.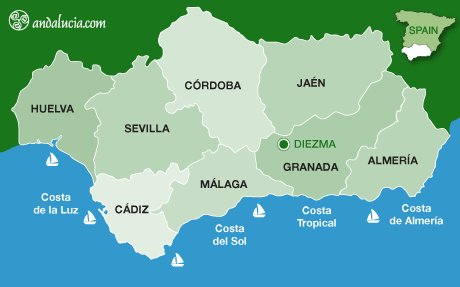 Destinations