FONELAS
Written by Marta Palomo Hermoso and translated by Tanya Shew
THINGS TO SEE OR DO
Time has wanted Fonelas to be known for some of the most valuable archaeological remains of the entire peninsula: about 70 dolmens scattered around in different groups, the archaeological sites of Cerro Gallos and Solana del Zamborino and many fossil mammals dating back to over a million years.
The origin of Fonelas can clearly be found in the Prehistoric age, although most remains date back to the Bronze Age. The four Arab watchtowers used to protect the land close the chapter on historical remains.
Back in the village centre, visitors can visit the Parochial Church of Virgen de los Dolores, the patron saint of the town, a Mudejar style building dating back to the 16th Century.
Visitors that would like to experience an authentic feel of Fonelas and learn more about how people used to live in the olden days can stay at the cave houses, which have been carefully fitted out and decorated for a different type of accommodation.
If you feel the urge to be out in nature –Who wouldn't? It's gorgeous out there-, there are a many great route in the countryside that you can do either on foot, on a bicycle or horse-back.
HANDICRAFT
Esparto grass is the main material used by the people of Fonelas to make several types of handicraft products, which can be bought as souvenirs in the local shops.
GASTRONOMY
Do not miss the gastronomy offered at Fonelas, based on the rich produce sourced from the local vegetable gardens. One of the best-rated products is their peaches, with which they prepare a most typical dessert: peaches in wine.
FESTIVALS
The festivals in honour of the patron saint are held in April with religious acts, open-air fairs and fireworks.
LOCATION
Fonelas is located at about 76 kilometres from the city of Granada. To get to Fonelas from Granada, take the A-92 towards Guadix and just before you get to Guadix, take the A-325 and you will find that Fonelas is just after Benalúa.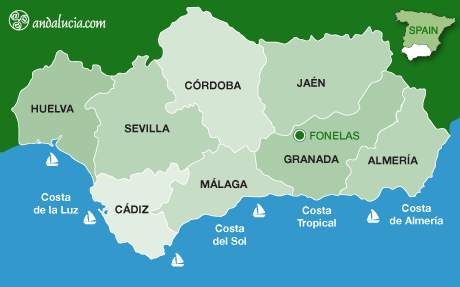 Destinations