BEAS DE GUADIX
Beas de Guadix, which used to be a prison for the Christian soldiers of the Muslim times, is located in the Sierra Nevada National Park, surrounded by badlands, peculiar forms of the clay land thanks to the action of the water, and large pine forests.
THINGS TO SEE
As the old Roman Road that linked Guadix with Granada used to pass through Beas de Guadix, today, we can still see archaeological ruins of some of the villages of this period.
Other monuments that cannot be missed if you happen to be in Beas de Guadix are the defence fort of the Nasri Times and the Mudejar church of Nuestra Señora de la Paz, a 16th Century building which still conserves a Barroque altarpiece.
The Mirador del Fin del Mundo is a spectacular lookout that gives the impression of having reached the end of the world, where the only thing left ahead is the sky and the never-ending fields.  Do not miss the old water mills, the medieval wine press or the prehistoric cave houses, which are still inhabited.
HANDICRAFTS
The handicrafts of this municipality focus on esparto grass works in the workshops located in the higher part of the town.
GASTRONOMY
From the gastronomy at Beatas de Guadix, we can highlight Pollo con arroz (a chicken and rice dish), Migas Pastoreras (a very tasty pastoral dish created originally to make the most of left over bread), Caldo de Pimentón (bell pepper soup) or Ensalada de Jamón con Melocotones (Serrano ham salad with peaches). However, we mustn't forget about the typical produce from the vine, the olive tree and cereals.
FESTIVALS
The Festivals in Beas de Guadix are:
San Lorenzo, in August.
Feria Nuestra Señora de la Paz, in January.
Día de la Cruz, in May (traditionally on the 3rd of May)
LOCATION
Beas de Guadiz is located at about 65 kilometres from Granada. From Granada, take the A-44 towards Jaén. Then, take the 118 turnoff towards Murcia to link up with the A-92 motorway. The turnoff is signposted to Beas De Guadix, which is located on the other side of Purullena. Cross the village and continue on the GR-SE-25 that will take you straight to the village.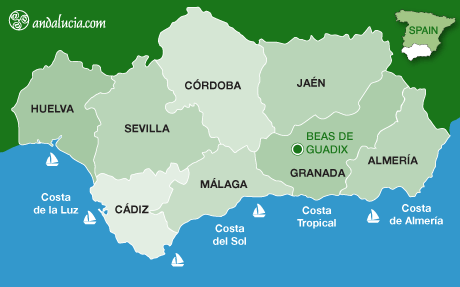 Destinations