ALQUIFE
Alquife has historically been a mining village producing up to 40% of the iron extracted in Spain. Although closed today due to the crisis of the beginning of the past century, these mines had been in operation since the time of the Roman Empire.
THINGS TO SEE OR DO
Alquife has a monument dedicated to the miners that reminds everyone of the true essence of the village. For those who would like to learn more, the old open mines and the former, now abandoned, mining village itself can be visited.
The north part of the municipality houses a necropolis from the Argaric culture where urns have been found.
Alquife also has a church called Iglesia de Nuestra Señora de la Asunción, a 16th Century building has a renaissance dome and a Mudejar coffered ceiling, an the chapels of San Hermenegildo and San Antonio.
HANDICRAFTS
Alquife does not produce much handicraft apart from the crochet work of the ladies of the village.
GASTRONOMY
As far as gastronomy is concerned, we can say that the star dish is baby goat with garlic. This dish is cooked in very large quantities during the festivals. However, this is not the only dish you can have the pleasure of trying in Alquife. Try the Salmorejo (a cold tomato soup that slightly resembles Gazpacho), Arroz caldoso with rabbit (rice cooked n a rich broth), Migas (a very tasty pastoral dish created originally to make the most of left over bread) and Sopa de Pimentón (bell pepper soup).
FESTIVALS
In Alquife, the festivals begin on the 13th of April with the celebration of the San Hermenegildo day and the burning of the Palo Alquifeño. This is an electricity pole covered up with hundreds of fireworks that they place on a metal base and set fire. The fireworks start exploding from the base upwards. The people of Alquife are known for liking gunpowder. It is said that this tradition comes from the old mining profession, where they used gunpowder blasting in the mines.
For some years now, this festivity is celebrated on the 1st of May to ensure anyone living, working or studying away can come back to join in the celebrations.
More festivals to be enjoyed in Alquife are:
June, traditionally on the 13th: San Antonio de Padua
December, traditionally on the 4th: Santa Barbara, the patron saint of the miners.
LOCATION
Alquife is located at about 80 kilometers from Granada. From Granada, we take the A-44 road towards Jaen and we take the 118 turnoff towards Murcia. Once on the A-92, we take the 312 turnoff towards La Calahorra. We stay on Avenida del Marquesado and continue down GR-SE-18, which will take us to our destination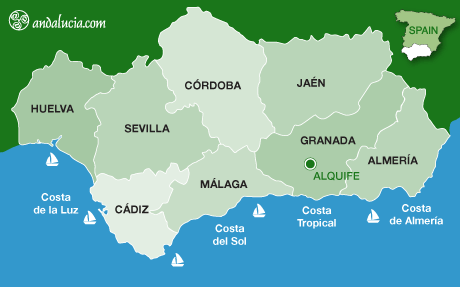 Destinations