Restábal
Restábal is one of three villages that were merged in 1972 to form a municipal district called El Valle. The other two villages are Saleres and Melegís. Restábal as the larger and being located between the other two is 'capital' village and is where the town hall offices are located.
If you want to capture one of the best images of the village centre of Restábal, you should go to the bridge on the río Torrente. Among its white buildings the Iglesia de San Cristóbal, a Mudejar church built in the 16th century, stands out. The Ermita del Cerro is a recent addition which honours the Virgen de Fatima. A ruined castle, destroyed by the Reyes Catolicos during the Reconquest, dates from the Nazari era (14th century).
GASTRONOMY
Local produce includes olive oil, wine, beans, oranges and lemons. On the first Sunday of every month, the Lecrin Valley farmers' and artisans' market takes place.
Traditional delicacies of El Valle include puchero de hinojos (fennel stew), pisto de calabaza (ratatouille with pumpkin), ensalada de pimientos coloraos (pepper salad), caracoles en salsa (snails in sauce), manos de cerdo (pigs' trotters) and albóndigas de bacalao (cod meatballs). For dessert, try leche frita (flour, milk and sugar fried and rolled in sugar), crema de naranja (orange cream), torrijas (French toast) and pastas de almendra (almond pastries).
DIRECTIONS
El Valle is 39km from Granada city. Take the A-44 (direction Armilla-Motril), then leave at exit 160 for Lecrín-El Valle, to join the GR-SO-24 and then finally the GR-110 which takes you to the centre of Restábal.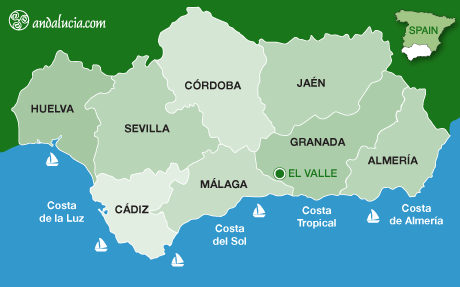 Destinations