Saleres
Saleres is one of three villages that were joined together in 1976 to be part of a single municipality called El Valle. The other two were Restábal and Melegís. Restábal being the larger and the centrally located became the 'capital' where the town hall office is located.
Saleres is the highest of the three villages, named after one of area's rivers, and known locally as Santo. The most interesting monument is the historic Fuente de los Siete Años, situated in Pago de los Llanos, so-called because its source provided water for seven years before the flow lessened during another seven.
Also worth seeing is the Iglesia de Santiago, dating from the 16th century, whose facade, by Pedro de Berrueco, wooden coffered ceiling and tower covered with glazed tiles are impressive. Look out for the Atalaya (also known as the Torre de Marchal), a ruined Nazari watchtower with an amazing view over the valley; it is situated at 1011 metres. There are also several old mills - Blanca, Bastian and Enriquez.
Hotels
Book hotels in Saleres
Agriculture
The inland valleys of Andalucia, such as the Lecrin Valley are important agricultural production areas for citrus fruits and olives.
DIRECTIONS
El Valle is 39km from Granada city. Take the A-44 (direction Armilla-Motril), then leave at exit 160 for Lecrín-El Valle, to join the GR-SO-24 and then finally the GR-110 which takes you to the centre of Restábal.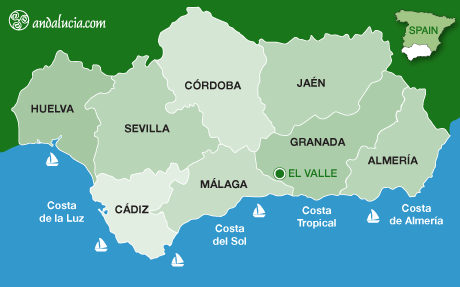 Destinations