Melegís
Melegís is one of three villages that were merged in 1972 to form a municial district called El Valle. The other two villages are Saleres and Restábal. Restábal as the larger and being located between the other two is 'capital' village and is where the town hall offices are located.
Melegís, where the Nazari court (Moorish rulers of Granada) resided briefly in the 14th century, is situated on the Torrente river. El Baño thermal springs offers waters renowned for their curative properties - above all, for skin disorders. Among its numerous noble houses the Iglesia de San Juan Evangelista stands out from the crowd. This church, which has recently been declared a National Monument, was built in the 16th century and is home to works of great value, such as a Virgen from the school of Alonso Cano, an old organ and a baroque-style Christ figure from Peru. Its structure you can see many Moorish style elements as well as renaissance and baroque elements. You shouldn't miss the 13th century Moorish mirador (watch tower) - there is also a newer viewing terrace in honour of all the émigrés who went to France and Germany in the 1950s and 60s - or the old public washrooms.
GASTRONOMY
Local produce includes olive oil, wine, beans, oranges and lemons. On the first Sunday of every month, the Lecrin Valley farmers' and artisans' market takes place.
Traditional delicacies of El Valle include puchero de hinojos (fennel stew), pisto de calabaza (ratatouille with pumpkin), ensalada de pimientos coloraos (pepper salad), caracoles en salsa (snails in sauce), manos de cerdo (pigs' trotters) and albóndigas de bacalao (cod meatballs). For dessert, try leche frita (flour, milk and sugar fried and rolled in sugar), crema de naranja (orange cream), torrijas (French toast) and pastas de almendra (almond pastries).
The Feria del Citrico (Citrus Festival) is held in Melengis ever year in the week before Semana Santa, with the Festival de la Naranja taking place on the Saturday before Palm Sunday.
FIESTAS
The main fiesta celebrated in El Valle is la Fiesta de San Antón, in June in Melegís. As well as religious events, at night there is a lively festival. In May the Romeria del Cerro is celebrated, in honour of the Virgen de Fatima.
DIRECTIONS
El Valle is 39km from Granada city. Take the A-44 (direction Armilla-Motril), then leave at exit 160 for Lecrín-El Valle, to join the GR-SO-24 and then finally the GR-110 which takes you to the centre of Restábal.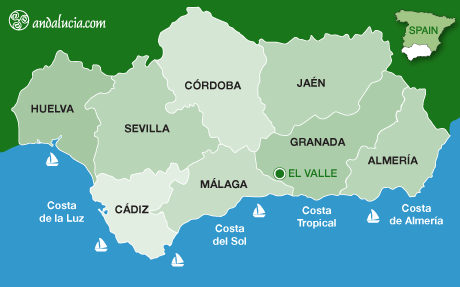 Destinations