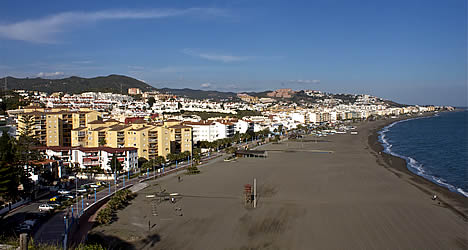 Take me to: Home | Apartments | Restaurants
Rincon de la Victoria is only 12km away from Málaga city and includes an array of accommodation. The beach and the boulevard are the main attractions, particularly when visitors and locals take advantage of the cool sea breeze during the summer months. The other attraction is La Cueva Del Tesoro which is a cave dating back to the Jurassic period and the only one of its kind in Europe.
Rincón is a very popular place for commuters due to it´s proximity to Málaga and therefore has a great choice of beachfront hotels and hostals. Accommodation is also available further in town, away from the beach, and in the bordering areas of the town where one can find self-catering apartments and villas for a bit more privacy and exclusivity. 
Hotels on the Beach

Rincón Sol
Hotel Rincón Sol offers a range of leisure facilities such as a restaurant and cafeteria, a nightclub and a seasonal beach bar. Rooms are modern and spacious, featuring private terraces and air conditioning.

Hotel Elimar
Situated on the beachfront, Hotel Elimar offers a free gym, air-conditioned rooms with furnished terraces overlooking the sea or mountains and an airy buffet restaurant.