SUNSHINE TOUR
by Saskia Mier
An arena was built at the Montenmedio Golf and Country Club in 2002 and it has since become a vast complex covering a total of 15,600 square metres. The complex has state-of-the-art facilities including 17 arenas of different sizes, stables, veterinary and blacksmith installations, driving tracks and a cross country course, not forgetting four restaurants. A large covered area provides the perfect space for competitions regardless of the weather, with neither intense rain nor blazing sun interfering with events. Olympic qualifying events are included among the many scheduled competitions at this prestigious venue.
The Sunshine Tour was created in the early nineties and has become the biggest equestrian winter competition in all of Europe. The inaugural Sunshine Tour was held in 1995, the first competition of its kind, and it has since become a template for other competitions of the same style. Its official name is the Circuito Hípico del Sol. The idea was to create a major event with several disciplines during the winter months when the weather is usually bad in the U.K., France, Germany, the Netherlands, etc. Riders, horses and their teams could travel to the Montenmedio complex and compete in far better weather conditions in preparation for the spring/summer season. 
During the months of February and March riders from all over the world come to compete on the Sunshine Tour in driving, jumping, dressage and three-day eventing. They are set up as an extensive series of equine events held at a single venue in order to reduce travelling arrangements for the participating horses - as they come from over 20 countries. Once there, however, they are able to settle in, relax and usually enjoy the excellent weather conditions.
An event known as Circuito de Otoño (Autumn Tour) is a fairly new event and is held from October to November, but dates vary each year, the same as for the Sunshine Tour. It is therefore best to consult the dates of events before visiting.
The Montenmedio complex is located about 10 kilometres south ( N-340 km 41.3 ) of  Vejer de la Frontera, in Cádiz province, which is home to a vast stretch of Mediterranean coastline known as the Costa de la Luz - thanks to the tremendous quality of light in this part of the region. The climate is also ideal for year-round outdoor activities, with facilities such as Montenmedio in Vejer designed to cope with hot Iberian summers. However, Atlantic breezes do temper the heat in this part of Spain.
The Sunshine Tour is open to spectators, and there is plenty of parking and free admission.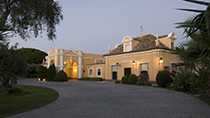 Hotel Hacienda Montenmedio
This luxurious hotel is set next to the de Montenmedio Golf Course, 15 minutes' drive from the beaches of El Palmar and Faro Trafalgar. It offers an 18-hole golf course, art museum and free WiFi.