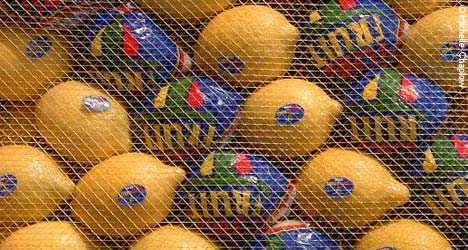 Spain is one of the largest producers of citrus fruits in the world
Overview of Economy
Spain has been transformed in the last three decades from a rural, backward, agricultural country into a nation with a diversified economy with strong manufacturing and service sectors. However Spain's bureaucracy remains firmly rooted in the 1950's.
Between 1961 and 1973, the so called years of development the Spanish economy grew at 7% a year and in 1963 the per capita income of the Spanish economy reached $500 a year. This elevated Spain from the ranks of the developing nations (as defined by the UN). After joining the EU in 1986, Spain once again had one of the world's fastest growing economies with its annual growth averaging 4.1% in the period between 1986 and 1991, compared with the EU average of 3%. Likewise, foreign trade grew from $23.8 in 1975 to $52.5 billion in 1980 and to $143 billion in 1990.
Today the economy of Spain is the fifth largest in Europe, accounting for around 9% of EU output. Per capita income, at 78% of the EU average is among the lowest in the EU, although it is well ahead of Ireland, Portugal and Greece. Spain's main trading partners are France, Germany and Italy for exports and Germany, France and Italy for imports.
The Basque country and Catalonia are the Spanish economy´s main industrial regions and just five of Spain's provinces (Barcelona, Biscay, Madrid, Navarre and Oviedo, all situated in the north and east) produce over half the country's industrial output. Catalonia, where some 85% of companies are located in Barcelona, is Spain's economic powerhouse and one of Europe's most important industrial regions.
In the early nineties, Spain experienced one of the worst recessions in the EU, resulting in falling output, reduced investment, an increasing public deficit, numerous bankruptcies (including the spectacular failures of Torras and Banesto), and rising inflation. In 1993 it was also the end of the seven year EU 'honeymoon' transition period, during which the country's tariffs and quotas on EU imports were phased out, thus exposing the economy to the full force of EU competition. Huge investment was needed for Spain's infrastructure, including roads, railways, airports, water supply and communications and the country received $22.8 billion between 1995 to 1999 from the EU specifically for this purpose.
Spanish industry is firmly rooted in small and medium sized family concerns and has only three companies in Europe's top 100 (Telefónica, Endesa and Repsol) and a further six in the top 300(five banks, plus Berdrola). It's significant that Spains economy hasn't got one manufacturer among Europe's largest companies and most manufacturers are too small to compete globally. Spain has relied heavily on foreign investment (three-quarters of it in Barcelona and Madrid) for much of its recent growth, although many investors turned their backs on Spain during the recession. Over 30% of Spanish industry is foreign-owned, including some 50% of its food production which is mostly French owned.
The spanish economy is handicapped by its lack of modern machinery and technology (over 90% of Spanish industrial plant is out of date and needs replacing), particularly computer technology, coupled with poor efficiency and organisation. All Spains economies largest companies are state-owned and loss making, and include the national airline, Iberia, steel foundries, munitions, petrochemicals, mining and chemical companies.
In the early 90´s the government started the long process of privatising state owned companies, commencing with Argentaria (banking), Repsol (petrochemicals) Telefonica (telecomunications) and Endesa (electricity). Spain's dependence on agriculture has diminished in the last few decades, while tourism and other service industries have grown considerably in importance. In 1993 agriculture accounted for just 3.5% of GDP and employed some 10% of the workforce, almost half of the figure for 1985 and down from 27% in 1960 when around 40% of the population worked in agriculture). One third of the workforce is employed in industry, while services account for some 60% of jobs.
Spains economies most important industries include tourism, chemicals and petro-chemicals, heavy industry and food and beverages. Spain is also Europe's fourth large manufacturing country after Germany, France and Italy. The principal growth areas include tourism, insurance, property development, electronics and financial services. Tourism is one of Spain's most important industries, especially in Andalucia, earning about 4% of the GDP and employing some 10% of the workforce, both directly and indirectly.
The country is also the world's largest producer of olive oil, fourth largest of dried fruit and the sixth largest of citrus fruits. Spain's vineyards are the largest in the world and some 60% larger than France's, although it's only the fourth highest producer of wine-grapes and ranks third in wine production. Other important crops include barley, wheat, maze, rice, potatoes, sugar-beet, peppers, avocados, tomatoes, tobacco, hops, oil bearing fruits and cork. Spain has over three million hectares of land under irrigation and employs widespread artificial watering which often isn't cost effective. Spanish farmers have been particularly badly hit by falling prices and drought in recent years.
In the last years Spain has been forced to live within its means and state spending has been slashed to control the soaring budget deficit. Like many European countries, Spain has found that it can no longer afford to pay the high social security benefits that its citizens have become accustomed to in the last few decades and this continues to be one of the most pressing concerns of the current government – together with revamping the antiquated labour laws which stifle small business incentive.