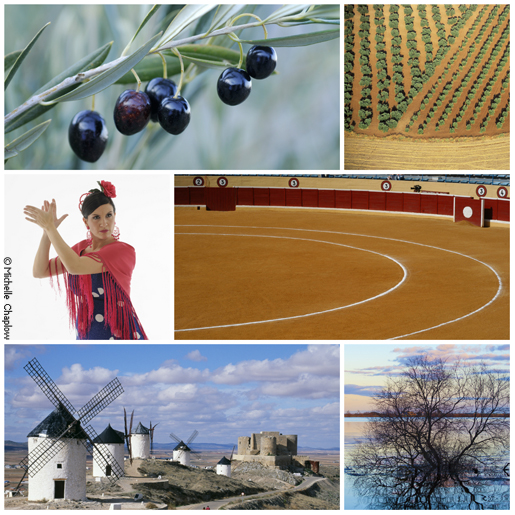 Spain is waiting for you and your camera.
Advice on taking photographs in spain
by Michelle Chaplow
Spain is a vast country, and after living and working as a photographer here for over 30 years, I know that it's impossible to generalise about one individual and uniform Spain. It's a country of extreme contrasts and rich, varied traditions; but ask a foreigner about Spain, and they will invariably talk of beaches, flamenco, orange trees and white villages. Yes, these elements are part of Spain, but in general terms they only relate to the region of Andalucia.
Every area of Spain varies is distinctive in its landscape, traditions, climate and gastronomy. In terms of geography, you have everything from the lush green pastures of Asturias to the deserts of Almeria. Traditions vary from region to region: the San Fermines - festival of running of the bulls - in Pamplona; the tomatina - throwing of tomatoes - in Buñol. Even the climates are vastly different: the rain and clouds in northern Spain contrast with the almost-tropical Canary Islands, off the coast of North Africa.
There's a rich gastronomic culture in Spain - from the paella of Valencia, to the nation's calorie-laden chocolate-and-churro (doughnut tubes) breakfast. Spain is like several countries all rolled into one, which makes it both challenging and exciting to a photographer.
Professional hotel photography, specialising in luxury, historic, boutique hotels and villas worldwide. 
Professional hotel photography, specialising in luxury, historic, boutique hotels and villas worldwide. 
Editorial, travel lifestyle and reportage photography, with a studio base in Andalucia, Spain. From time to time Michelle Chaplow teaches on Photography Workshops in Andalucia. The workshops tour the most beautiful and more remote areas of Andalucia.
COMMUNICATING WHILST PHOTOGRAPHING IN SPAIN
In terms of language there are six living idioms: Castellano, Galician, Basque, and Catalan and, in the Mallorca and Valencia regions, there are two languages that are derivatives of Catalan. Spain is comprised of 17 autonomous regions and 51 provinces.
The good news is that Castellano is spoken almost everywhere, and also most Spanish children learn English at school. One thing I have noticed is that the Spanish are shy when it comes to speaking languages other than Spanish. Friends and colleagues have told me that they feel "ridiculous" speaking English, even when they have a good command of it as a second language, especially in terms of reading and listening. Thankfully this is changing as the younger, internet-savvy generation is extremely keen to learn and practice.
SPANISH REPORTAGE: THE PEOPLE
The Spanish people are extremely hospitable and humane. In my travels, I've noticed that one of the most endearing characteristics of the Spanish people is their ability to embrace the whole family in their activities, none should be left out. A warm welcome awaits children, the elderly, and the average visitor alike. In my experience as a photographer in Spain, if people can collaborate with you, they will.
As you can imagine, there is a huge difference between photographing a country shepherd in a small Alpujarran village, and a cosmopolitan businessman who is late for a meeting in the capital. To photograph people, you need time and the ability to win their confidence; you must be able to reflect trust in the image. The photographer also needs to be relaxed. A nervous photographer will pass on those vibes to the subject.
Personally, I firmly believe that the most beautiful portraits are environmental (as opposed to studio) portraits - people in their own surroundings. People are so much more relaxed in a familiar location, whether it's their home or place of work. A musician with his or her instrument, a potter at his wheel, a dancer performing her moves, an old lady resting on her doorstep... these images go one step further in portraying that essential connection between humans and their environment, and showing the essence of their personality.
MODEL-RELEASED IMAGES
Editorial images of festivals in Spain and general street life, if published in an editorial context, have no need for a model release. However if published in an advertising context, then a model release is required. Ten years ago you could photograph more or less anybody or anything, but now, like the rest of Europe, people have woken up to Model and Property Release issues.
WHAT TO WEAR WHEN PHOTOGRAPHING
Comfortable shoes, a hat for the summer - I have a general rule that I dress according to the environment. If it's a corporate portrait, I will wear something smart; in a natural park, walking clothes; in a luxury hotel, appropriate attire according to the time of day (daytime - smart-casual; evening - more formal). I believe that this helps you "fit in" and reduces the barrier between the lens and the subject. But comfort is also key, as it allows you to have freedom of movement.
THE LIGHT IN SPAIN
Contrary to popular belief, the sun doesn't shine every day in Spain. I've been on various assignments for clients in the States and the UK who were amazed that a week could go by with constant cloudy Northern European weather.
When it rains in Spain, it's that full-on, passionate rain - no half-measures or persistent drizzle here; autumn and spring have the most rainfall. As a general rule, in mainland Spain, the beach season is from Easter to late September - it's a joy to capture on camera that delicious, soft golden glow of late afternoon and early evening Spanish sun. Spain is a country of contrasts, with subject matter to keep every photographer happy all year long.
Enjoy photographing in Spain!