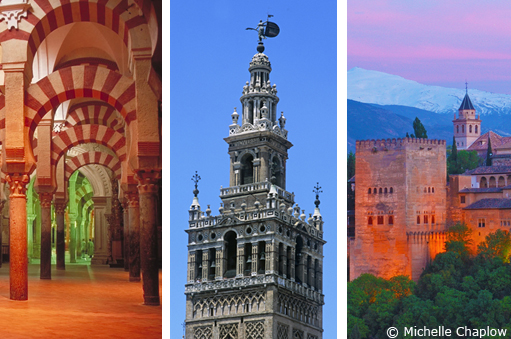 Seville, Granada and Cordoba form the Golden Triangle of Andalucia
PHOTOGRAPHY TOUR OF ANDALUCIA 2020
 CRIS&KIM Travel Designers, have joined forces with photographers Michelle Chaplow and Wayne Chasan and have designed a Luxury Photo Tour that allows you to visit and photograph unique and incredible places which represent the finest of Andalucía's cultural and historic wealth. An entirely exclusive trip, through the Golden Triangle of Andalucia made up of Seville, Cordoba and Granada, with all the luxury that Andalucía has to offer, it promises to be an unforgettable experience.
Photo Schedule & Dates
This program will take place three times during the year:
Dates to be determined
The itinerary is featured below.
Day 1. Seville. Welcome dinner in a private palace, where the course presentation will take place (formal dress).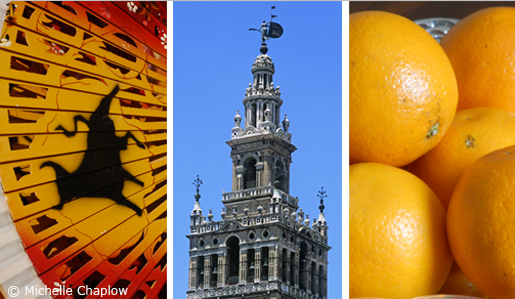 No trip would be complete without a visit to Seville
Day 2. Seville. We will start with a visit to the most important monuments of the city, stopping to eat in the finest tapas bars in Seville, and later photographing the magnificent historical sites. We will finish the day with a delicious dinner enjoying a great view of the Guadalquivir River.
Day 3. We will leave for Córdoba, stopping on the way to visit towns and private farms, where we will have lunch. In the afternoon we will arrive in Córdoba, where dinner will be waiting in one of the finest wine cellars in the city.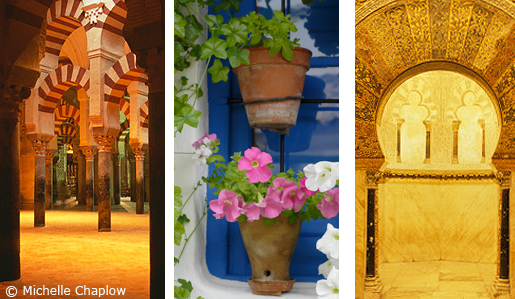 Cordoba just loves your camera
Day 4. We will visit Córdoba, its mosque, the gardens and the river, experiencing the rare variety of cultures and religions which the city offers. During the afternoon we will have a private visit to its famous flower-filled courtyards, finishing the day in an authentic local tavern.
Day 5. We will head towards Granada, photographing the beautiful countryside on the way. We will eat in one of the best carmenes (hillside houses with walled gardens), photographing the city and the Alhambra in the afternoon from various perspectives, and finally in the evening we will attend a Flamenco "tablao" with traditional gypsy dance and music.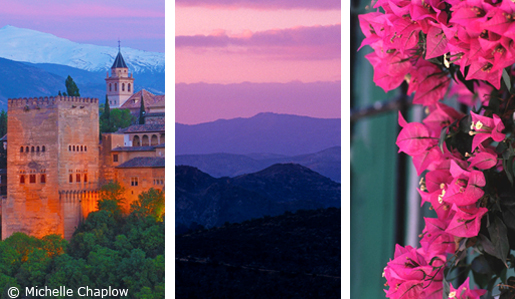 The highlight of Granda is the Alhambra
Day 6. We will finish our visit to the city of Granada and then move on to Antequera, where we will explore this ancient city, eating at its best restaurants, and finishing the day in an idyllic hotel where we will have our grand farewell dinner.
Day 7. Farewell breakfast and end of the master class by Michelle and Wayne.
Price
3,950 Euro per person
Price includes: Tuition, Travel accompanied by Michelle and Wayne, All meals, Six nights in a five-star hotel, Private transport, Insurance, Entrance to museums and sites
Michelle Chaplow is also teaching on a workshop in Ronda with Cris&Kim travel designers.
Booking
This is an unmissable photo workshop and a super opportunity to improve your reportage skills. BOOK EARLY TO AVOID DISAPPOINTMENT!
For more information or to reserve your place, complete the enquiry form below on this page.