Andalucia's Golden Triangle - Seville, Cordoba & Granada
If you're looking for a holiday visiting three stunning, historic, very different cities, come to Andalucia: majestic Seville, intimate Cordoba and spectacular Granada - each has its own perfectly preserved Mudejar gems, recognised by UNESCO, as well as many other delights for you to discover. And even better, they're only a few hours' drive from each other. Hire a car, visit Andalucia's Golden Triangle, then finish up in Malaga and hit the beach - the perfect holiday.
Editorial, travel lifestyle and reportage photography, with a studio base in Andalucia, Spain. From time to time Michelle Chaplow teaches on Photography Workshops in Andalucia. The workshops tour the most beautiful and more remote areas of Andalucia.
Seville
Since the Romans first arrived, Seville has been one of the most important cities on the Iberian peninsula. The Moors ruled for centuries, but the city's greatest Moorish architectural masterpiece dates from after they left: the Alcazar. Nearby, the largest Christian cathedral in the world is crowned by a tower, the Giralda, originally built by the Moors for their mosque.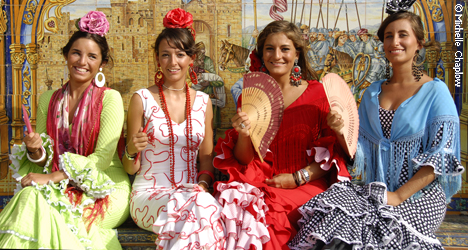 Today, Seville is best known for its tapas scene, and two major festivals which both take place in spring: solemn Semana Santa (Holy Week) and joyous Feria de Abril (the April fair). For more contemporary city life, the Alameda is a haven of bars, always buzzing, while Soho Benita has independent galleries and shops offering creative courses.

Read more in our extensive Seville City guide.
CORDOBA
A little over an hour's drive north-east of Seville by motorway (or AVE high-speed train) is Cordoba. Here, you won't want to miss the Mezquita is one of the most famous buildings in the world, and was originally one of the most important mosques in the world - appropriately, for Cordoba was then the capital of the Arab kingdom of Al-Andalus. Cordoba was known for its poets and philosophers, a seat of learning and cultural diversity. After the reconquest by the Catholic Kings, a cathedral was built over the mosque.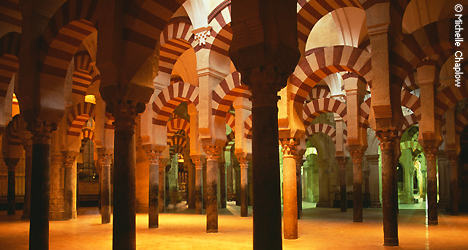 In terms of other reasons to visit, the Alcazar (palace-fortress) and its gardens, and the Roman Bridge, as well as Cordoba's major festival takes place in May - the Patios Competition, when you can visit 50 flower-filled private courtyards around the city which are festooned with blooming pots and climbing plants. Cordoba has more of an intimate feel than the other two cities, thanks to a historic centre with many low-rise houses on windy cobbled streets.

Read more in our extensive Cordoba City guide.
GRANADA
Head south-east towards the coast along windy picturesque roads (or take a regional train), past Jaen province, and you arrive in Granada city. Say the name, and the most people think of the Alhambra. This spectacular sand-coloured complex of Moorish palaces sits atop a mountain looking over the city. Visiting the Alhambra, with its maze of pools and patios, is a must for everyone once in their life - if not more. Granada also has one of the best-preserved Moorish quarters: the Albaicin, with its carmens - hillside town houses with walled gardens. In this city, every drink comes with a free tapa, so eating out takes on a delightful element of surprise.
In winter, you're close to the Sierra Nevada - the snow-topped mountains visible behind the Alhambra - which is Europe's most southerly winter sports area, and plays host to many international skiing and snowboarding events; while the coast is just an hour away to the south.
Read more in our extensive Granada City guide.
...AND MALAGA
Only appreciated in recent years for its cultural wealth, Malaga has more museums than any other city in Andalucia, if not Spain. Choose from Picasso, cars, wine or archaeology. It is also (still) the capital of the Costa del Sol, making it the perfect base from which to visit Andalucia's Golden Triangle of Seville, Granada and Cordoba in a hire car, and then kick back with some lazy days on the beach.
Malaga has an excellent high-speed train service to Seville, and thence to Cordoba, but there's no train from Malaga to Granada until spring 2018.
Read more in our extensive Malaga City guide.
TRAVEL TIPs - Getting to Andalucia
Many of the cheaper, more frequent and more direct fligths to Andalucia fly directly into Malaga Airport. Some of the cheapest car hire deals in Europe can also be found at Malaga airport.   Another popular route for those arriving inter-continental into Madrid Barajas airport is to take an onward flight to Seville Airport, Granada Airport or Malaga Airport.    Alternatively you can take the AVE High Speed train from city centre Madrid Atocha station to Cordoba and Seville, Granada and Malaga. More>
ORGANISED Tours
7-Day Southern Spain Tour: Granada, Toledo, Madrid, Cordoba, Seville and Ronda from Malaga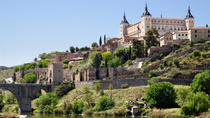 7-Day Southern Spain Tour: Granada, Toledo, Madrid, Cordoba, Seville and Ronda from Malaga
Get to know Spain in just seven days on this tour from Torremolinos to Madrid and Andalusia's most famous cities: Granada, Toledo, Cordoba, Seville and Ronda! You'll visit beautiful sites like the Great Mosque of Cordoba, the UNESCO World Heritage-listed Alhambra palace, the Generalife Gardens and Seville's Alcazar, and you'll hear interesting commentary from your guide. Enjoy sightseeing tours of Toledo and Madrid and have free time in Seville, Madrid and Ronda to explore the cities at your own pace.

3-Night Andalucia Highlights Tour from Granada Including Cordoba and Seville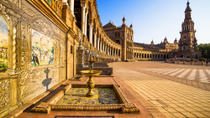 3-Night Andalucia Highlights Tour from Granada Including Cordoba and Seville
Visit the beautiful Andalucian cities of Granada, Seville and Cordoba on a 3-night tour from Granada, with 3- or 4-star hotel accommodation included! The experience includes sightseeing tours of each Andalucian city as well as cultural experiences such as a flamenco show and an optional Arabian hammam visit. Learn about the region's history and Moorish heritage from an expert guide and visit top attractions and UNESCO World Heritage sites such as the Alhambra in Granada, Cordoba's Mezquita (cathedral-mosque) and Seville Cathedral. If Granada is more convenient for you to finish your tour in rather than Seville, simply upgrade to end the tour with a transfer back to Granada.

3 night Golden Triangle tours starting from Seville, Granada or Cordoba.
DAY EXCURSIONS 
Here are day trip excursion form
Seville to Cordoba and Granada
Private tours
Our partner Travel Designers Cris&Kim will create a taylor made private tour of Andalucia for your group. Contact us using the form at the bottom of the page with an outline, dates, numbers travelling of your plan stating that you are interested in a private tour.