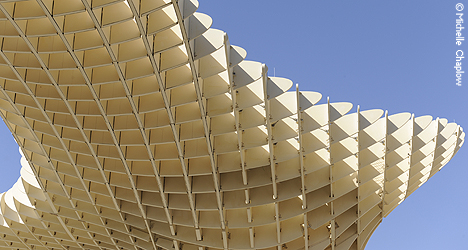 As recommended by the New York Times, Seville's new creative hotspot : Soho Benita.
Iconic buildings can bring a new lease of life to an area – as is the case with Seville and Metropol Parasol. Five streets between the huge wooden structure and Plaza Alfalfa, to the south, have joined together to promote themselves as Soho Benita (the name comes from Benito Perez Galdos, the famous Canarian writer after whom the area's main artery is named). The barrio has become an artsy bohemian haven, with artisan and street-style shops, small hotels and trendy eateries. Soho Benita has an active Social Media presence, on Twitter, Facebook and Instagram.

These are the establishments which are in the Soho Benita initiative (Calles Perez Galdos, Santillana, Ortiz de Zuñiga, Don Alonso del Sabio and Golfo).
fASHION AND ACCESSORIES
Isadora stocks funky clothes and bags by Spanish designers.
Isadora
Shop selling a wide variety of clothes and accessories by young Spanish designers, some local from Seville. Decorated in candy tones of pink and blue, this store has a wonderful selection of cute and quirky adornments, such as jewellery, hair clips purses and bags. The owner, Lorena, makes unusual tocados (fascinators) using wire frames, net and feathers - a selection is on sale in the shop, or she can make them to order. She also runs craft and sewing workshops, such as knitting and crochet.
La Importadora
Shop and art gallery in space with ample natural light, selling clothes, furniture and works by young artists. You can buy knitting kits - paper bags containing everything you need to make your own hat, scarf or jumper, from balls of wool and needles to a pattern. Also vintage shoes and furniture, and contemporary art.
Le Voila
Owner-designed fashion, as well as vintage, and accessories; classes in crochet and other sewing and crafts. Penelope also makes headgear to order, such as hairbands and turbans, as well as tocados; she works at her sewing machine in the shop. Items are displayed in little vanity cases and glass jars; look out for quirky necklace pendants and tiny handbag mirrors.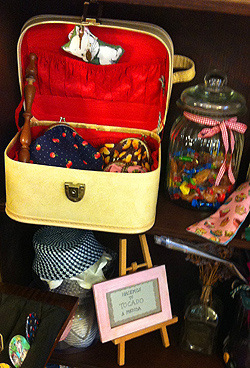 Le Voila has cute accessories and made-to-order headwear.

Zalez, Taranta
Accessories shops.
Patricia Buffuna
Millinery shop with the ubiquitous tocados (fascinators) and many styles of hats from trilbies to fedoras, all designed and hand-made by Patricia herself.
Delimbo Artspace
This shop and gallery – formerly called Montana - is the most "street" of Soho Benita's establishments. You'll find graffiti materials, urban art books, cult T-shirts and correspondingly cutting-edge graphic creations in the arcaded space at the back of this 1919 modernist building.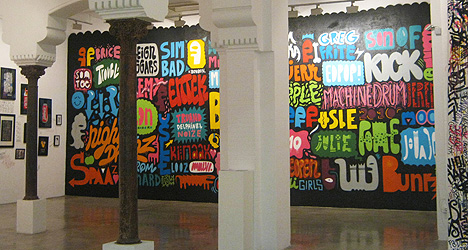 RESTAURANTS
Habanita – Cuban restaurant with quiet off-street patio; great selection of vegetarian and vegan food, and good mojitos.
Mia Tana – authentic Italian pizzeria, very popular, well priced, excellent value menu (set-price) at lunch.
La Pincelada – gastrobar with fusion tapas; live music.
OTHER
Rayuela – excellent children's book shop, with educational toys and games. Storytelling and other events.
Floripondia – quality clothes, toys and equipment for children and babies.
Kinema – holistic therapy centre
Pepe Cruz – hair salon
Itaca Hotel – 23-room hotel with plunge pool on roof
Malaga also has a art district of the city called Soho