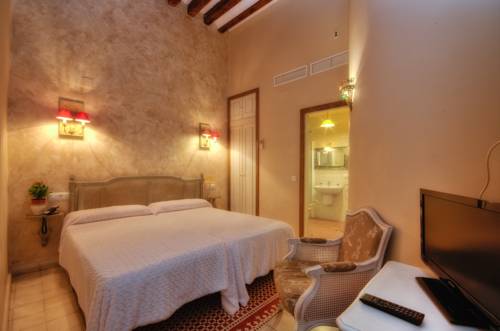 Hotel Argantonio in Cadiz.

Hotel Argantonio
Small, romantic hotel in heart of historic old town.
This delightful two-star hotel is in a 19th-century building with beautiful original stone façade. Décor is tasteful and imaginative, with loads of character – colourful tiled floors, Moroccan lamps, beamed ceilings, decorative mirrors, and carved wooden doors and screens.
Each of the 15 rooms over five floors has different décor, all with flat-screen TVs, some with balconies. One floor is in Andaluz style (Moorish arches), one French (carved country-style headboards), one rustic colonial (golden hues), as well as a suite with hydrotherapy bath, and another room with a spacious terrace boasting flowering plants. The rooms are named from cultures around Cadiz (Tartesso, Carambolo, Gadir). There is free WIFI, plus a computer room.

Ingeniously, they offer a siesta service, so that you can keep your room till 5pm, allowing you a post-lunch sleep.
The restaurant serves Mediterranean and Arabic cuisine; there's also a café-bar. The shop sells artisanal soaps and perfumes made by hand in the Sierra de Cadiz. In addition, many decorative items in the hotel are for sale.

Destinations