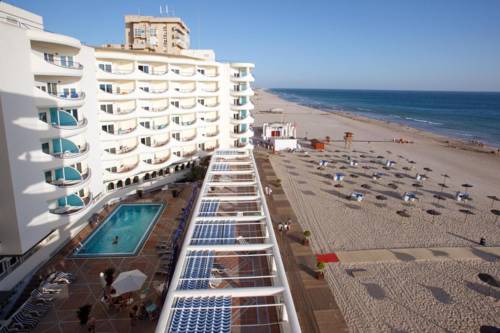 Playa Victoria Hotel in Cádiz.

Playa Victoria Hotel
Modern beachfront hotel with fabulous views.
This four-star hotel, with smoked glass façade, looks over the long sandy beach, and is located about 30 minutes' walk from the old town.
Each of the spacious rooms – there are 188 – has a 1960s-style pod-like curved white balcony, with décor in muted, neutral tones; 32-inch TVs offer multimedia applications. Suites have their own private terraces. WIFI is free.
There's a small swimming pool and terrace with views to the ocean, offering direct beach access. Children will enjoy the table tennis. You can enjoy a drink at the piano bar, while the restaurant serves Cadiz cuisine with international touches.
Meetings and events facilities cater for up to 250 people, with four separate rooms.
Underground car park available onsite.

Destinations