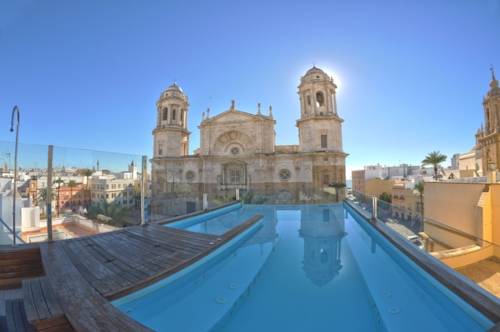 Hotel La Catedral takes its name from this spectacular location.

Hotel la catedral
Charming three-star hotel next to the basilica with rooftop pool.
This small, friendly hotel in traditional building has just 12 rooms, decorated each themed around an aspect of Cadiz's history – people, books and paintings. Rooms, decorated in clean, modern style with wooden floors, offer satellite TV, safe and minibar; some have balconies with French windows – try and get one with a cathedral view.
The spectacular rooftop pool with underwater jets has a glass wall which allows an unimpeded view of the cathedral's majestic baroque facade.

The ground floor bar has an outdoor terrace on the medieval cobbled street with sea view. Breakfast is simple; the hotel has free WIFI.
The restaurant serves Mediterranean and Arabic cuisine; there's also a café-bar. The shop sells artisanal soaps and perfumes made by hand in the Sierra de Cadiz. In addition, many decorative items in the hotel are for sale.

Destinations